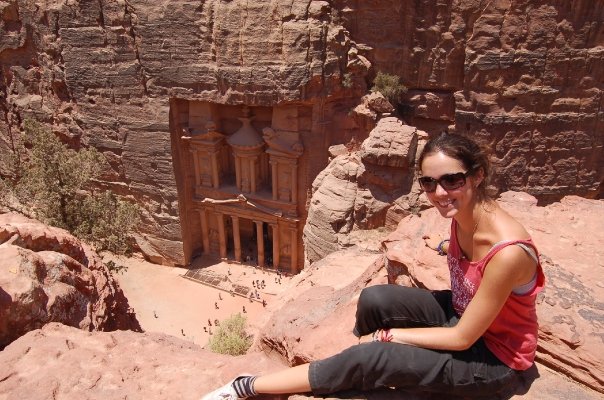 Hi, I'm Flora.
I like to think of myself as a writer, a poet, a volunteer and above all, a traveller.
I started this site back in 2012 when I spent six months travelling through Asia. Back then, it was a way to keep my family and friends involved in my travels, but soon I realised I was devoted to writing stories about my travels that a wider audience might enjoy.
Luckily, they did, and so Flora the Explorer was born: my alter ego who's apparently happy to undertake the risks and challenges I'd often shy away from in normal life.
As this site has grown over the years, it's developed into something of a community – both here, and on social media. I post regular micro-stories on my Facebook page and on Instagram, which is a wonderful opportunity to explain where my adventures have taken me in real time.
For more background, here's a brief rundown of my travels since beginning this site.
In 2012,  I spent six months exploring Nepal, India and Thailand, where I busied myself with looking after orphans, working with Bollywood singing sensations, learning how to make compost toilets, and impulsively cutting off all my hair in an Indian hostel bathroom. After another six months travelling around Europe I headed for South America in 2013, where my travelling style changed and developed.
I vowed to myself that I wouldn't return to the UK until I'd become fluent in Spanish. A somewhat tricky task, as I didn't speak a word of the language before arriving. But I soldiered on: becoming an English teacher in Ecuador, a beach bum in Peru, a builder in Brazil, an artificial limb maker in Bolivia, and a journalist in Colombia – amongst other bizarre and wonderful adventures.
I returned to London in the summer of 2014 to study for my Masters degree in non-fiction writing (which I'm still currently doing, as of late 2015). But I travel as much as I can in the meantime – both physically and through my writing.
So what can you expect from Flora the Explorer?
You won't find any how-to guides, accommodation reviews, or listicles round here. It's not that I don't enjoy this type of writing, but I'm not passionate about producing it.
What you will see is a wide array of stories about the places I've been and the people I've met – hopefully with a healthy dose of humour and embarrassment from time to time.
Like accidentally watching my Colombian neighbour having a threesome. Yep.
You'll also find a number of personal narratives about the issues I face when travelling. From a lack of self-confidence, fears of heights and falling and struggles with language, to getting sick on the road, saying goodbye and even falling in love: they're all hot topics for a solo traveller and there are no holds barred when it comes to writing about my feelings.
Hope you're ready for that.
A final word…
I'm still amazed and humbled by having a platform where people come together to share their love of travelling and writing. It means the world to me that you've decided to have a read of my explorations. Hopefully I'll do them – and you – justice.
Welcome to Flora the Explorer.