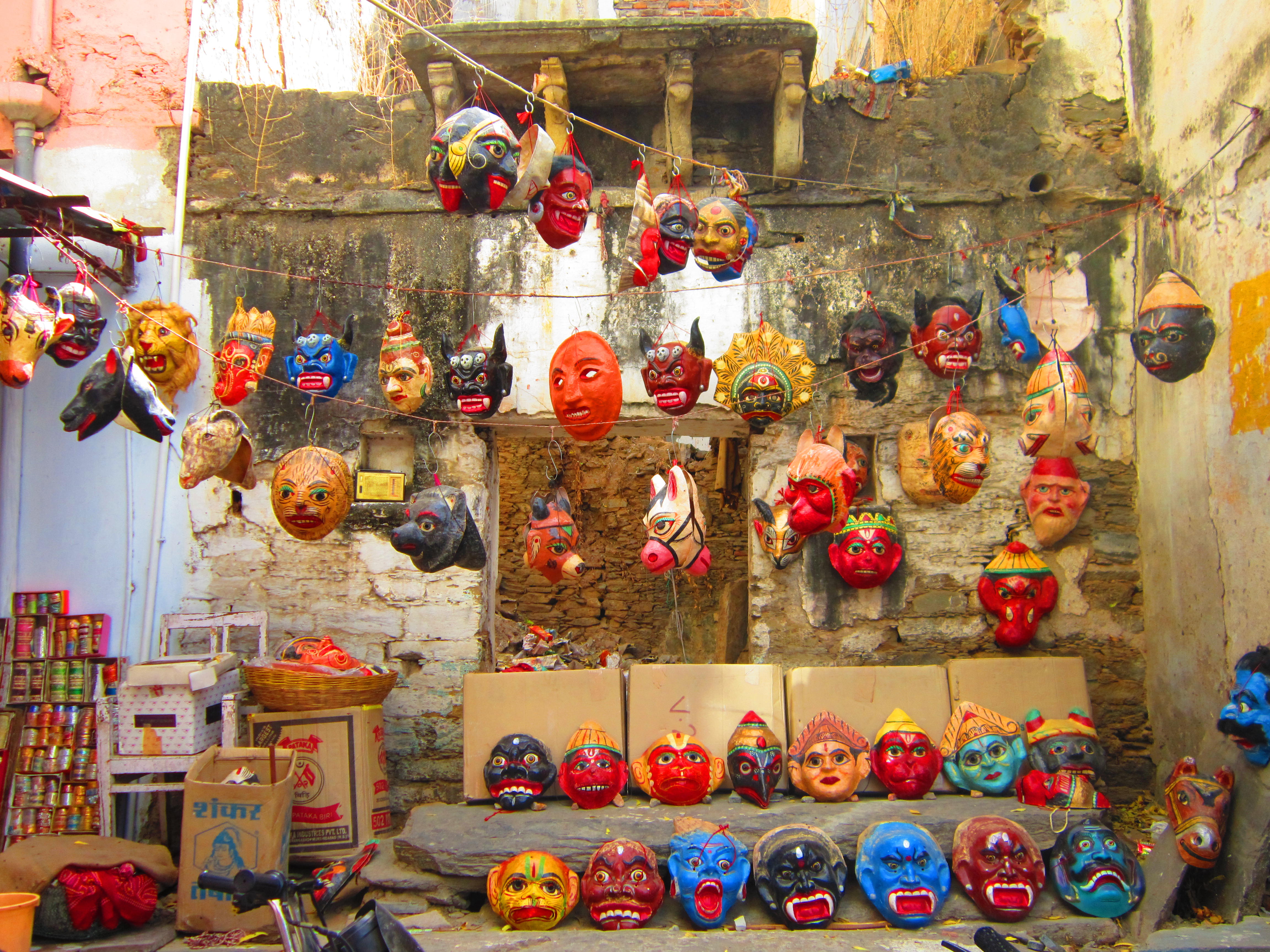 For the last few months, I've been steadily realising how much my hair annoys me.
During the freezing London winter, it's always too long, getting stuck underneath scarves or bag straps, turning into a static flyaway mess. It seems to be becoming drier and more foreign when I see it in the mirror – so much so that I don't think my hair suits my face anymore, which is not the most enjoyable place to be.
So what happens when you combine this frustrated feeling with 35 degree heat and the knowledge that it's going get steadily hotter for the next six months? Simple.
You chop off all your hair.
Indulging in some impulsive behaviour
This tour through India has been kind enough to throw me in with a group of girls who seem to make me laugh constantly, see things in a different light a lot of the time, and give me the impulsive edge that I've often been missing at home. After a couple of days spent casually discussing how freeing it would be to have a bare neck and a load of weight off your head, someone put forward the suggestion that we could, you know, always actually do it.
And somehow, it didn't really seem as much of an issue as it normally would – despite the fact that I've had hair way past my shoulders ever since a childish bob at age eleven, and essentially fear the hairdresser's scissors.
So, one night in Udaipur, on the third floor bathroom of a traditional haveli open to the sky, a group of girls clustered together, turned the Krishna trance music up way loud (courtesy of fresh CD from the Indian music shop round the corner), took a ton of photos, and got chopping, with nothing but a plastic comb, a pair of borrowed blunt scissors, and a lot of impulsive energy.
Quite apart from the total relief I felt when losing a big ol' bunch of hair, there was also such a lovely atmosphere in Udaipur itself.
It could have been something to do with the place we were staying – a cool, four storey haveli with an open central courtyard – or with the amount I suddenly started to spend. By the time I'd spent ages deliberating over a silver turquoise ring, a pair of embroidered sandals and a leather bumbag (I am seriously channelling my inner hippy), I realised that two months of travelling had resulted in a very heavy backpack.
And so I made the potentially dangerous decision to send a package of various things homeward, making my bag 2 kilos lighter and simultaneously giving me an extra load of 'space' in my bag to fill with more purchases. Although there strangely seems to be no room in there again…

Basically, I adored Udaipur. Every little thing just screamed out, 'India!' and, as a result, it was very easy to get lost amongst the colour and the romance of the place.
Relaxing to the max in Rajasthan
We wandered from sari shop to leather store and from bracelet stand to chai stall, fell a little bit in love with a guy who sold textiles at the shop down the road, and fell even more in love with a sausage dog that inhabited a rooftop restaurant nearby, who had a particular penchant for playing dead.
We took a cooking class at a world-renowned school, taught by a man with a penchant for using the phrase 'like dhaat' to punctuate every single sentence. Indian food became infinitely more hilarious from this moment onward in the country.
For relaxation purposes, there was a group-wide obsession with the coffee shakes in a cafe down by the lake, where we'd often run into each other sitting, tired but smug, amid our new purchases.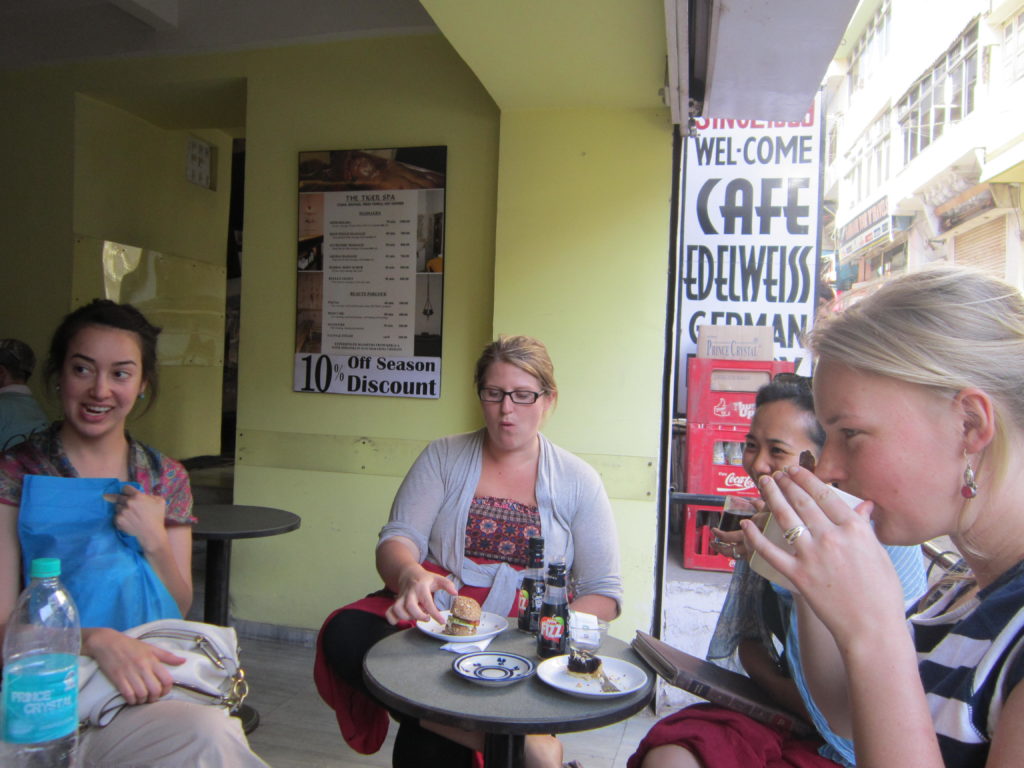 And two of my friends, both very musically-inclined, went to a tabla class for an hour and came back to the haveli with newly purchased tablas to call their own. Which made our numerous tuk tuk/train/plane/bus journeys quite a bit more interesting, both in terms of excess baggage and for the musical accompaniment.
After a reluctant farewell to Udaipur we headed to Pushkar, another town filled with hippies, markets, rooftop restaurants and ridiculously good photo opportunities. World renowned for the yearly Pushkar Camel Fair, this place doesn't look like much on the outside – our dusty arrival was accompanied by disbelieving voices, exclaiming, 'is this really..it?' – but it has a certain charm that is pretty unique.
And even after a good few weeks spent traipsing through Rajasthan, I can honestly say that Pushkar is one of my favourite cities in the region.
One month in, the pros and cons I've learned about India
Although our visit in no way coincided with the Camel Fair, which is held every November, we were still treated to a vast amount of animal exposure, from monkeys and cows to dying birds and wedding procession elephants.
For two days, we ate breakfast on the roof of our hotel and watched said monkeys dancing from the eaves, then wandered through the sandy streets past cud-chewing cows, slumbering dogs, and men eagerly offering us flowers 'just for present, no pay no pay!'
The problem I'm discovering with this country  – or my problem with it, at least – is that I can never completely trust a situation at first glance. There seem to be many occasions where an offer seems too good to be true, and the worry is that taking part in it could lead you to problems. On the other hand, though, I could easily be refusing what might turn out to be something amazing.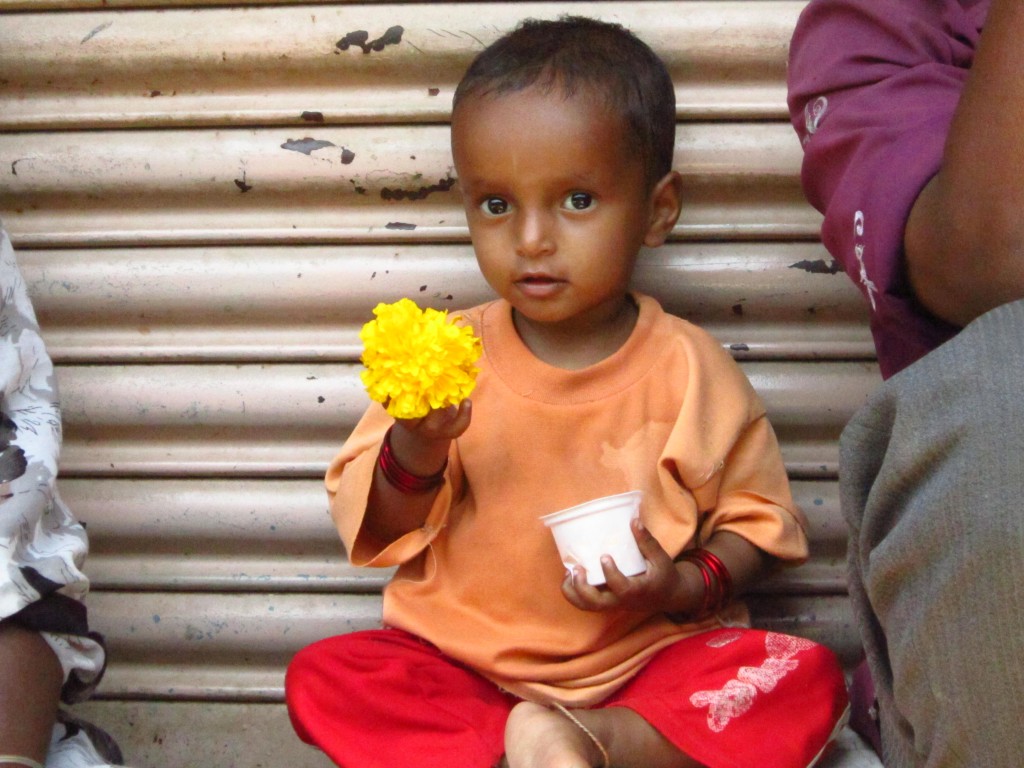 For example: Pushkar is filled with guys offering flowers by the roadside.
The gist of it is that once you happily and smilingly take the flower from them – all in good faith that it's just a kind-hearted gift – they'll hustle you down to the edge of Pushkar's famed holy lake, attempting to give you a blessing, and to place a tikka on your forehead.
If you start trying to politely refuse, they'll start shouting, so you accept the dab of paint on your temple. And then, once the process is over, they look directly at you for some kind of payment.
Often whatever money you offer isn't an amount they find suitable, so you end up in a situation that's both uncomfortable and a bit disturbing – not to mention feeling a bit like you've been taken for a ride.
But the problem with this whole 'successful avoidance' tactic is that, ultimately, the payment that the random Indian guy claiming to be some kind of priest is expecting is probably no more than a pound or so. And we keep trying to avoid these moments because we worry about the consequences – but in reality those consequences cost us nothing in money and give us everything in experience.
I guess my problem is that I don't want to look like a gullible fool. It's definitely something to think about.
Despite this increase in pushy priests, Pushkar itself was a beautiful city, with definitely the most hippies I've seen in India so far (apparently they arrive for Holi and end up staying for ages). There were a few 'proper' hippies that we ended up checking out almost as much as the Indians – like the barefoot South American who looked a bit like Jesus and wore black eyeliner and feathers in his long curly hair, and numerous tall, willowy girls who we all secretly wanted to look a bit like.
Well, I did, anyway.
Unfortunately my newly short hair was definitely not going to be able to handle dreadlocks for a while. Shame.
Still, at least there are a few uses for freshly cut hair..
Have you ever done something wildly impulsive while travelling?