I woke up yesterday with the heavy, dragging feeling of something hanging over me. The same infernal issue wreaking havoc in my head that had been there for almost a week.
Should I get on the bus to Dharamsala today?
Again?
It was 9am in Panchkula and I was already boiling, despite lying under a steadily whirring fan (well, almost under. It's  situated over the bed and I'm currently sleeping on the sofa). The thought of waiting for hours at the Chandigarh bus station in all its sweaty glory, studiously avoiding the multiple and prolonged gazes of every single person there, was slowly doing my head in.
Particularly as I had already tried it once the day before, but with little success. Apparently Indian bus drivers don't like to inform their passengers there's a nationwide bus strike.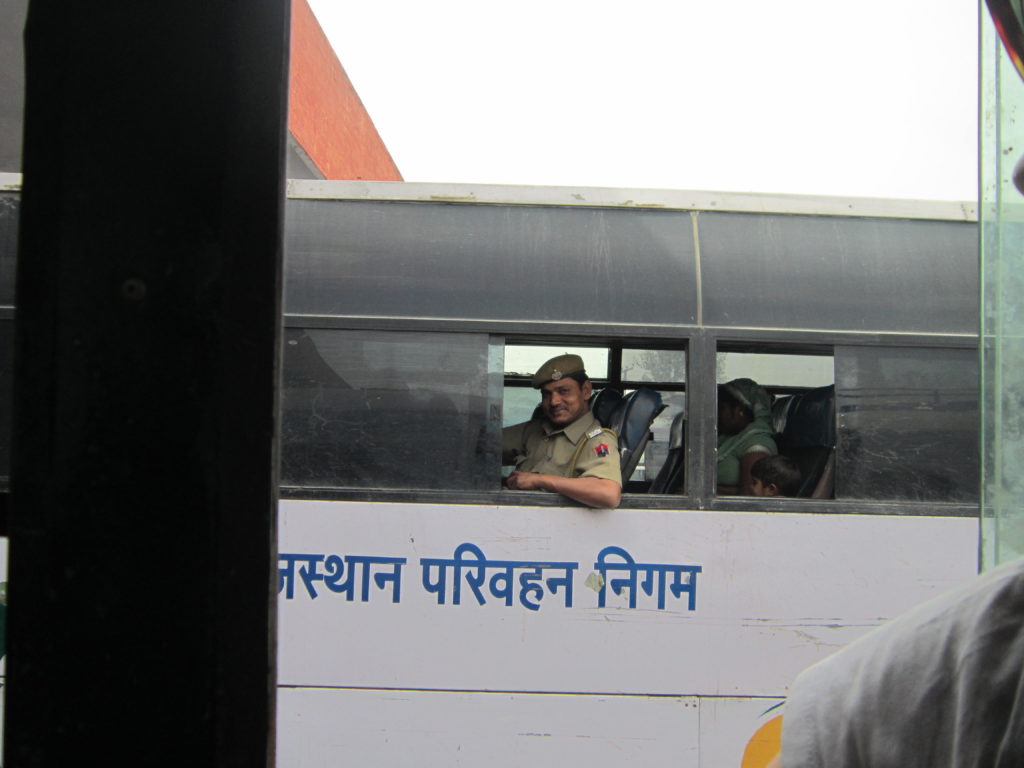 The problem with travelling slowly – and doing so solo – is that there's no one else to make your decision for you about when to move on. And when you're a rather indecisive person, it turns into a real issue. Spend a long time in one place and you start to settle, even getting attached to environments that stressed you out at first.
Thing is, I've been in the Tri-City for over a month now, staying with two families in succession, and I've grown used to how things work. My lifestyle here is certainly a bit surreal, but it's been in the same vein for long enough that the thought of moving is a little bit exhausting.
Particularly in an Indian heatwave that makes standing on the driveway feel like walking through a desert. So, although I spent almost a week deploring my continued stay here, when it actually came down to my escape from the place, I couldn't really face the eight hours with all my stuff in a sweltering bus.
Now, my inner critic is a bit of a bitch. Nothing I do is ever up to scratch, whether its being unable to talk to the good looking guy next to me on the plane (I get nervous sometimes, ok?) or opting to spend most of the day in a hotel room, instead of venturing outside. Regardless of the hordes of strangers I've willingly met while travelling, or the days I've spent roaming strange new cities, it's the single occasions when just I don't feel up to it that my lovely little critic chooses to pipe up.
Cue a barrage of self-deprecation at my latest decision (namely, the one that involved backing out of my own plan of running off to McLeod Ganj for a five day breather):
"You're such a coward! Why aren't you getting on the damn bus? Are you really so used to being looked after here, by this lovely family, that you can't even handle finding a hotel room for yourself?"
I felt subdued and miserable for a fair while, before I started thinking about things differently. Here I was, living in my second family home of the month, heavily involved in the organisation of a huge music event, spending all my time with Indians and being given an exclusive insight into a world that most Western tourists would never even be privy to.
Ok, so I haven't seen a UNESCO fort, temple, or ruin for a while – but I've prayed at a village gurudwara and watched my little baby companion copy her brother and kiss the floor in respect. I haven't been staying in hostels and meeting travellers – but I've been sharing family bedrooms and gaining the pinnacle of baby relations: an unprompted hug!! I haven't been wandering around cities and deserts – but I've navigated my way through the pitfalls of social respectability among the Punjab class system.
And, in terms of touring the country, I realised that I can always go to Dharamsala – and  I certainly will, probably in a couple of weeks – but at the moment, I think it's sensible to see this project through.
After all, I've been involved in it since the beginning.
So as I weighed up the pros and cons in my head, I realised I was being ridiculous. So what if I felt a bit cowardly in wanting to stay in Panchkula? After sitting for an hour in a stationary tin sauna of a bus in 45'C midday heat, there's absolutely no shame in wanting to keep up the attachment to a 20'C A/C bedroom! And when I tell this ridiculous saga to my friends, the idea of saying, 'I worked on this event for a month… and then I ran off to the mountains for five days just before it actually happened' – it's just not how I want the story to go.
Which is why I'm back to Bling HQ in a Panchkula drawing room, being called 'Flora Maam' by a ridiculously intelligent ten year old; playing glowstick wars in the back of a car on the highway; drinking cold coffee and mango shakes from plastic trays; and showering in the same bathroom where a bright yellow child-sized racing car has been parked, carefully, by a bubbly little girl.
And doing a great deal of work. Obviously.