My first volunteering shift with Crisis at Christmas was in December 2007.
My first task was clearing the food trays in the canteen, after the guests had finished their breakfast. I was eighteen, slightly overwhelmed and completely unsure about how I was supposed to behave.
The first instinct I had was to just keep my head down and not speak – and what was I even supposed to say anyway? How come you guys are homeless? I didn't want to offend anyone, but I was pretty sure I'd end up speechless if I tried to engage someone in conversation.
So I thought it best to just not bother.
What I hadn't anticipated, of course, was that almost every guest who turns up at Crisis really desires one thing: interaction.
As I started weaving through the tables, I was greeted with smiles and hellos by the faces spooning up the end of their cereal, and within no time I was deep into a one-sided conversation with Molly, from Leeds, an eagerly chatty woman who'd been living on the street longer than she could remember.
She'd raised her three children there until they'd gone to foster homes; had six grandchildren she never really saw; and looked after a myriad of 'street kids' who'd run away from their own homes. She also gave me a comprehensive rundown of how the world is going to end in a ton of fire and brimstone because the government is corrupt, which was certainly an interesting half hour of education.
But the things she didn't say were what impacted me the most.
Underneath Molly's stream of words, I realised that every guest at Crisis comes for a reason. Whether it's for a free meal, some warm clothes, an appointment with a dentist or simply some human contact, acknowledgement and a bit of kindness. They can use Crisis as a refuge, as a reunion point, as a place of safety or to kick start their move out of homelessness.
And whether they know it or not, the guests are a source of inspiration for the hundreds of volunteers who donate their time to helping out.
So what's 'Crisis at Christmas' all about?
Every Christmas, a large percentage of London's homeless hostels and soup kitchens close down for the festive period. Luckily, a lot of offices and school buildings do the same thing, which is when Crisis, a UK-based homeless charity, takes advantage of these empty buildings and turns them into temporary homeless shelters for eight days.

If there's anything I've learnt from working with Crisis, it's to never underestimate the innate good in people. The hundreds of volunteers who swarm through the doors of the City of London Academy each year are eager, positive and can think of nothing better than giving up their time to help others.
I often suggest to various friends that they come with me and volunteer too – but I think it seems to many like the ultimate sacrifice; spending the Christmas period cleaning toilets, scraping plates, standing around in the cold and sifting through donated clothing in an empty South London classroom.
But there's something addictive about volunteering, and something absolutely magical about Crisis in particular. Maybe it's because I love meeting new people from different backgrounds, with experiences and stories to tell that I wouldn't ever otherwise hear about.
Or maybe it's the way all my previous problems pale into insignificance when I chat to a guy who's been squatting in abandoned buildings since 2001.
Learning to understand homelessness
When I first started at Crisis, the most I'd ever said to a homeless person was "thanks" for a copy of the Big Issue. Fast forward four years and I'm an old hand at this job. Apart from now knowing my way around the building I volunteer at, I've also become totally accustomed to dealing with the vast range of guests who come through the doors each day.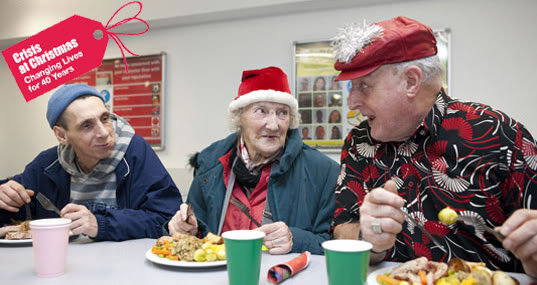 Though a number of people ignorantly assume that all homeless people are lazy, rude, or that they in some way 'deserve' to be on the streets, there is honestly nothing further from the truth. Most Crisis guests have simply become overwhelmed by a series of unfortunate events that develop all too quickly: from having no rent money, to sleeping on a friends sofa, to suddenly finding a free doorway with a piece of cardboard box.
You realise how frighteningly easy it is to get dragged down into homelessness – and what's worse is once you're there, it's seriously hard to get yourself out again.
Which is why it's all the more rewarding when you see the level of gratitude the guests show to volunteers. The guests I've had the pleasure of meeting over the years are consistently friendly, polite and considerate; the ones who remember me year after year are even more valued. I know it sounds like a total cliche, but there's nothing like feeling as if you've made a tiny bit of difference.
A typical Crisis shift
There's a range of different jobs to do at Crisis – and every single one has its own merits.
As a general volunteer, your eight hour shift is spent at different tasks around the building. From fire marshall duty in a bright yellow vest to patrolling the perimeter on the lookout for wandering guests is up for grabs, you're always on duty with another volunteer, and each duty normally only lasts a couple of hours. Reasons are twofold; you can experience a greater amount of what Crisis does when experiencing different tasks on a shift, and you meet more people (both volunteers and guests) when you're on rotation.
One of my most favourite shifts ever was spending about three hours in the arts and crafts room with a young male guest who was busy binding a book of his own poetry together, after spending the last few days writing it up on the computers, printing it all out and decorating the covers.
Then there was the woman cutting out photos of polar bears from magazines, the girl with beer cans stashed in her sleeves (sadly we had to confiscate them as there's no alcohol allowed on site, but she was pretty agreeable about it!) and the guy painting incredibly skilled landscapes of the Thames from memory, who showed me his immaculate sketches from the pages of a book on the Old Masters.
If you've got a certifiable skill, you can also volunteer your specialised services. Every year, Crisis welcomes hairdressers, dentists, chiropractors, and drama teachers – talking to a guest who's just had his first ever pedicure aged 55, the same day he gets a brand new pair of shoes, is incredible. The change in people once they've had some indulgence, some luxury time, some care taken over their appearance by a stranger – their whole demeanour changes, and they're so much more positive about everything.
And possibly the best thing about Crisis is the interaction with the guests, who are never called 'homeless' within the centre, and are treated with more respect in one week than they receive throughout the year.
There are so many benefits to volunteering with Crisis
That first conversation I had with Molly has always stuck with me. It's strange to think that her pressing need to talk, which I seemingly satisfied by simply being a willing listener, managed to satisfy me in another way. Talking to guests and hearing the breadth of their experiences is completely captivating.
In three days of volunteering, I can come away with the knowledge of how to successfully stake out and instigate squatter's rights in an abandoned building. I know what it's like to be serenaded by a 70 year old artist with shaking hands and perfect pitch. I've watched the unplanned reunion of a father and son after 14 years as one asked the other for a light; no love lost outwardly, they simply swore, shook hands and carried on smoking.
And more than anything, I've seen first hand how Crisis is truly turning some people's lives around. Like Jim, who, on his first day at a Crisis centre this year, was offered eight nights of "luxury accommodation" at a hostel near the Crisis centre. With eight nights of deep and well-rested sleep, he could plan for eight days of industrious meetings with finance experts, career counsellors, and the housing team. He was even planning to volunteer instead of looking for paid work straight away – we both mentioned how it would definitely give him some good karma.
When I asked what Crisis meant to him, Jim didn't even have to think about it.
"I'm on top of the world, literally. You know that feeling when you're a kid, and there's a present under the tree and it's triple wrapped so you can't tell what it is? I've got that feeling again.
It's like the best Christmas present ever."
Have you ever volunteered with a homeless charity? Would you like to give it a try by working with 'Crisis at Christmas'?
Crisis at Christmas is a charity which I support wholeheartedly, and I urge anyone moved by this article to consider donating either their money or their time to such a worthwhile cause. You won't regret it.