After Part 1, the steady climb to the top of Bollywood adoration continues here. Read on, dear friends, read on…
Hour 9: wedding jitters and pole dancing strippers
I stand in the hotel grounds and gape, with open-mouthed wonder, at my surroundings. This place is a little bit mental. The stage, speakers and silver sequinned dancers, the ever-stretching banquet table flanked by Roman columns, the guests whirling around the dance floor underneath a giant cardboard medieval castle entrance way…
For those who don't know, Indian weddings are, in general, a pretty important affair. The coming together of two people in marriage is equally matched in importance by the unifying of the two families involved – and Indian families are rather big. This particular wedding is clearly a no-expense-spared event- not least because the guest list includes Mr. B, and I've been told he charges no less than 15 lakhs per performance (ie about 17,500 quid. Give or take). Strangely, the other proof of such lavish expenditure is the (perhaps ill-thought out) pole dancing stage at the opposite end of the space, where two blond Western girls are dancing/writhing, all legs and leather. Clearly none of the organisers were aware that the bachelor party entertainment is normally at a separate location.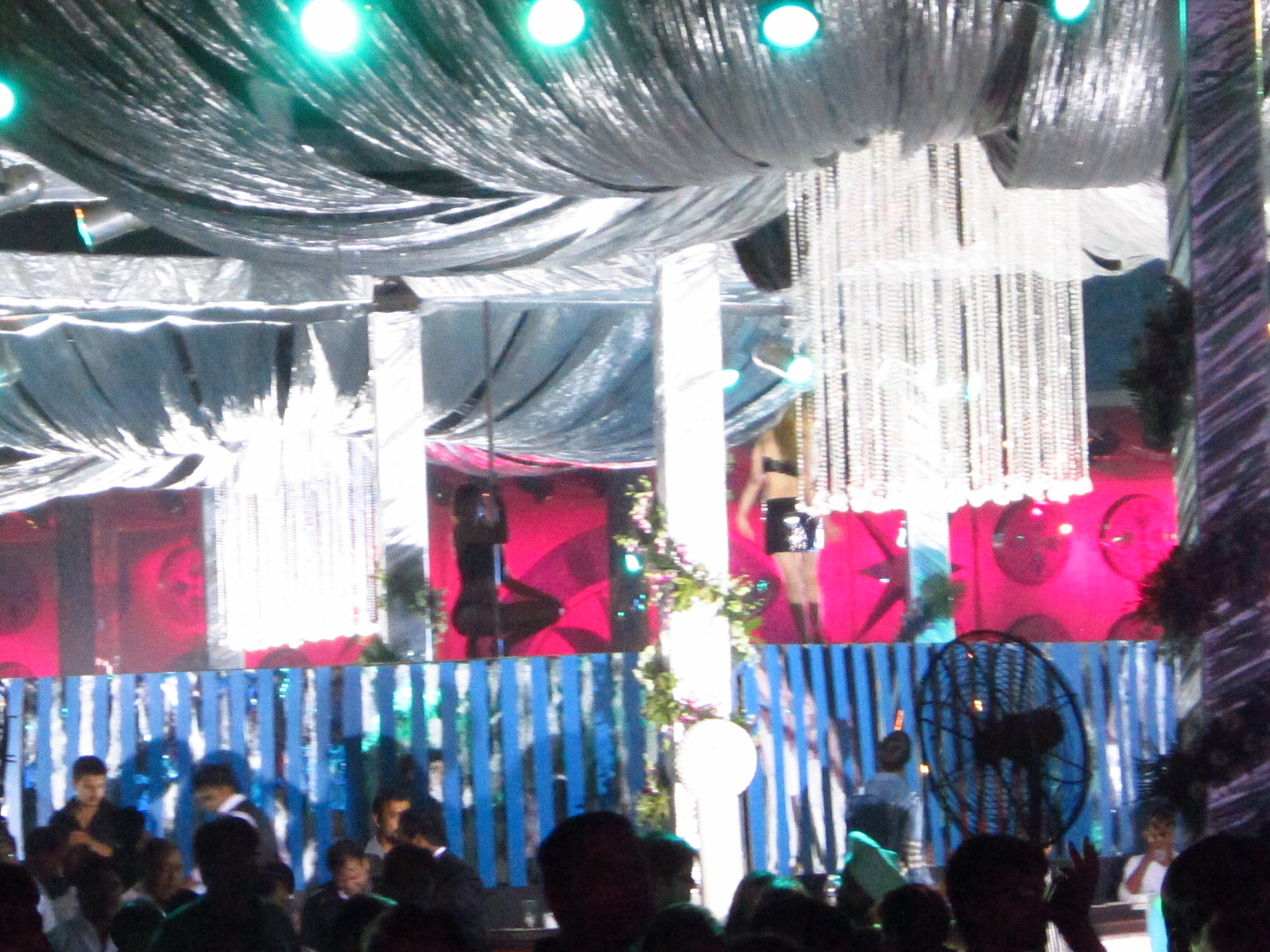 But luckily, none of the male attendees are swayed by such lusty Western delights; no, their attention is fixed wholeheartedly on the figure approaching the stage, dressed smartly in black and white, with a checkered scarf thrown casually around his shoulders. Obligatory sunglasses too, of course.
Hour 10: Mr B struts his stuff
As the first song starts pumping out of the speaker system, the already wild crowd gets a bit wilder. Not knowing any of Mr. B's music at this point is not the most sensible thing, as I feel slightly ill at ease amongst the out of chorus singing. I mouth 'rhubarb, rhubarb' – a time honoured acting trick my mum passed down to me – and bop around a bit on the grass. Thankfully, if no one is looking at the pole dancers then they're certainly not looking at me.
As it turns out, every song that kicks off sounds like I've heard it before, and all of them are great to (fake) dance to. I watch almost every member of the crowd crawl their way up the stage stairs, push past the tallest Indian security guard I've ever seen, and throw themselves into the Bollywood boogie with complete abandon. There are tiny children flocking around Mr. B's feet, as he pushes teenagers out of the way so there's room for the grandmas to dance – which they can do surprisingly well. He calls for the family members only on stage, copies the dance moves of the requisite drunk uncle, and invites the rather young bride and groom to perform an only slightly cringeworthy dance to accompany his final song. I start to get an idea of how big a star he is when a teenage boy, sweaty from dancing, starts asking me and K excitedly for a piece of Mr. B memorabilia.
Hour 11: wedding mob mentality
The wedding set is drawing to a close, much to the chagrin of the baying crowd. I decide I should probably take a photo of the fantastically whimsical cardboard castle facade, which I can see from just behind the stage. I'm in the act of advancing purposefully and turning off the flash when I hear my name called, and look round to see Mr. B effectively holding back a gaggle of loving fans.
'Go, please', he says, looking nothing if a little irritable. I don't need to be told twice, and my little feet scurry me past this static wave of people, jump into the waiting car and keep me firmly seated as I watch my first car mobbing through the rear window. Mr. B strides into view, walking with purpose but evidently still signing autographs and chatting. He reaches the car, slides easily in – 'Chalo, chalo' – and we speed off, wedding hands still clapping on the windows. The car is silent. I, as ever, feel the need to fill the air with something nonsensical, but again I get the distinct impression that I should probably wait for him to speak first.
And so the conversation is somewhat limited. He tells us he only performed at the wedding because he knows a family member; he tells me about his two-year-young NGO, which pays for the education of women ranging in age from 16 to 40 (I'm actually seriously impressed by this – more on it later); he's taken the bait that I'm a 'real' writer and wants me to help him get more NGO sponsors using my writerly magic. It's gone midnight, and I try valiantly to pull myself into professional mode. Seeing that I have little to no experience with NGO promotion, it's somewhat tricky to sound clever. Luckily I'm saved by the difficult decision of where to sleep tonight; back at the farm, or at a nearby hotel? Mr. B will be heading to the hotel regardless, as it's near the airport and he's flying to Thailand in the morning for a Bangkok concert, then hitting Mumbai for some studio time. Of course.
Hour 12: a midnight luxury hotel visit
Decision made, we pull into the hotel's driveway and I gratefully help a half-asleep K out of the car. The huge lobby is a bigger version of the air conditioned luxury vehicle: freezing (those of you who were travelling with me for the last couple of months know how much joy air con usually brings, so it was seriously bizarre to not appreciate it!). We wait for Mr. B to finish chatting to the receptionist, board a glass lift, keep our vertigo/claustrophobic fears bottled up inside, and step out at the second-to-top floor. A little shakily. From up here it's apparent that the place has been modelled on a Vegas hotel; it's all ostentatious decor with absolutely no taste or atmosphere – not that I'm complaining…
Inside our room, I collapse onto a sofa and immediately straighten up again when Mr. B enters; this is clearly not our room but his, and the sight of him checking out the room service menu makes my inner child throw a silent tantrum. And yet I remain outwardly quiet. This is a new and foreign thing that's happening to me – I'm actually taming the belligerent sleepy version of myself! Inward congratulations aside, and a plate of aloo and several refusals of puri later, my head is intolerably heavy and is no longer supported by my arm. Mr. B finally suggests, casually, that I might be tired. He glances at his watch and hands me a key card as it nears 2am. I take the plastic, almost drop it in my eagerness for a pillow, and stumble down the corridor outside in search of a room. The corridor seems vast and endless.
Hours 13 – 20: a night to remember
I sleep. It is blissful. Beyond blissful; this could quite possibly be the comfiest bed I've had over the last three months. When I realise this, my stupid brain obviously has to try calculating just how many beds this one has managed to beat. Nepal, three different tour groups, Goa, Delhi… Thankfully, I drift back into a peaceful slumber before I reach that magic number.
But for the record, since I left England my head has rested in no less than thirty five beds. Ridiculous, no?
Hour 21: 
Waking up in an expensive hotel is a very strange feeling. There are no outside noises of birds or food sellers, no whirring fan that threatens to drop on your head, and no sweat.
Quite the opposite, in fact; I find myself draped in both sheets and blanket, deliciously cosy, wonderfully surrounded by every amenity possible. Perfect.
Unfortunately that moment is somewhat stymied by the loud entrance of Mr. B's assistant, who leans over my bed and hugs my shoulders aggressively.
This is the first time that we've met, and I'm lying down.
I'm unsurprisingly a little taken aback (typical Brit, politeness and personal space abounding) but before I have a change to gather myself, the shout of "chalo, chalo, ten minutes then we go," is blasted from this tall person's mouth and I'm out of the comfy bed. K has wandered into the bathroom and I float slowly towards my bag, aiming to just slip on my shoes and be ready to make a move.
Alas, the tall person looks me up and down. In her eyes, I'm clearly not up to scratch.
"You can change here", she says, impassively.
I have to accept my lot. After all, if I, the poor deluded tourist, am wearing trousers that I classify as pyjamas, then there's certainly no way any Indian will accept them as outside wear. Shame.
We're heading out of the door when Mr. B jets past, waving a hand in farewell – he's off to catch his plane to Thailand. I think I say something about eating noodles, which is probably a very pointless thing to say to a celeb. Hopefully he doesn't hear.
Hour 22: firearm rescue
We're in the car again, but with our original, only-a-tad-above-the-speed-limit driver. Not for long, though. A call comes through on the tall girl's phone and there's a small amount of swearing, followed by a sudden speeding up of the cars wheels. Mr. B would be proud of his protege, as we swerve and bounce around the mid morning freeway traffic, making very quick time to the airport. Turns out Mr. B has mistakenly taken something with him and we have to go and pick it up before he boards his plane. It's only when our driver returns, all smiles, and deposits a small black bag under the seat in front of me that I find out the item in question is a gun. Cue a very nervous yours truly for the entire journey back to the farmhouse, as I attempt not not put my feet anywhere near the firearm in case I blow off one of my toes. Lucky it's a roomy car, really.
Hour 23: the two sides of Mr B
By the time we arrive back at the lake and load ourselves into the little rickety boat, I've been thoroughly introduced to Mr. B's tunes from a variety of different radio channels, all of whom favour playing one of his songs every 5 minutes or so. I know the choruses to two of them in averagely passable Hindi, and know the irrepressibly catchy beats to many more. I've spent less than a day in his presence, but already I'm pretty much sold. In public, he's got the swagger and  attitude of a total celeb – all mystery and smouldering stares – but when he's in private, he seems like a down to earth guy, with a penchant for mockery, comparing his houseguests to his pets, and an incredible sense of hospitality.
Why else would he be allowing some random Western girl to crash his island pad?
Conclusion (of sorts)
Which is why, almost a week later, I'm waiting patiently for dinner at quarter to midnight.  I've spent the day teaching Mr B how to swim breaststroke in the pool, sweating out beside him in the sauna, walking twenty laps around the path with him as part of his daily exercise, and becoming a pseudo-health expert as he asks me what foods are good to eat before he goes to bed (I told him mangoes were alright).
I'm fast adjusting to the fancy hotels, the sleeping in till midday, the late night dancing sessions – all to his own songs. Now it's just a matter of pulling myself off the island to continue with my Indian travels. Just one more air conditioned night's sleep first…