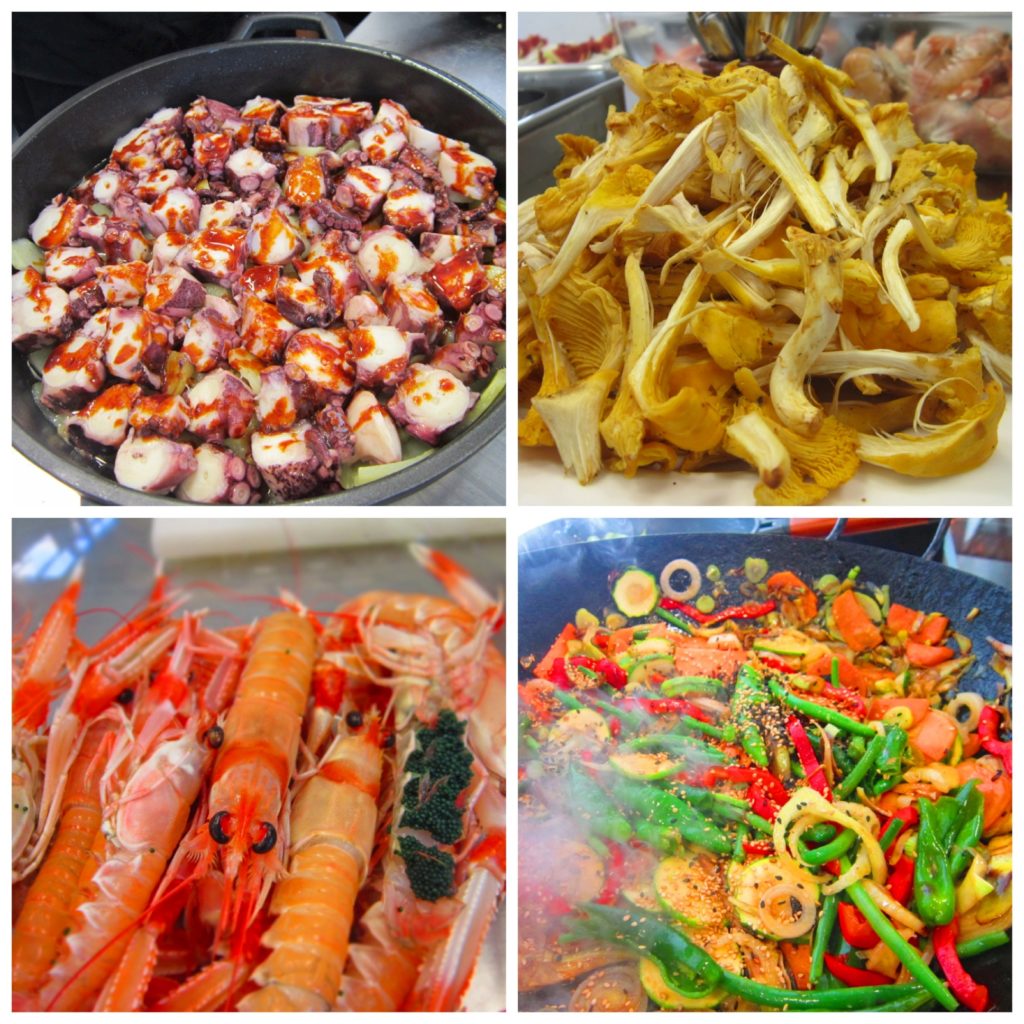 For some reason, I've spent a long time labouring under the delusion that Spain is a land of lotharios. Maybe it's because I didn't make it to Spain until I was 21, basing my impressions on rumours; or perhaps I've run into a few too many flirtatious guys hailing from the country.
Regardless of the reason, I'm ashamed to say that when I think of a Spaniard – a Spanish man – I immediately think of the Mediterranean machismo type in a stretchy speedo, slinking around the sun drenched beaches of the Costa del Sol.
And yet, two days after the TBEX conference was over, I found myself in a Catalan food market watching a head chef kissing a fish on its icy nose. All around me, women from America, Spain, Canada and England looked on breathlessly, unconscious grins plastered across their happy faces.
So it's sayonara to the stretchy speedo and hello to the bright chef's whites: I appear to have got my impressions about the Spanish male anything but correct.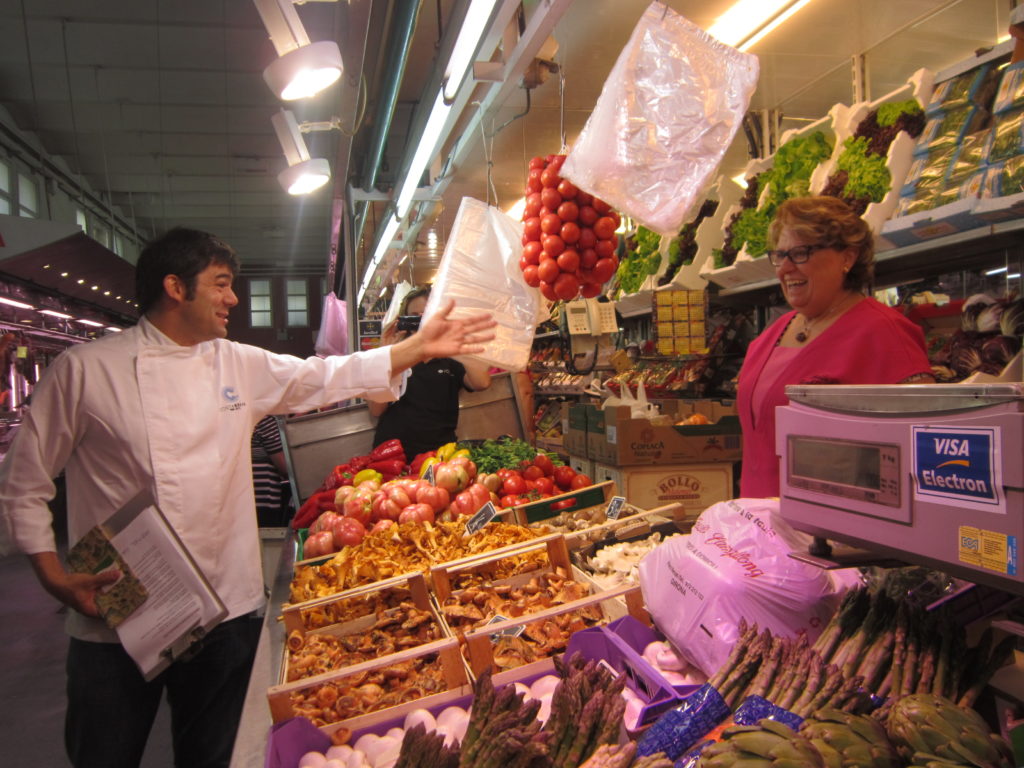 It was one of our trip organizers, Neus, who first alerted us to Chef Xavier's charms. As we sat in a church garden on a sunny afternoon, eating a meal consisting of at least four different kinds of meat and enquiring about our upcoming cooking lesson the next day, her face grew suddenly serious.
"I will not be missing a visit with him. I will be joining you to cook. He is very lovely, you will see."
"So I should be putting on my make up tomorrow then, right?" I said jokingly, certain that there would be no activity of the kind.
Neus looked at me unblinkingly. I felt a little nervous. Maybe she was related to him or something.
Chef Xavier: the man behind the hob
From the moment he appeared in the brightly light kitchen above Girona's food market, however, I realized what Neus had been getting at. Chef Xavier Arrey, the Spanish head chef at Hotel Carlemany, spoke to us in French for a good ten minutes before someone meekly piped up that we didn't really know what was being said; then he fired off his list of languages in quick succession and asked us which was most suitable for each.
The man was a polylinguist. He spoke four languages, in the same sentence, at the same time – basically as simultaneously as is possible – and none of those languages were English.
When I heard a smattering of Italian come out of his mouth, my hand found its way into the air.
"..Io parlo Italiano!"
He looked over at me and grinned.
"Aha, si?"
"Si – ma un pochissimo.." Just a little bit. I didn't want to blow my own (non-bilingual) trumpet too much.
There's something in the sangria…
Chef Xavier was clearly passionate about his craft. We wandered through the market accompanied by his self-pronounced 'hands on' attitude to cooking; he held up fresh anchovies for us to sniff, crumbled spices between his fingers, bade us take samples from the displays of dried fruits – although I'm not entirely sure they were for public consumption as the stall owner looked slightly disgruntled. Maybe because she wasn't his main focus. God knows, the majority of the passers by were very curious about what we were up to.
"Who are they?" asked a woman as she wandered over.
"They are bloggers," Neus answered, proudly, as she pointed out the various nationalities of her faithful blogger brood.
And, true to blogging form, we started off with quite a bit of tweeting and Instagramming, but it soon dissolved into taking more and more shots of Xavier, and then, eventually, our social media skills fell by the wayside completely. It wasn't our fault. Staring just took up a large amount of our attention.
Plus, since nobody else had volunteered their knowledge of Italian, every now and again Chef Xavier would lean over to me, with all the familiarity of an old friend, and start joking gaily about our fellow market shoppers in Italian. It was virtually impossible not to succumb. And in all truthfulness, I was pretty much ok with that.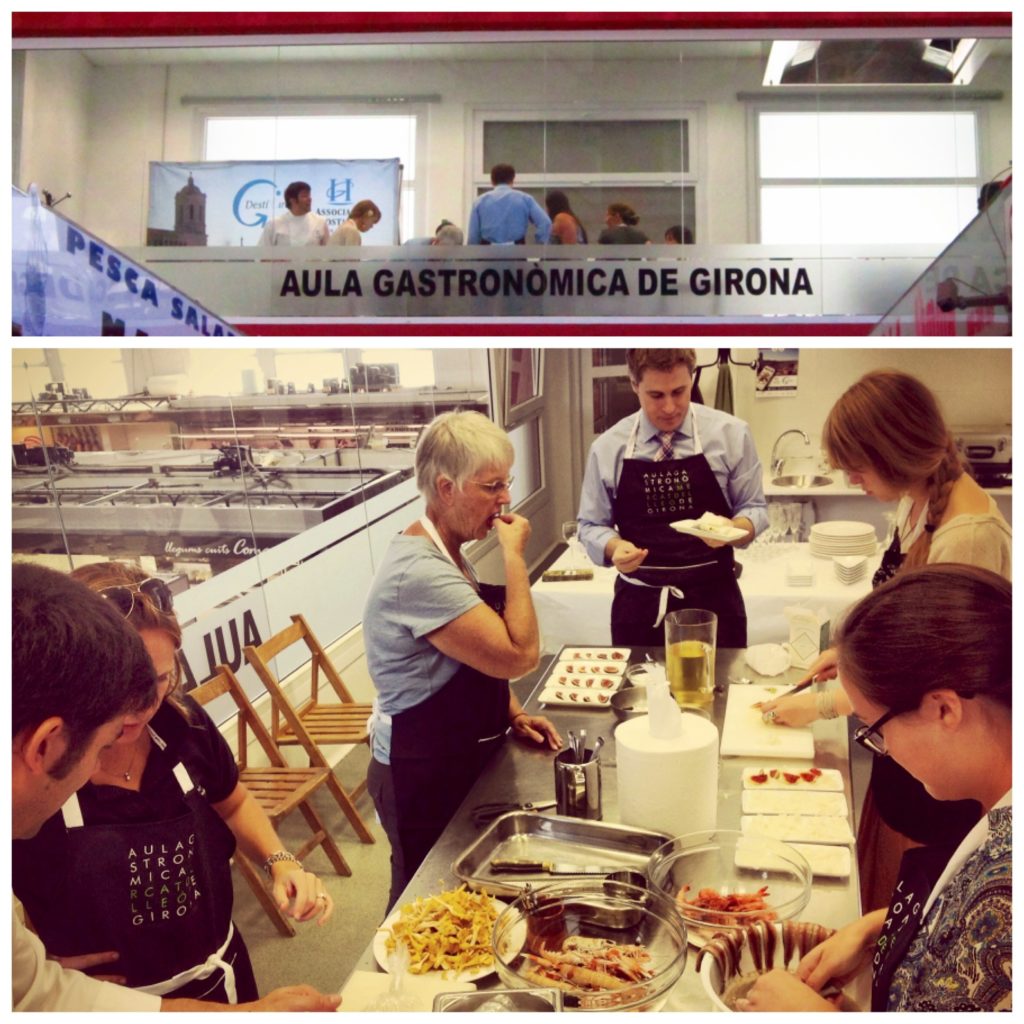 Cooking up a storm
Once back in the kitchen, he put us to work getting our hands dirty. Aside from the precision called for in slicing fresh figs and the careful arranging of red peppers onto crostini, there were also shrimps to de-head, octopus tentacles to chop, and anchovy meat to separate from spindly spines. It was fiddly work, but we were all very much inclined to make a good impression and do whatever was asked – and the three vegetarians in our group strangely didn't have much of a problem when asked to muck around with various meats.
As things heated up, the kitchen got steamier. Porcini mushrooms were stirred gently into melt-in-the-mouth risotto; fresh asparagus seared for mere minutes in a hot pan; a medley of green veg tossed alongside thinly sliced peppers and potatoes.
And my crowning moment? When I ended up at the gas hobs, carefully placing thin cuts of fish in concentric circles upon the bed of the sizzling hot saucepan – and congratulating myself inwardly as I mentally noted the similarly sizzling Spanish specimen standing next to me.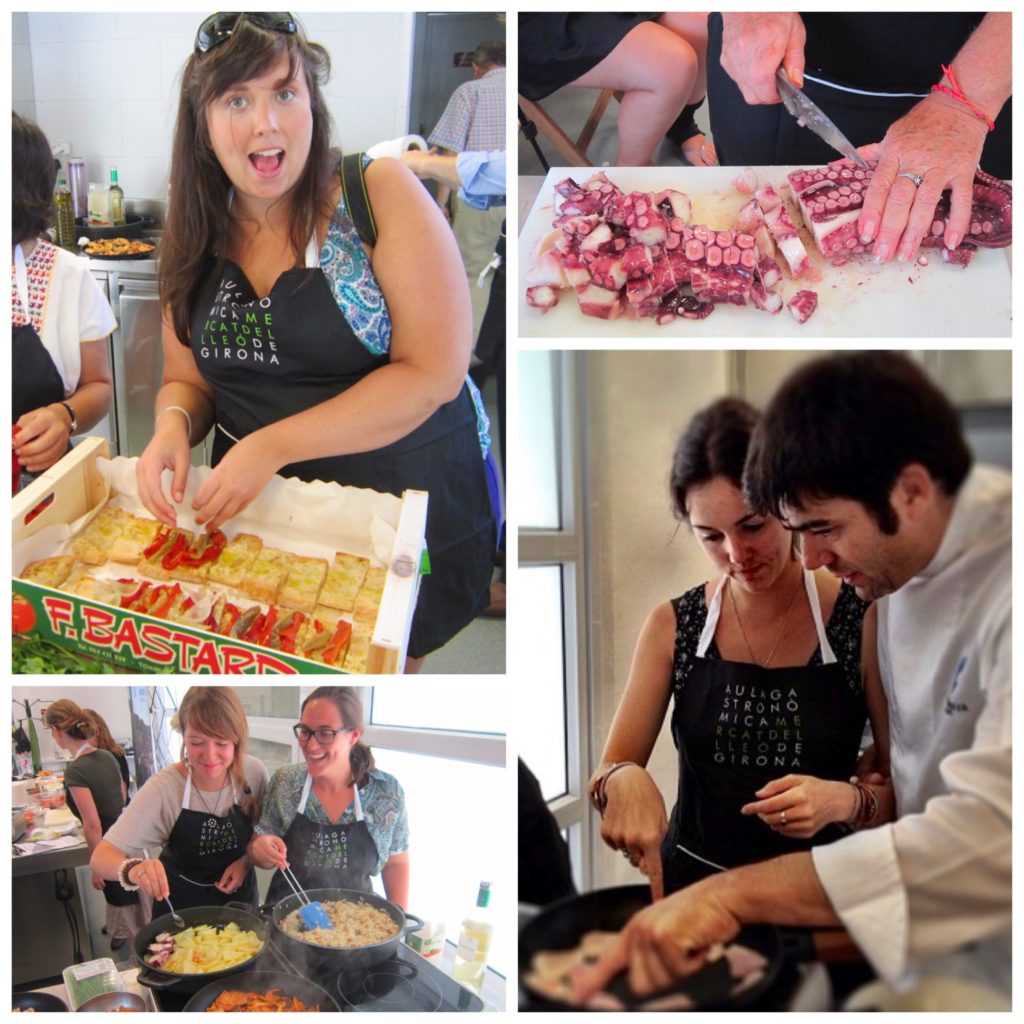 After two hours in the kitchen with Chef Xavier, I had thrown all previous opinions about this country's men out of my head. Spain, I heartily apologise for the way I've internally treated your male folk.
Which is why it's averagely embarrassing to admit that, five minutes into meeting Chef Xavier for the firt time and hearing his dulcet multi-linguistic skills, I was scurrying through our temporary kitchen, past spotless pots and shining pans, to the back room where we'd stored our bags. I hastily grabbed my powder and did a quick once over across my infuriatingly shiny nose.
Sadly, in the end I'm just like every other girl; a complete sucker for a polylinguist.
Many thanks to Hotel Carlemany, the Costa Brava Tourism Board  and Jaume Marin for arranging this cooking session – and for introducing such delectable specimens to a group of fluttery female bloggers. Langoustines and polylinguists, both.