Water has been sourced and the fans have been turned off – the power is out in Goa again.
At 30 degrees but with 71 percent humidity, it's almost the end of the season here, and beneath the casual behaviour of the vendors, there's an definite sense of urgency. Who will go back to the North with the biggest haul from the sunburnt tourists? Who will have enough money to get through monsoon comfortably? Who won't make enough to get back to Goa in time for the next season?
It's something that becomes more pressing as the time goes on here, and I'm all too aware that I'm a certain target. But at the same time, it's a very interesting situation to be in – if only because I feel like after two months I've got at least a slight gauge on how things work. But that's for another post, located solely in Goa, which comes after this one.
So back to the tour for a little while more…
Exploring the faded city of Kochi
After the relaxing watery vibes of Varkala and Kerala, it was a slight shock to the system to see so many tourists again in Kochi.
Luckily, after checking in to the Intrepid owned hotel (another bit of a shock, particularly when we noticed the Intrepid labelled soap in the bathrooms) and the wifi-enabled people (ie everyone but me) discovering they had the joy of free wifi, we discovered that the touristy vibe this far south is nothing short of relaxed. True, there was a slight gauntlet to be run between the ranks of salesmen positioned opposite each other on the streets of shops, but all in all it was a beautiful place to wander through.
The Portuguese influence was as strong here as I think it ever can be in the South, with beautifully crumbling houses, broken slatted window shutters, Chinese fishing nets, and even a goat asleep in a parked tuktuk: Kochi has a sleepily faded grandeur that sat in perfect proportions for our camera lenses. Which meant we had an occasion of great joy as we scampered from photo opportunity to photo opportunity.
It was awesome.
Halfway through our scenic wanderings, I came across a little patch of shade, under the awning of a building, where I gratefully retired for a moment or two as it was bloody hot. Pretty much immediately, I was accosted by a policeman who'd been sitting a few metres away; but after a minute of hearing his hastily rushed English, I realised he wasn't admonishing me for standing on police property, but merely wanted to talk.
And so we did, for approximately two hours, while the tourists sweated past and the Indians looked at us with confusion.
Chatting with a Kochi local
It was fascinating to hear how Joseph, the tourist police chief of Kochi, was planning to head out to the villages in five years when he retired to teach English. He shyly asked me if I thought the parents of the children he was yet to teach would say their teacher was good at his job. I responded with such enthusiasm that he almost blushed!
He asked what I'd studied at university, and when I said I wanted to become a writer he took that to mean I was a journalist, which led to his fervent insistence that I learn as much as humanly possible about the various issues, both big and small, that make up India.
For example, the problem of the dam between Tamil Nadu and Kerala states, which has been threatening to burst for the last five years. If it actually happened, there would be untold damage to the villages in Kerala, but for some reason the people of Tamil Nadu are loath to do anything about fixing it – even though the dam water is only serving to benefit them with irrigation.
Joseph laid out four or five different Hindi and English newspapers to show me how many different issues he found upsetting, and repeatedly said I needed to know about these things, and even though I'm certainly not a journalist, I really felt like I could give those topics a shot.
So that's another vaguely potential career choice in the works – if only for topics in India that I find really grab me!
Kochi was also the location for what is proving to be one of our favourite pastimes when in India, and I never would have expected it. But for some reason, spending three hours in a darkened room watching people talk in a language you don't understand is so much more incredible when it's on a huge cinema screen in over saturated bright colours and involves a heck of a lot of singing, dancing, and general ridiculousness. Plus a healthy dose of Western extras.
That's right, folks, I'm talking about the quintessential Bollywood cinema experience.
Bollywood movie watching – in India!
We first tried this most Indian of pasttimes when we were in Jaipur, but the film we saw – Agent Vinod – was a pseudo-Bond-style action drama with too many location and character changes to really get a firm grasp on everything.
It was definitely enjoyable, but a great amount of this enjoyment was derived from all us girls swooning at Mr Vinod, who's a bit attractive – and after our second experience at the movies I can firmly say which Bollywood hit I preferred…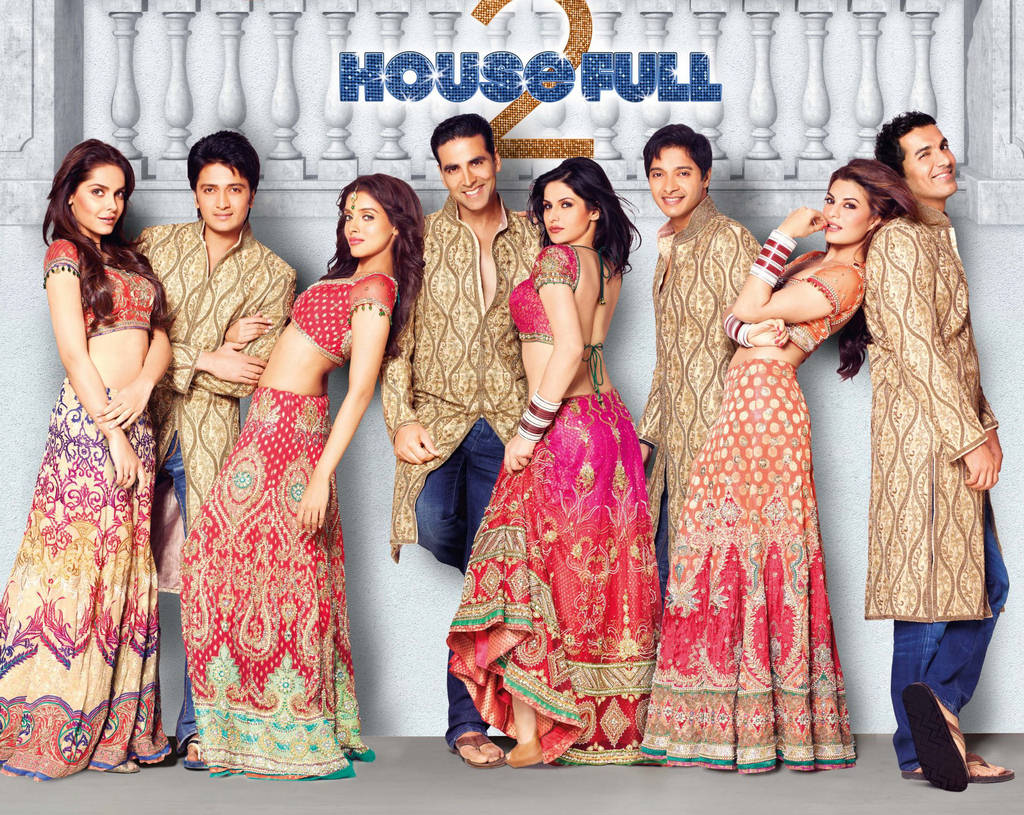 This film was ridiculous. It involved four young men and four young women, all ostensibly in the 'ridiculously good looking' bracket (although one guy's muscles were definitely made out of protein pills and supplements) with various twists and turns that saw all four men getting with all four girls.
There was dancing, and singing, and a great deal of crotch thrusting and lip licking, but it was all in good fun and a great many scenes were pretty much hysterical – not to mention the fact that it was filmed in London, which made my little patriotic heart quite happy. We're now pretty keen to rent the original House Full and discover just why their house was so full to begin with.
Indulging a love of saris in Mysore
When we hit Mysore, we felt a bit like we'd jumped straight back into city life again.
Here were the fast cars, the honking traffic as it sped around the slow cows in the middle of the roads, and the ogling boys. We felt a little downcast, particularly as it was brutally humid and the wide streets didn't help our searches for shade. Thankfully, we managed to avoid feeling blue by escaping into a sari shop and somehow spending around four hours trying on every 26 metre length of fabric we could get our little hands on.
Fun fact: in Mysore, a place with little for the general tourist to take photos of, I managed to snap over three hundred – and here's a little peek into why.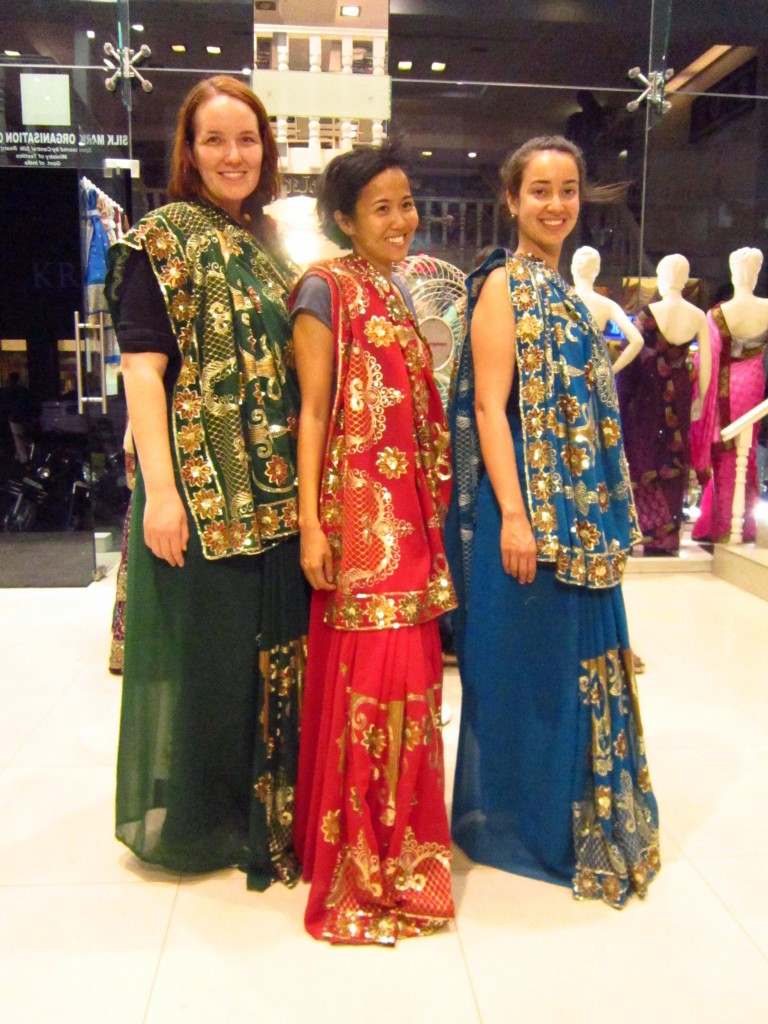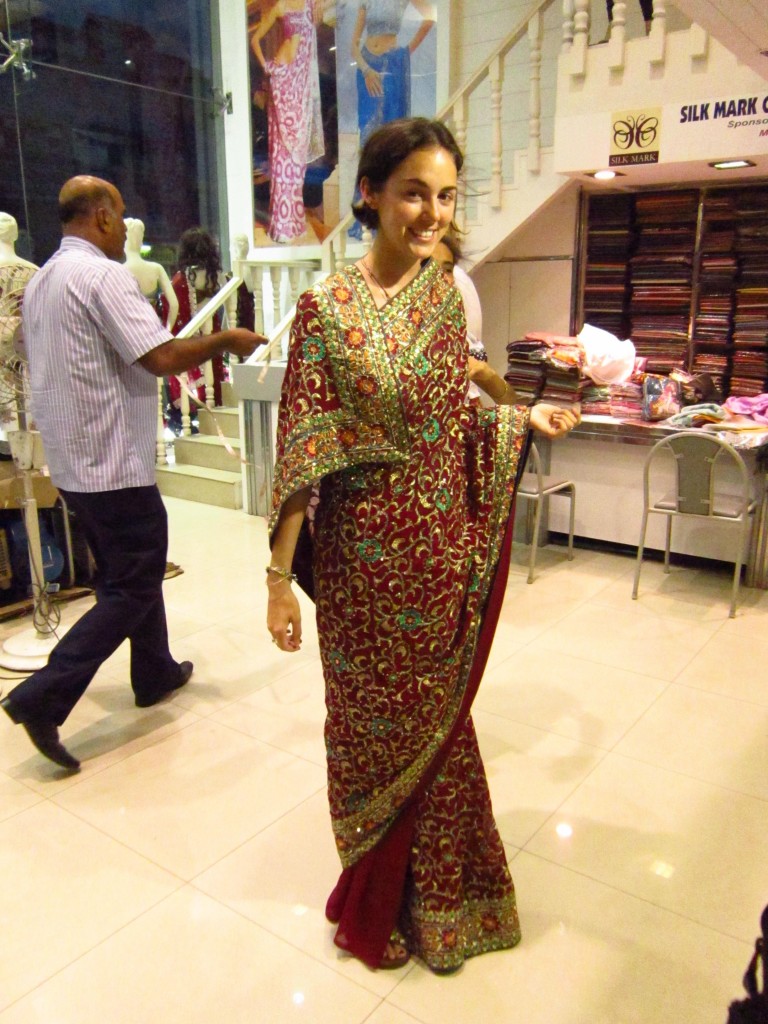 I definitely got comfortably close to buying a sari, but thankfully my little 45 litre bag was having none of it – plus I know that sadly I have absolutely no occasion to wear one at home in London, no matter how beautiful it is.
Alas, three of my friends didn't have such thoughts and all left the store clutching linen bags with metres of material fashioned into blouses and petticoats – but they all look gorgeous so I can't really blame them!
The hidden market of Mysore
Mysore was also the site of an amazing find, again a photographer's dream, and pretty much summed up the reason why I love this country so much.
The Devraja market was an experience like no other, where every vendor I greeted smiled back radiantly, and nobody hassled us to buy their produce – presumably because they knew that tourists, backpacks and fresh vegetables and flowers don't exactly mix!
There isn't even much to say, as I'm pretty sure the following photo spam speaks for itself: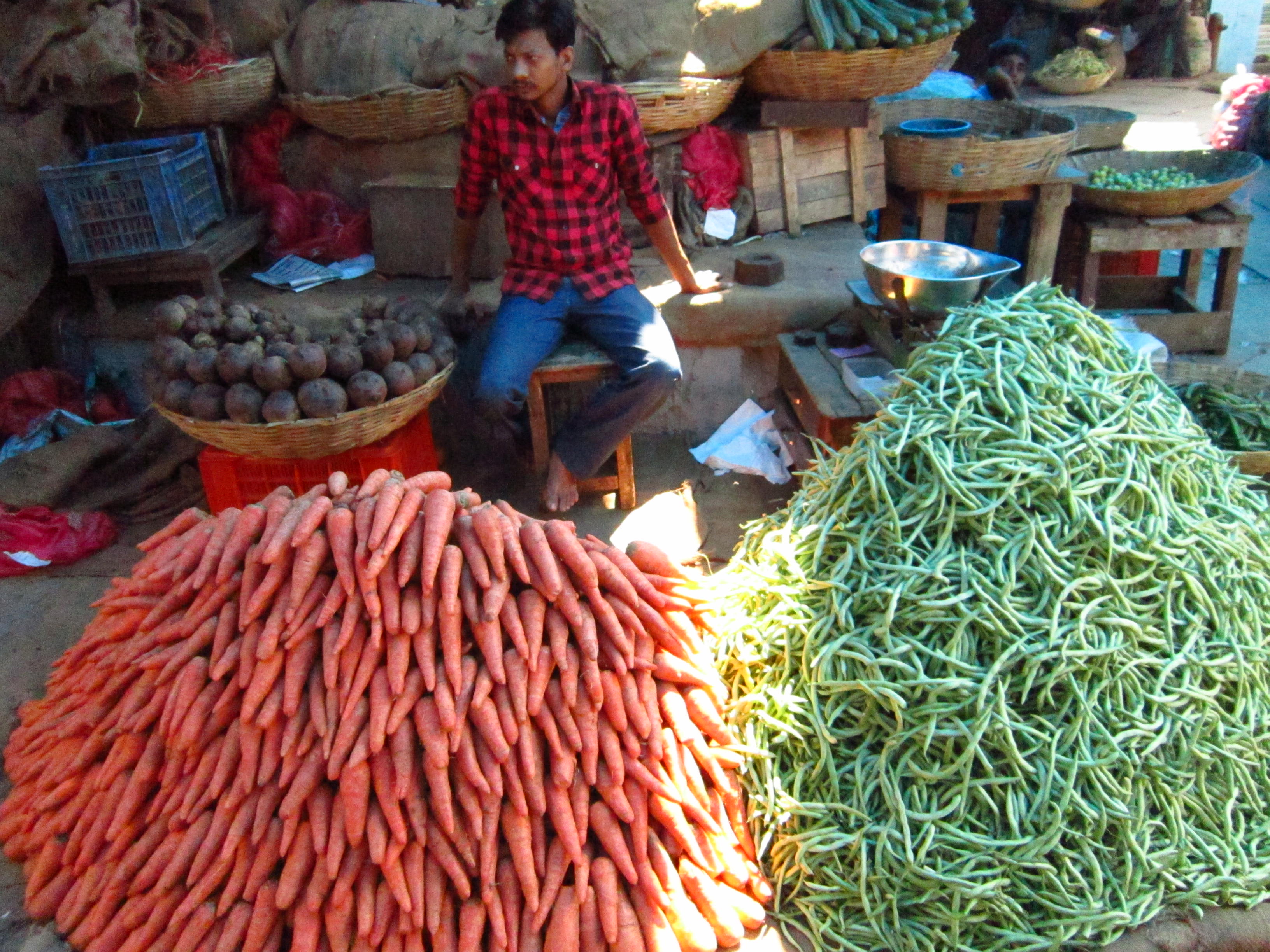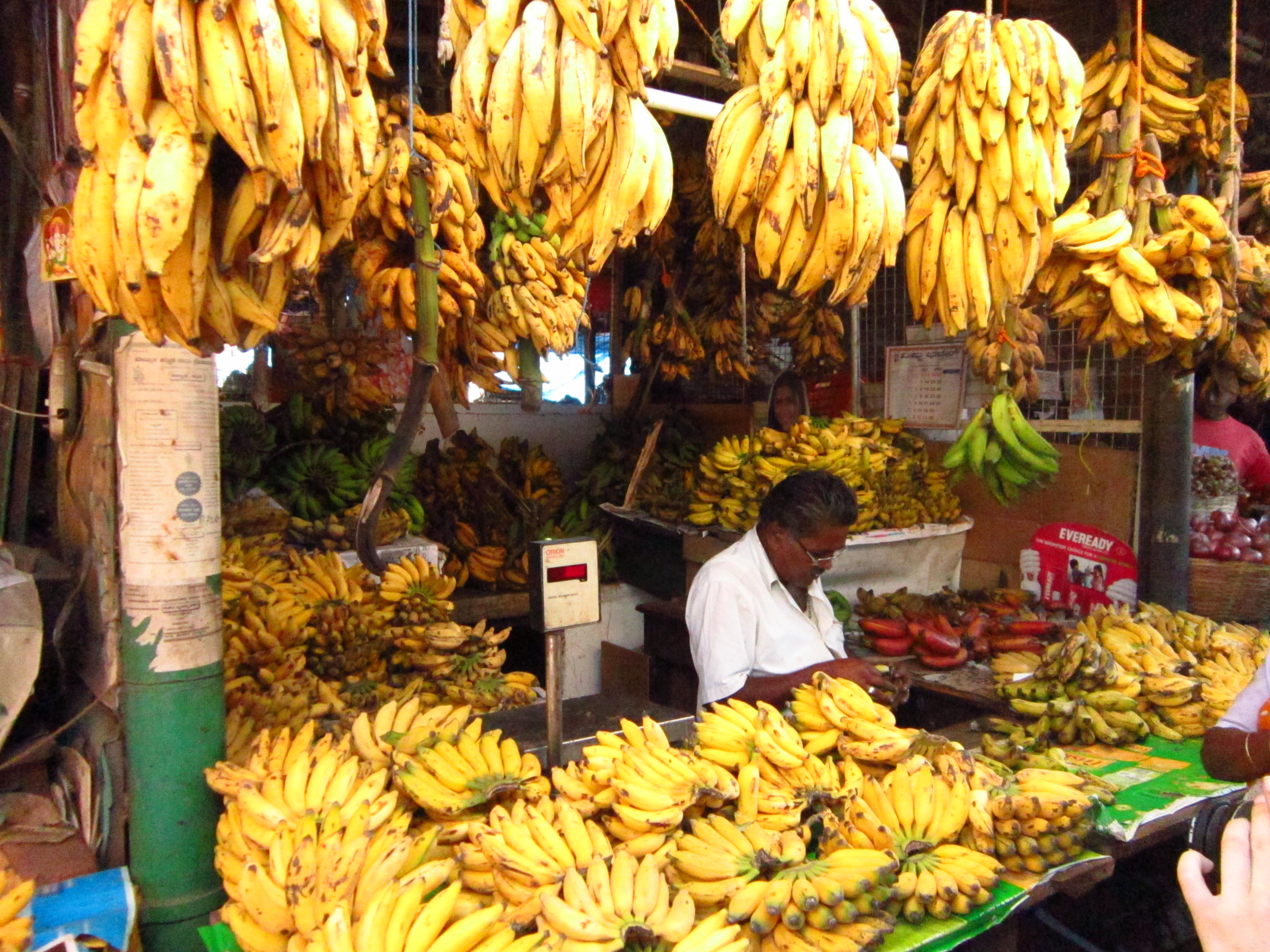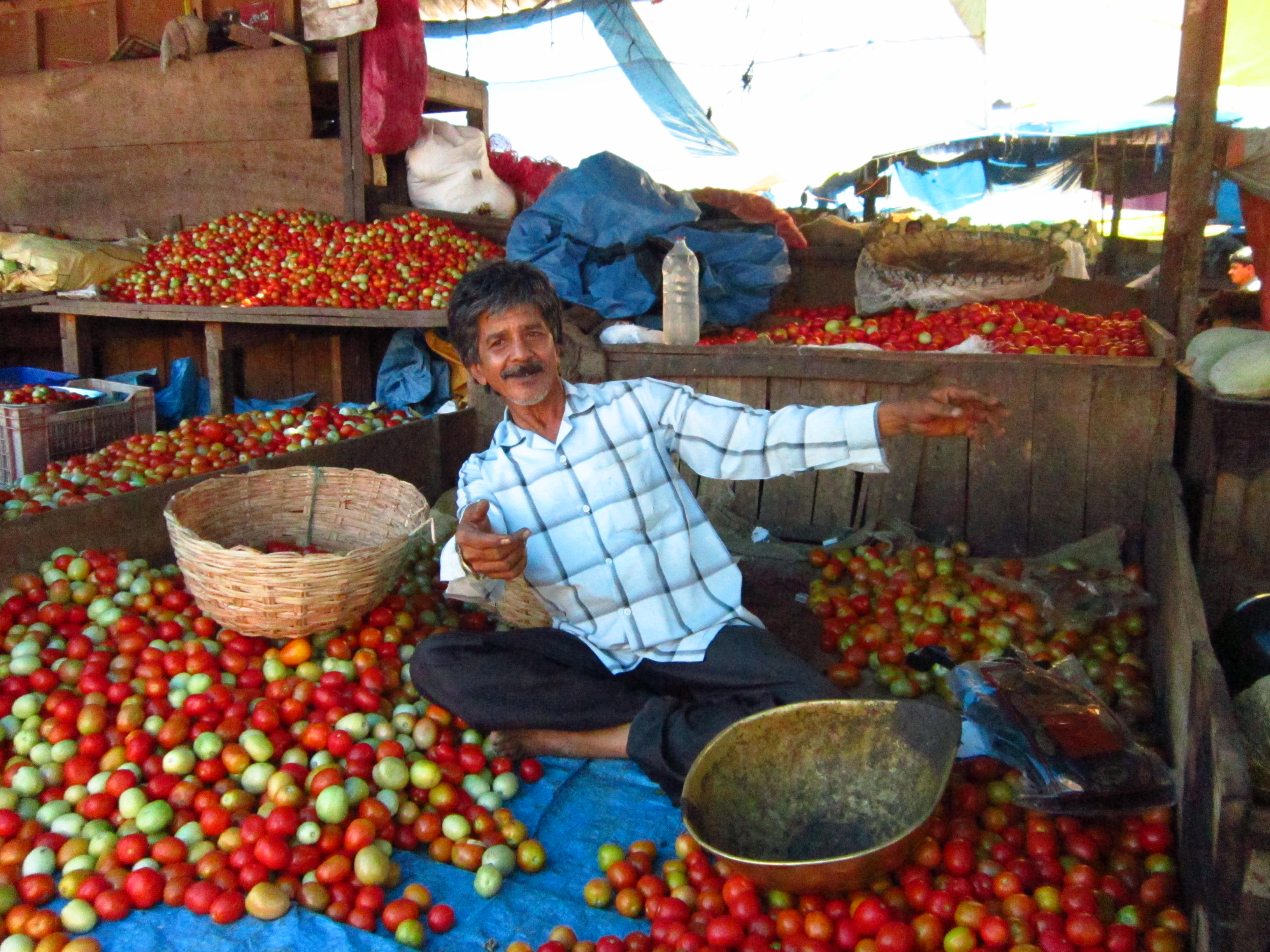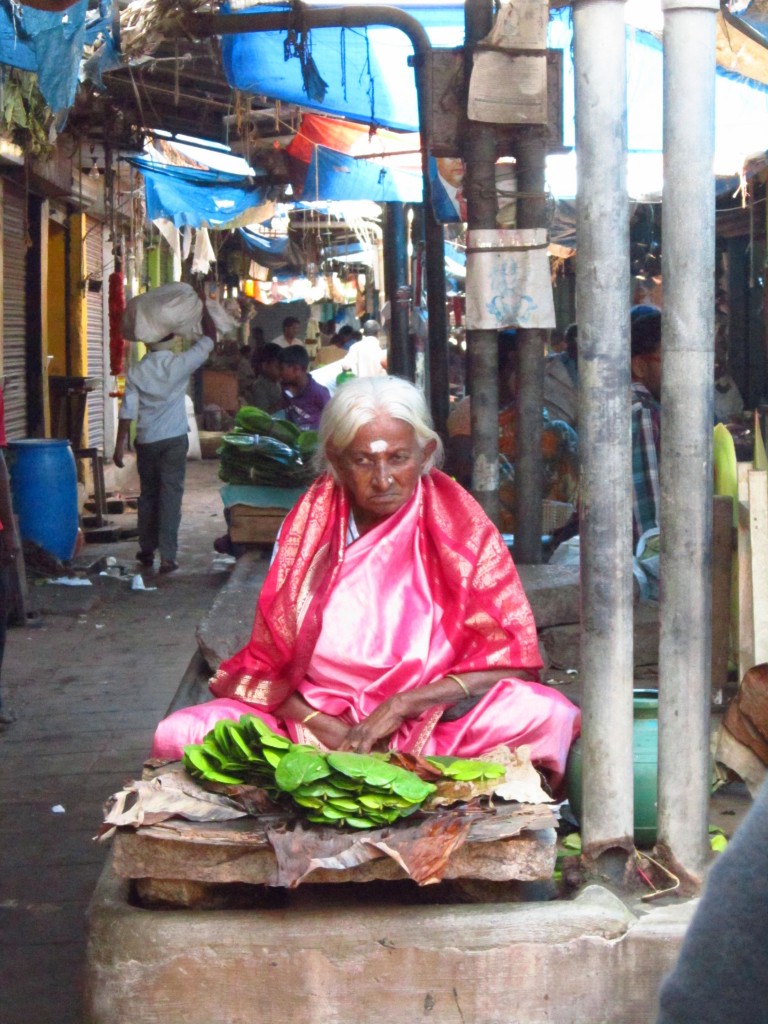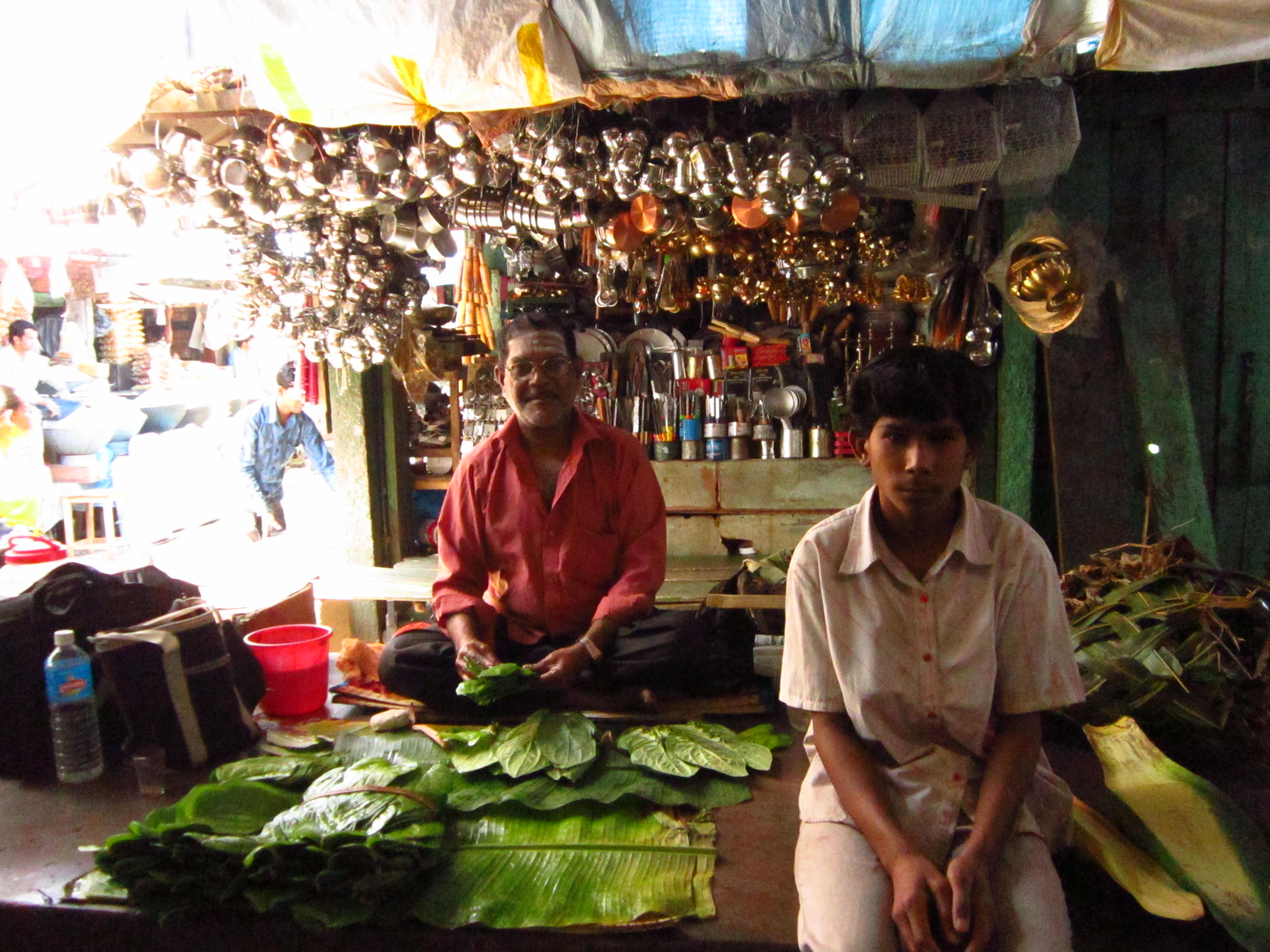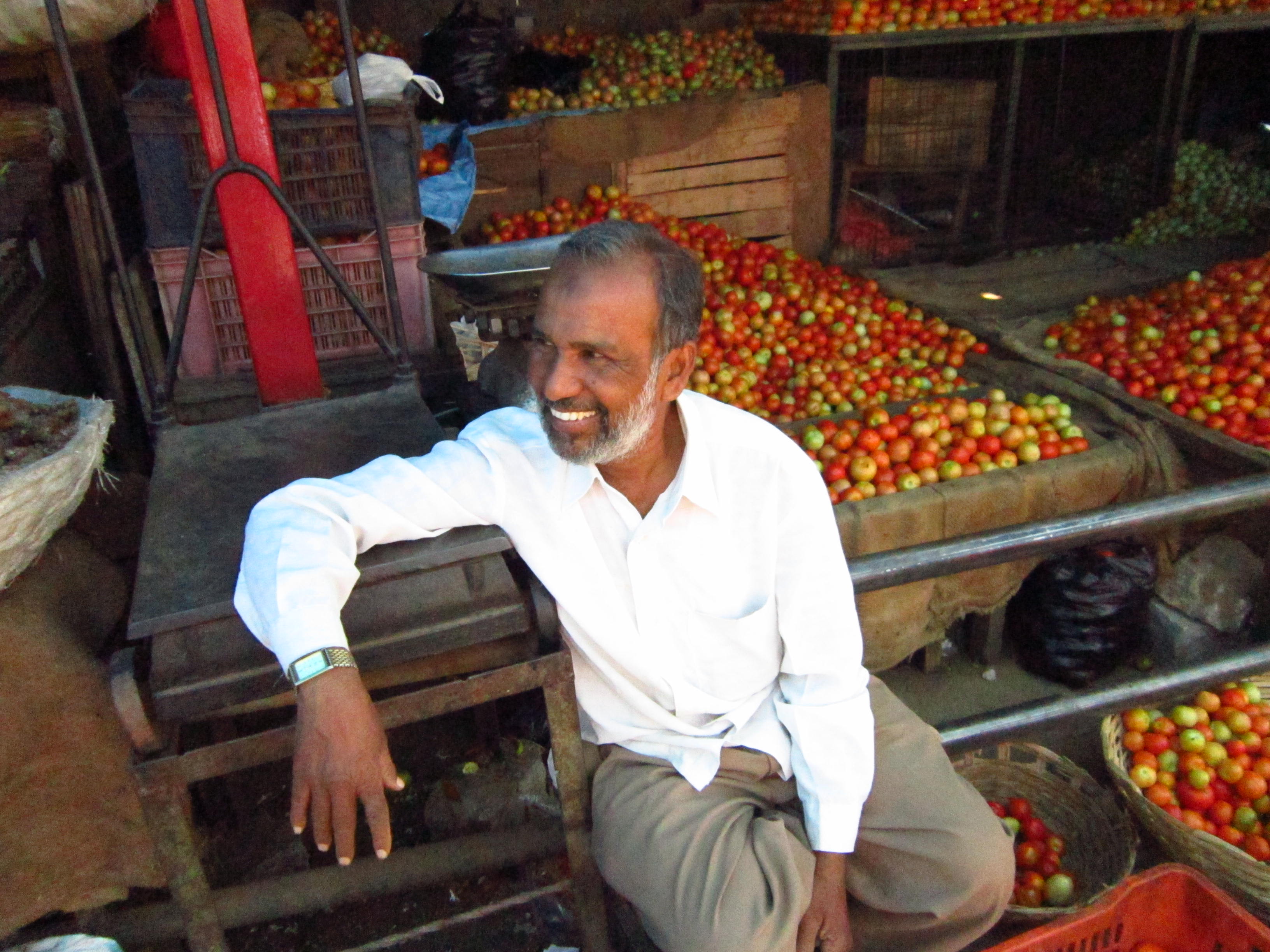 That market is almost certainly going to be one of my favourite places in India, just because it felt so wonderfully different to anywhere we've been so far. Strangely enough, it's not even really advertised as a tourist must-see in Mysore, but it certainly should be, if only for the friendliness of everyone we talked to.
There was the man posing in a pit of tomatoes whose friends told us he was a monkey and should go back home with us to our local zoo; the children making flower garlands under their dad's stall, who were gleefully fascinated with our cameras and made us promise to send them the photos we took; the most beautiful baby who gave me such serious looks and completely disobeyed his mother, who wanted him to smile for me.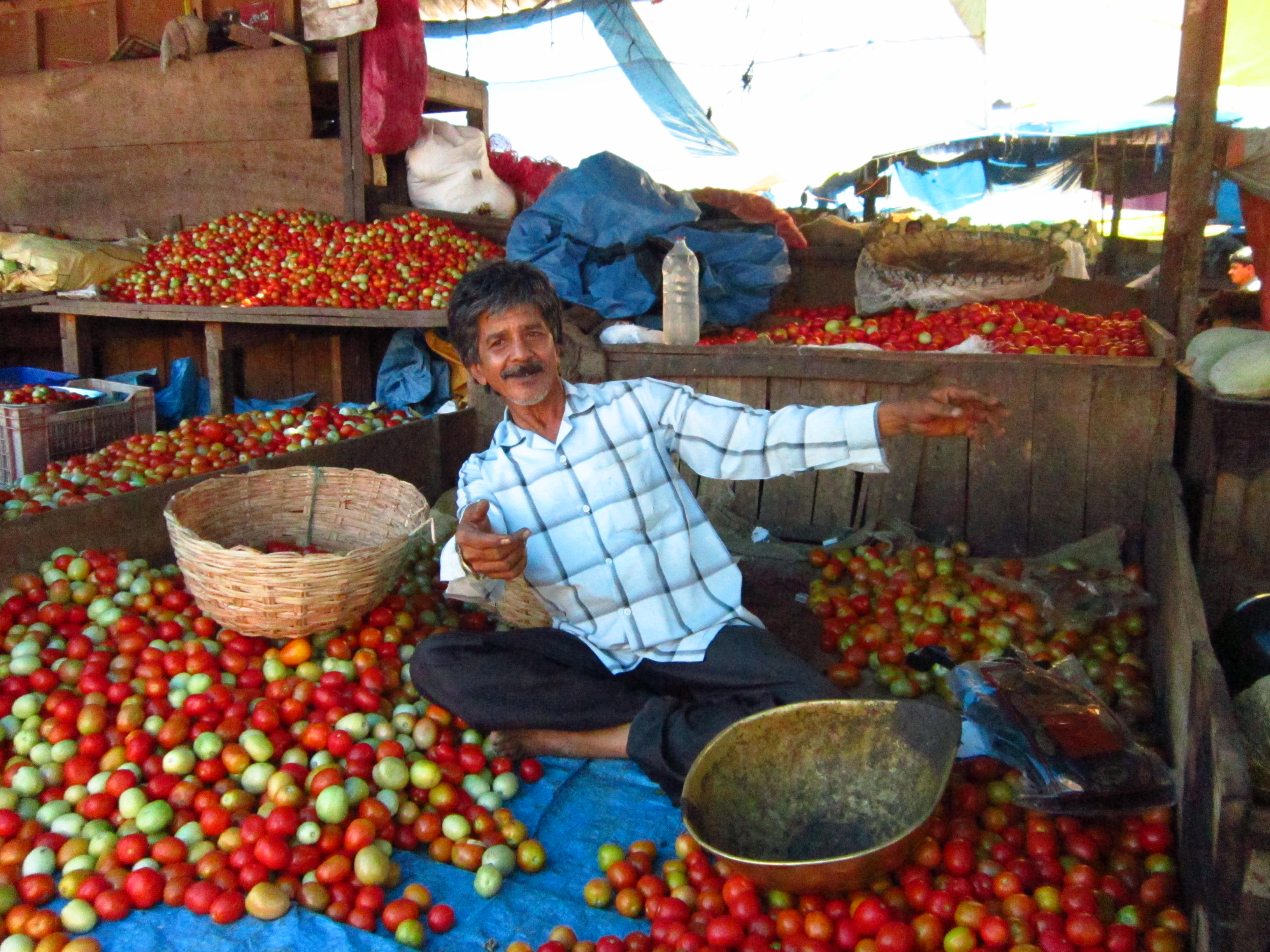 There was the man selling perfume oils in tiny glass bottles, who warned us against the tourist touts outside the confines of the market; and the boy who showed me his photo album of jasmine flower hair pieces, told me how much each one cost, their weight, their meanings, their purpose and their scents.
We wandered out of this place after three hours, a bit dazed, realising we'd forgotten to even take a drink of water because we were so distracted, but with three cameras filled with copious photos that we were able to spend an overnight train journey going through and feeling very happy with our day.
Onwards to Hampi
And then we arrived in Hampi, feeling fresh (after so many overnight train experiences we've got somewhat cocky with how well we sleep) and felt like we were entering another world entirely.
I was already expecting something crazy from the place after hearing from various friends, but being surrounded by such huge boulders and rocky landscapes really does make you feel like you're in the Flintstones!
The sky was mercifully overcast – one of the first times I've seen cloud in about two months perhaps?! – so there was no sweat complaining as we waited by the riverside for a little canoe to make its way across to us,while women washed their clothes and their children with equal vigour on either side of the bank.
We hauled our bags into the boat, where i managed to display my usual grace and elegance by refusing to take my bag off and instead climb in with a dead weight on my back, thus losing all balance in my legs and sitting heavily down on the prow.
All my 'Flora-falling-over' story loving uni friends are hereby allowed to laugh hysterically. Although I did actually cut my toe, so you're effectively laughing at an invalid. Shame on you.
But I digress, as per usual. The place we found ourselves staying in Hampi was gorgeous, bordered by seemingly endless paddy fields and comprised of tiny thatched roof huts that involved mosquito nets and in-room bathrooms that made us happy we've all spent two months getting to know each others bathroom habits!
We spent two days in Hampi just chilling out (which, to be honest, seems to have been the mantra for this leg of the trip – it's just too hot to do much else!), wandering over the incredible boulders, barely scratching the surface of the 150 odd temples and religious sites that are scattered about the area.
Sadly one of the best ways to see everything is by renting a moped, which I just don't trust myself to do, so we settled for our good old legs, which duly turned into sweaty messes as soon as it got past 10am.
I'm pretty sure that I could never live in the desert; there's something so frighteningly barren and dead about hot sand and thirsty dry scrub, which serves to make you unsettled and thus even hotter. One friend of mine even stuck an umbrella in her cleavage to keep her in the shade… And though we mocked at first, it did look mighty cool under there (under the brolly, obviously, not under her boobs).
When it got simply too hot too look at any more temples, we spent a long time in the jewellery shop of a guy named Shiva, who regaled us with stories of his childhood, getting tattooed aged eight from a travelling fair and drinking his mothers breast milk up until he turned eleven (a pretty interesting set of experiences), and letting us in on the secret of long life, as proved by his great grandfather who died at 127 years young. Mental. If you're nice to me I'll let you in on the details…
On the road again
All too suddenly it was time for our last transport day. One of the worst so far, which I guess was pretty fitting for the end of the road.
We were up at 3.30am, drove to the train station at 4am to catch a train at 6.30am which arrived a half hour late. We squeezed ourselves in a carriage without air conditioning for eight hours with two members our group feeling ill again (and of course, one of them was me…). When we finally arrived at our train station, we didn't realise we were due to get off and so enjoyed a sudden blast of activity, throwing ourselves and our bags out the door as the train started to move off again.
This may be a slight exaggeration but it was still pretty exciting.
Still, we finally reached Goa, and with that the end of the organised tour. We checked ourselves into a lovely little hotel, with broken tiles covering the floors in mosaic; knick knacks on every surface, lights and coloured strings in the trees; and two little wooden chalets out by a similarly little swimming pool that we're sharing.
It's pretty much the perfect place to while away the next few days with sleeping, swimming, lounging in the sun and eating when the weather's not too hot!
But it feels incredibly strange to be leaving the people I've been traveling with for the last two months. We're such good friends now, and I can't quite believe that I didn't start off in India already knowing them!
Nevertheless, I know I need to do the next part of this trip completely solo, and I've had the best possible grounding with these lovely people around me to deal with whatever I end up facing.
So what happens next?
So. After Goa comes a flight to Delhi,where I spend a few days seeing the sights i missed on my first visit, before heading to Chandigarh and meeting with my cousin's friend who runs a PR firm. I don't know how long I'll spend with him, but my vague plan of destinations will hopefully take me from Chandigarh to Amritsar, then to Pathankot, Kangra, Dharamsala and McLeod Ganj, Haridwar and Rishikesh.
I don't know where I'm staying or how long I'm staying for, but I'm loving the fact that I don't know the details, for pretty much the first time in my travelling history. It's another challenge on this trip, and I'm pretty sure I'm more than ready to face it.