I take a ridiculous amount of photos when I travel. Although I tend to attribute this quality to my mother (who was a fervent snapper of every single thing she saw on holiday) it's also a crucial part of being a travel blogger. Not just for illustrating articles, but also for remembering the details that I want to write about later.
That said, there are times when you take so many photos and end up never actually using them. A case in point is Morocco: I visited Marrakech back in 2012 for a much-too-brief weekend, and although my finger was poised on my camera shutter the entire time, I somehow I managed to avoid writing about the trip at all.
Luckily, there's no time like the present. This week, I'm heading back to Morocco for a brief trip to Fez and Chefchaouen, and part of my preparations have involved looking through all my photos and getting more excited with every shot.
The horse drawn carts moving bumpily along palm-tree-lined highways.
The red flags with green stars, and the banners filled with Arabic script strung from lampposts.
The eerily beautiful words of the call to prayer emanating from dozens of minarets all at once.
The huge dishes of steaming tagines, their dark clay tagine lids balanced on white table cloths.
But the vast majority of my photos are from one of my favourite elements of Moroccan culture, and the place where I spent most of my time in Marrakech.
The souks.
A Moroccan souk is a fascinating place. While the vast majority of tourists come here to bargain for souvenirs, take photos and walk about with their mouths agape, local residents actually do the bulk of their shopping here.
At least you sincerely hope that the stall laden with fresh cuts of meat hanging from butcher's hooks is only frequented by locals.
I've tried to think of the best way to describe a Moroccan souk for those of you who've never been inside one, and the word 'chaotic' comes to mind; a seemingly never-ending set of twisting lanes and alleyways, laid out in the closest resemblance to a labyrinth that I've ever seen.
Even if it's a labyrinth that sells an inordinate amount of sweets.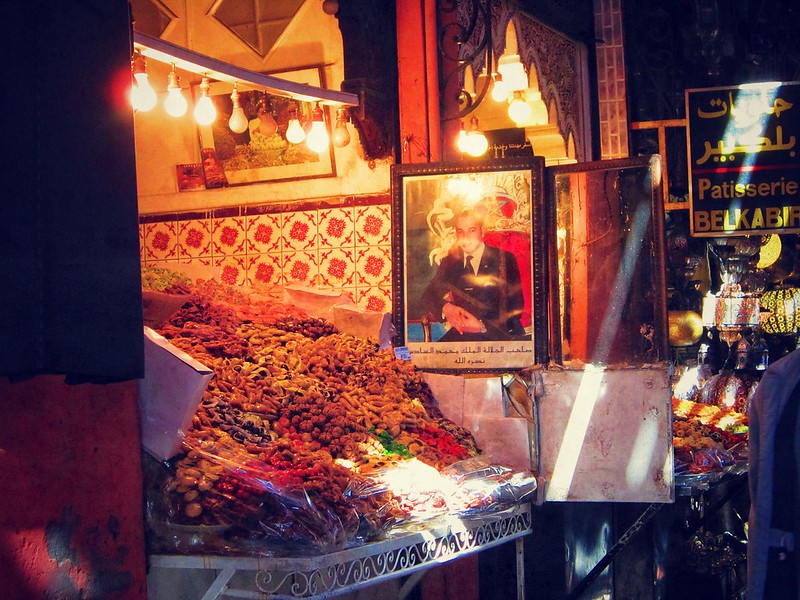 Yet from the outside, it doesn't look too daunting. Sure, it's got high walls and austere brick archways, but you don't get the impression of the sheer wealth of energy that lies in wait on the other side.
But then you duck your head a little to walk beneath those archways (which often feels as though a piece of souk decor is going to tumble downwards and onto your head).
You turn down an alleyway at random, running your fingertips along the rough paint – which has somehow retained its brightness, despite flaking away as soon as you touch it.
This is where the 'choose your own adventure' portion of a walk through a souk really kicks in. If you're with friends, it's also the time to establish some kind of identifying whistle so you can find each other again. Or at least attempt to.
Things are about to get somewhat disorientating.
The world inside the souk
It's not that the souk is cramped, exactly – more that the action surrounding you at every turn is so energetic, so tight with movement, that it takes a long moment to adjust. The air becomes thicker and less accessible; but when you look upwards, expecting to see a solid roof above your head, you see a succession of thin wooden slats instead.
The slats splinter the bright sunlight outside so it falls in shafts, illuminating some objects and obscuring others.
This is how you begin to focus in on the objects on sale in the souk – almost like someone's pointing a torch straight at the things you should think about buying. How about those tagine cooking pots, or the painted ceramic plates?
If you're not keen on pottery, how about something else handmade by the 'very people' (it's true, someone told you) who own each stall? The jewelled lanterns would look beautiful in your living room, wouldn't they?
Souvenir shopping in the souk
I tend to think logistically, so the size of my suitcase waiting in the hotel room is of particular importance. Lanterns and pottery probably aren't going to fit, but the smaller souvenirs are much easier to pack away.
"They're also likely to be cheaper," I think – and suddenly I'm lost among the seemingly never-ending shelves of knickknacks that my mum would've had a field day over. In terms of both photographing and purchasing.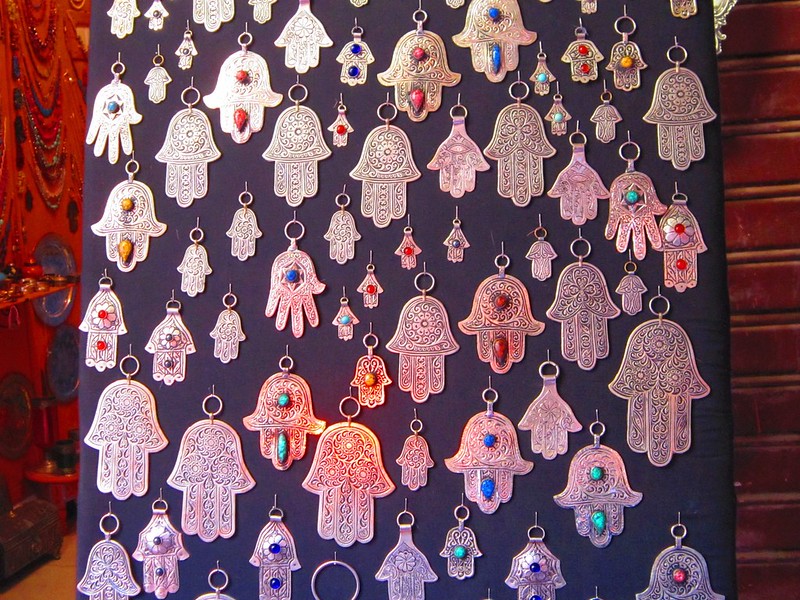 Eventually, as is the case in most markets around the world, I gravitate towards the leather.
There is so, so much leather in this market.
I see leather slippers, as soft as butter, erupting from woven baskets in every colour of the rainbow. Shining leather handbags and shoulder bags are hung from thick silver nails on the rafters of every third stall. Even the leather bracelets are calling to me – and don't even start on the wallets, the belts, the notebooks…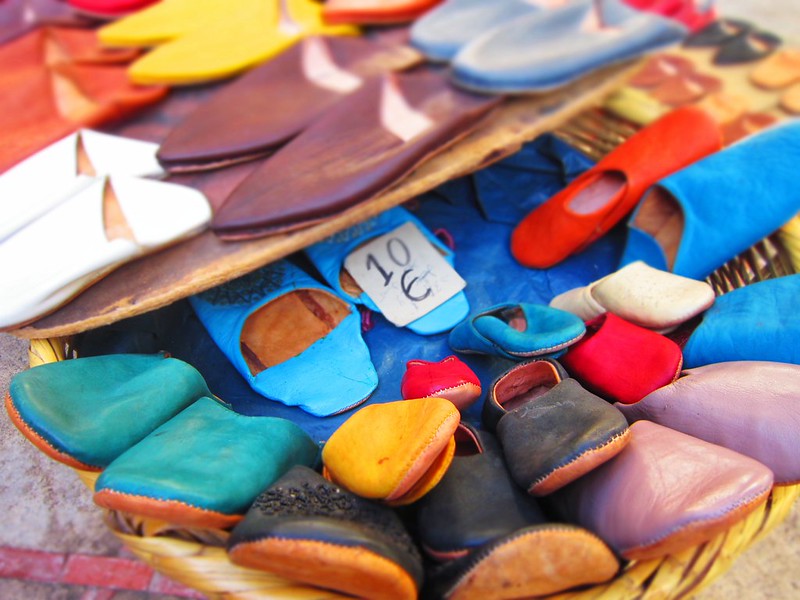 I spot a stall selling circular ottomans made of leather. Hiding amongst the samples is a beautiful one, divided into triangles of white and turquoise. I approach with caution, hoping to get a good amount of scrutinising in before the stall owner spots me.
"I give you good price lady!"
Too late.
Haggling: the only way to spend in the souk
The problem with buying things in the souks isn't just the overwhelming amount of choice. It's also agreeing on what you're actually going to spend. Moroccan prices are often negotiable, and although the best methods for bargaining in Morocco depends on who you ask, but there's only one way to really get it right – and that's purely by practicing.
Whenever I arrive in a country where haggling is a standard way of life, my confidence crumbles a little (what if I start too high? Or try to go too low and then get shouted at?) but soon I get into the swing of it. Ok, so I probably pay way too much in the end, but getting the initially suggested price cut in half, or even taken down by two thirds, brings a certain smugness to eventually handing over your money.
When you step back from the purchasing part of souk life though, it becomes a photography paradise. Look at your surroundings with a photographer's eye, instead of a shopaholic's. Notice that every single available surface is used as a place to display produce.
The walls are hung with carpets and bunches of coloured string. Cupboards housing electrical cables double as display cases. The mosaic-patterned steps leading through a doorway and up to a ladies hammam have been detailed with tiny wrought iron boxes.
Occasionally, you stop and wonder exactly what some of these objects are being sold for. And to whom.
If you let it, your imagination can go into overdrive. Are these bikes waiting here for their owners? Are they for sale? Or did someone simply prop them up to lend even more aesthetic value to the beautifully chaotic souk atmosphere?
As that last thought dawns, you also realise that old bikes next to older walls and doors is actually a rather lovely scene to photograph.
You get more adventurous with your camera as you notice more and more everyday scenes that now seem to scream 'PHOTOGENIC'!
When you glance down, you see boxes near to overflowing with sticky dates, and nobody around to claim them.
You pass by tall sacks filled to the brim with herbs and spices you don't even know the names of.
You gaze wistfully at perfect pyramids of coloured powders, wondering how on earth their owners keep them looking so pristine.
Eventually you emerge, blinking, into a much wider space. Here you spot motorbikes with trucks and carts attached; outstretched parasols casting shadows over figures sitting in white plastic chairs; stalls backing onto each other or simply set up on an empty patch of ground.
These marketplaces provide much more room for people to move around. The attitude feels slightly more relaxed, and people chat as they walk slowly between the stalls, browsing.
The animals of the souk
With the sunshine and the somewhat fresher air, a number of animals congregate in these areas too. Be forewarned; it's easy to want to pick up (and/or adopt) basically every animal you see in the market.
On the fringes of the souk, you notice the seedier ways that people try to grab the attention of the wandering tourists – like the monkeys dressed in children's clothes, being led along the pavement by metal chains.
Or the clusters of snake handlers, surreptitiously 'charming' the wriggling serpents from flat wicker baskets.
These men also object most strongly to having their photo taken. Almost as if they know what they're doing isn't that animal friendly…
Leaving the souk behind
And just like that, you're out of the souk – and in this case, right in the middle of Marrakech's famous square, the Jemaa el Fna.
If you're anything like me, you'll have a rattling collection of Hands of Fatima and little jewelled lamps to cement the memory of so much sensory overload, and will probably be desperate for a steaming glass of mint tea.
Although if you're still desperate for that last bargain you can always keep on shopping. Just remember to get out before the last lamps go out…
Have you ever walked through a Moroccan souk? How many souvenirs did you manage to pick up along the way?