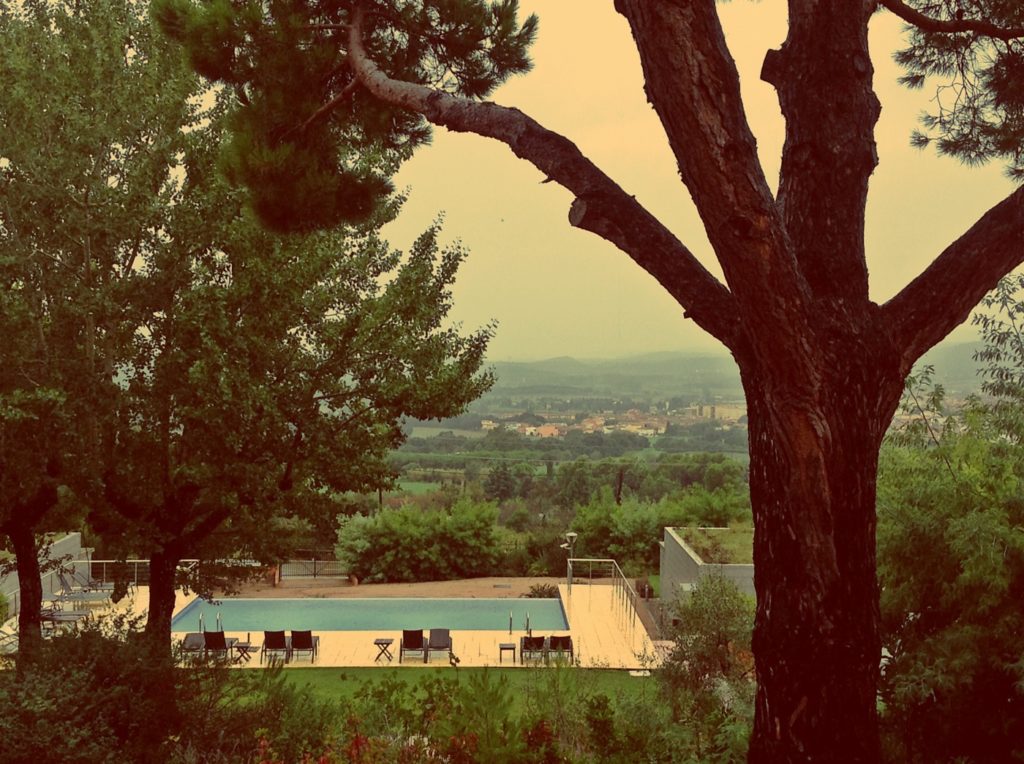 When the TBEX conference and its accompanying blog trips finally ended, a part of me was dreading what came next. For most of September I'd enjoyed glamorous parties on beaches and in castles, star catering from the best restaurants, and more wine than my liver knew what to do with.
Surely I wasn't being forced to give up the decadent lifestyle already?
Thankfully, there was time for one last shot at the high life. The Costa Brava Tourism Board had pulled out all the stops for their TBEX guests, and had partnered with a number of accommodations around the area to provide complimentary lodging for conference attendees for up to a week afterward.
The property list ranged from campsites and small B&Bs to high end four star resort hotels. Frankly, I was overwhelmed by the very idea of being allowed complimentary accommodation for the simple act of having a blog, let alone knowing how to pitch to any of them. Luckily, TBEX had taken care of that option too – you simply had to apply through their website and they took care of the arrangements.
So after giving a few places a cursory online glance, I threw caution to the winds and gaily clicked on a four star property near the Costa Brava coast. Sure, I'd love to stay at your gorgeous hotel for 5 nights!
In hindsight, maybe it would have been better if I'd actually done some research.
 Realising my mistake
When I arrived at my hotel, I realised that I was in the middle of nowhere. The taxi from the sleepy nearby town had wound along the highway for a while, before heading up a gentle incline and through the trees. My cab driver demanded €10 for the privilege of driving me to the front gates; a price I had to haggle down from an initial €15.
I signed a piece of paper masquerading as a receipt, which denoted my free stay at the hotel, under the watchful eye of Isabella, the doddery receptionist. And I nodded mutely when she pointed to the 'no breakfast' sentence, tacked onto the end of the document in front of me.
Right. I hadn't really thought about that. For some reason, the complimentary accommodation concept had confused me into thinking that I might magically have all my needs provided for; but it turns out that there really isn't such a thing as a free meal.
And choosing to stay at a four star hotel when I was getting nothing else complimentary out of it meant that I was, effectively, stranded.
This is, of course, not completely true, and I'm being a tad melodramatic.
The restaurant offered a buffet breakfast each day, priced at €10, and a three course set dinner for €25 which I could probably have managed for a five day stay on my minimal budget – but that wasn't the point. I'd spent three weeks being looked after by various tourist boards, not to mention having it drilled into me by various bloggers that my blogging skills were collateral and should most definitely be wielded as such. 
Sadly, I'm new to this game, and my shy retiring British qualities were apparently making my decisions for me that day.
"It's fine," I thought, stoically, alone on my double bed with a vaguely rumbling stomach. "I can cope! Who needs fancy dinners anyway?"
Backtracking to my backpacking techniques
And so, loathe to ask for ten free hotel breakfasts and dinners as I didn't feel I was deserving, but similarly unwilling to actually shell out the cash for them, I had to do some planning. With scarily immediate precision, I calculated that, per evening, it would cost more than the hotel's €25 dinner to cab it to town (€10) eat some food somewhere (at least €8) and come back in a cab again (oh look, another €10).
So I reverted back to a well loved tactic of old: the backpacker's budget. Buy food in town, bring it back and eat in the bedroom! Sorted. Except when I finally discovered the town's one lone supermarket, buried deep in a maze of the old town, I'd been walking for so long (ie. along the highway with no pavement to speak of – I wasn't shelling out for no taxi!) that my overly prevalent hunger pangs pretty much dictated what I bought.
I raided the shelves for groceries and finally emerged with bags bulging. My haul included fresh tomatoes, Pringles, high fibre biscuits, two jars of tuna pate, squeezy cheese, muesli bars, and some rather overripe grapes for snacking on.
I didn't exactly think through what meals I'd be attempting to enjoy with such a shopping list.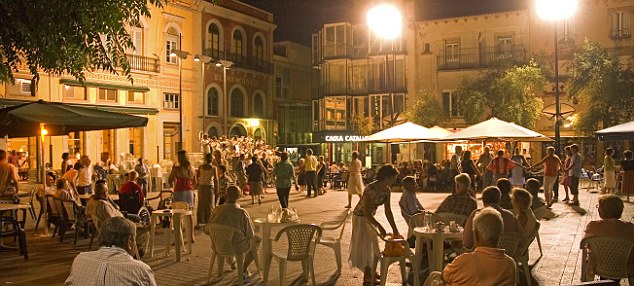 For the first two days, at least, I did alright in my room-only accommodation situation. I slept a lot, feeling martyr-like about how little rest I'd had during the TBEX conference/drinkathon. Our three day blog trip with the Costa Brava Tourism Board that I'd just returned from had also kept me so overly well-fed that it took a while for that indulgence to dissipate. On the other hand, it had also stretched my stomach…
By Day Three, however, I had come to an impasse. I was hungry, sick of Pringles, overloaded on fruit, and wanted more than anything to spend the evening somewhere other than inside the four walls of my hotel room. It had also started raining, bringing my mood down even further. There's only so much "me time" you can have when you're starving.
Crunch time
If if there's one thing I learned from the conferences, it was that I shouldn't undersell myself. Hell, I have a blog and I'm not afraid to use it, dammit!
Adventurous Kate had drummed it into me on more than one occasion: you and your blog are worth something! You won't get if you don't ask! With her motivational speaking words rattling in my ears, I sucked up my pride, thought positive thoughts about being an extremely talented blogger, and approached the reception desk.
"Hi, Isabella!"
The woman at the desk looked up, smiling, her hands shaking slightly. Isabella was somewhat on the older side.
 "So… you know I'm a blogger, yes?"
Isabella murmured her awareness to this fact.
"Well. If I write about the restaurant – about dinner", I said, fingers typing vaguely in the air about a foot above her reception desk, "could you give it to me for free?"
 Isabella looked confused. I figured I should try again, while I had her attention at least.
 "What I mean is, well, can I eat for free in exchange for a blog post?"
"Ah, yes. Ok", she said, smiling benignly.
I figured I should clarify what was being organised. "So tonight and tomorrow, both complimentary, yes?"
She looked at me impassively.
"No. Tonight only."
Well, something's better than nothing, right? And I've got to say: fresh food never tasted so good.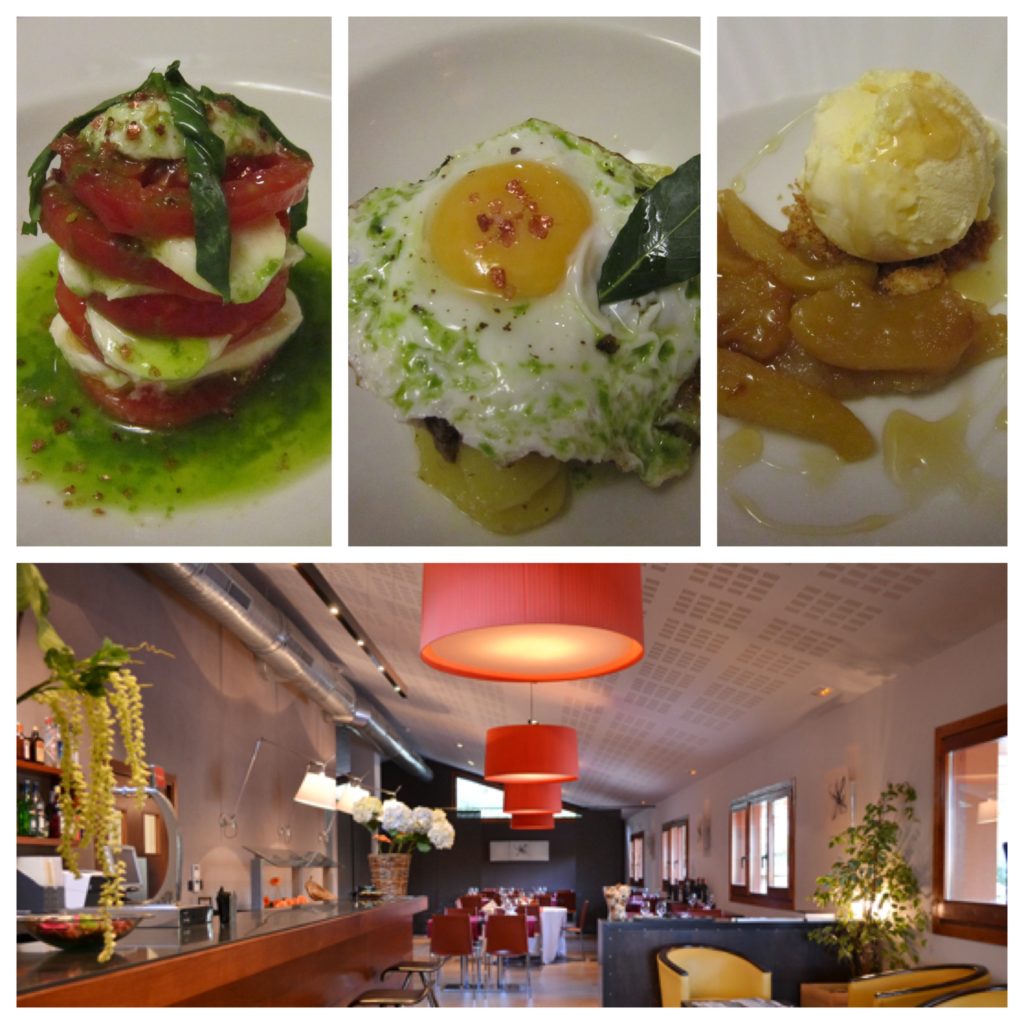 My eventual delicious award
There was a Caprese salad of mozzarella and tomatoes, topped with a strange peppering of what looked like flakes of metal but turned out to be extremely salty salt; a perfectly medium rare steak that hid underneath a fried egg and sat atop a bed of dauphinoise potatoes – and both dishes were accompanied by fresh brown bread rolls, still warm and deliciously crusty. Unfortunately it was a sad moment when I learnt that there were no chocolate brownies left for dessert, but a slice of apple cake did the job. All in all, a dinner well done!
Looking back, I'm sure I cut a lonely figure as I emerged for mere moments from my room each day. But it's spurred me on to bigger and better things. Next complimentary stay, I'm making sure my meals are included.
Or I'm Googling the menu prices first.