Although I love to travel, after a while I tend to get somewhat aimless just going from place to place when I have no specific activity or goal to work towards.
Plus, despite the fun elements of spending time with other tourists and foreigners, there's something hugely rewarding about becoming part of a local community and reaping the benefits of befriending the people living and working in the country you're in.
One of the best ways to gain access to this is through volunteering. It's long been a passion of mine, and since I first started travelling I've aimed to find local projects I can work with. From Nepali orphans, Lithuanian teenagers and the English homeless to Indian celebrities, Thai farmers and Icelandic rockstars, I've found that volunteer work allows me to discover the essence of a country – and to connect with its people – like nothing else.
What I've learned
I've also learned a great deal from my volunteering experiences, particularly in the two most common volunteering fields: teaching, and working with kids.
After four months of teaching English in Cuenca, Ecuador, I discovered that my students had ultimately provided me with more lessons than I'd given them!
I've volunteered with many different projects where children are the main focus. It's becoming increasingly important to be completely aware of what impact you'll make before you commit to volunteering with kids – as there could be more negative connotations than you'd think.
Read more here: 
Where have I volunteered?
As I continue to volunteer around the world, it's easy to forget exactly where I've been and with what organisation. Here's a rundown of the various places I've volunteered over the years – keep checking back as the list continues to grow!
Mombasa, Kenya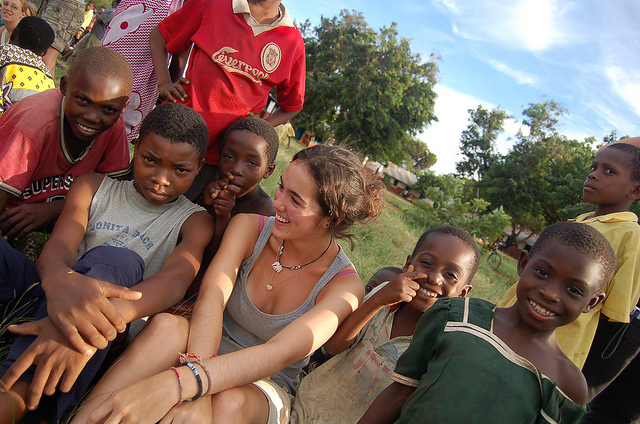 Just outside a little village named Makongeni, I spent a month in a camp with a big group of English and Australian volunteers. We helped build the staff quarters at the village school, painted classrooms, restocked the library and played countless games of football – which sadly didn't improve my ball skills at all.
Kaunas, Lithuania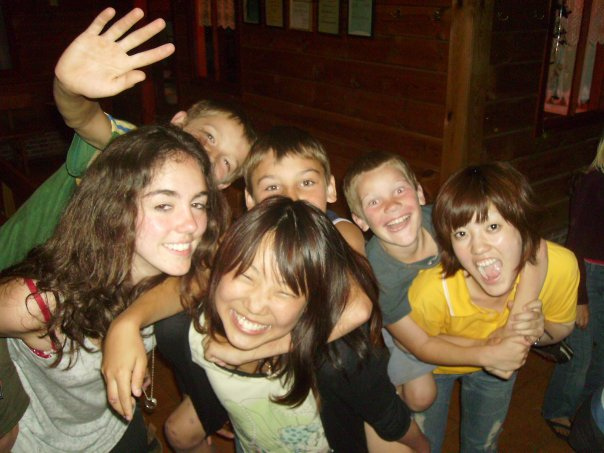 I spent a few weeks working at a summer camp for underprivileged children in the fields surrounding Kaunas. Most of my time was spent co-ordinating activities, presiding over meal times, chaperoning at the evening disco, and trying to stop the youngest kids stealing the teenagers' cigarettes and hiding in the bushes to smoke them.
Eventually I discovered that handing over my camera for them to play with was a good deterrent from developing their under-age nicotine habits – and it also resulted in photos like this.
London, England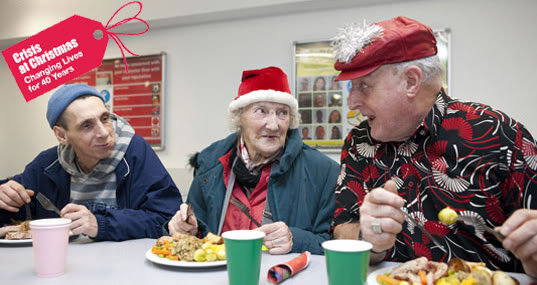 I've spent four festive seasons volunteering with 'Crisis at Christmas' – a homeless charity which opens temporary centres for the London homeless over Christmas time. In each eight hour shift, I'll do anything from handing out soap and towels at the showers, guarding fire doors, helping to serve food in the canteen, chatting to guests outside in the smoking area and sitting in on the arts and crafts room.
Read more here: 
Reykjavik, Iceland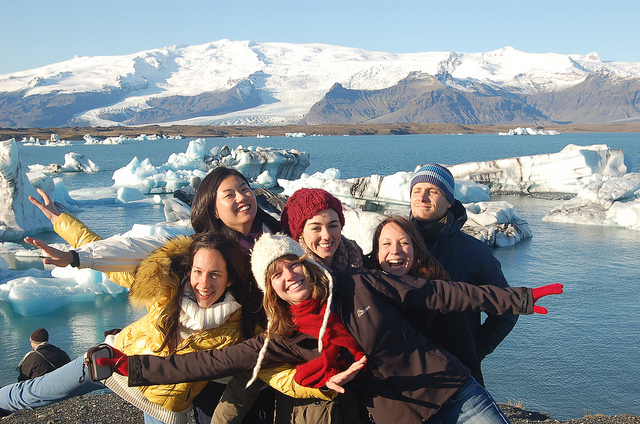 I worked backstage at Iceland Airwaves Music Festival in 2011, through an Icelandic volunteer company called Worldwide Friends. At first I paid my dues with litter picking and outdoor queue duty, before ending up presiding over the entrance to the photographer's pit during a Yoko Ono gig after watching Sean Lennon perform in about three of his different bands.
Read more here:
Kathmandu, Nepal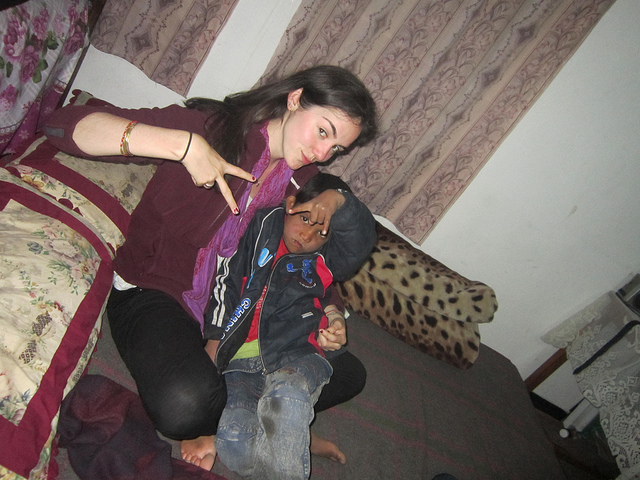 I spent a month working with children at a local orphanage and teaching English at their school. Most days I would get to the orphanage for breakfast, help them with their homework and getting dressed into their uniforms, walk them to school and then spend the day teaching. Once they were done with their classes, we headed homeward, did more homework and played around in the garden.
Because there were only eleven children I got to know them really quickly, and was really sad to leave them. It made me realise, more than ever, that spending four weeks volunteering with a group of children is simply not long enough.
Read more here: 
Chandigarh, India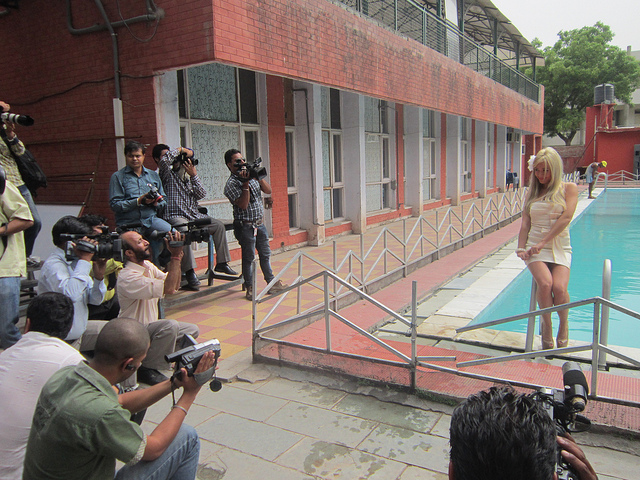 For around six weeks I worked with a PR company and eventually with an events management company as a social media consultant for a music concert. I spoke at press conferences, looked after our various musician guests (a female Ukrainian DJ and an Indian ex-boyband member) and spent four days at the local four star hotel.
Read more here:
Nong Weang, Thailand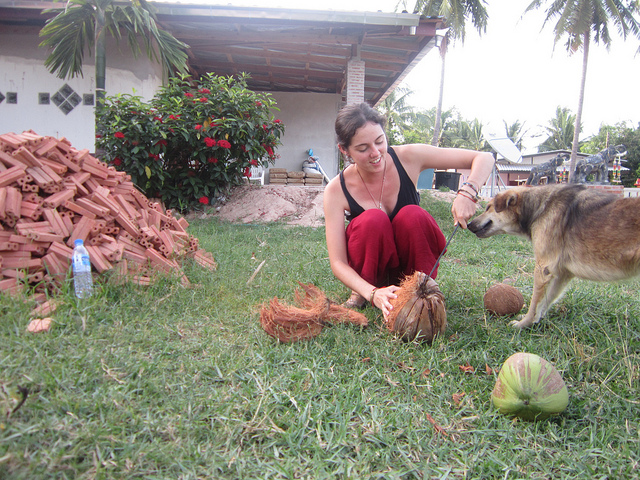 A friend who'd recently travelled through Thailand put me in touch with Howard and Nong, whose permaculture farm I worked on for a couple of weeks.
It was my first experience of this method of farming and also of spending prolonged time on a farm in general – we fed the chickens, made compost, ran away from scorpions, planted crops and watched Nong's octogenarian mother pull a palm tree out of the ground with her bare hands. Thai women are freakishly strong, and Nong's family were absolutely incredible.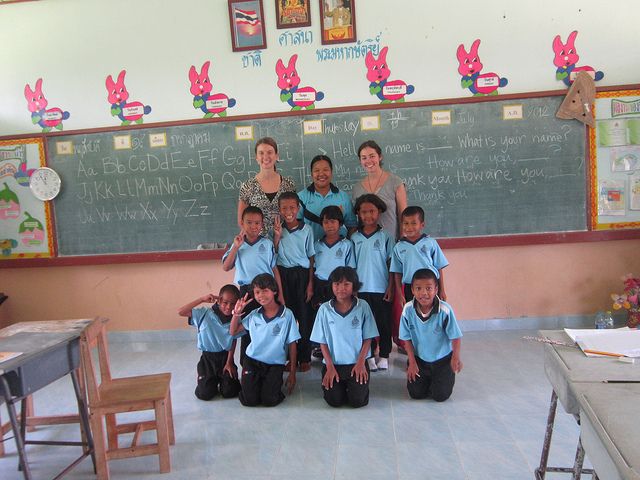 I was also asked by Howard, a Canadian who teaches English in a nearby town, to teach some English classes at the village school. The kids in Thailand are so eager to learn and they were incredible to work with – even turning up at the farm in the evenings for more impromptu lessons! The day I finished teaching they all gave me goodbye cards and I basically wanted to cry.
Read more here:
Cuenca, Ecuador
I spent four months volunteering in Ecuador, where I taught English at a public high school amongst a group of seriously crazy staff – my personal favourites were the gym teacher with crazy eyes who gave me presents on a daily basis, and the shy music teacher obsessed with Michael Jackson.
I taught seven different class groups each week with students aged 15 to 16 years old. My students at Miguel Merchan were raucous, the language barrier was a constant issue and my teaching techniques are questionable at best, but I enjoyed myself nonetheless! I even got involved in the school's founding day and involuntarily spent a long time being taught Ecuadorian dance moves by my exceedingly patient students.
During my afternoons in Cuenca, I looked after a classroom of one year olds, changed their nappies and generally attempted to keep them from crying.
The day care centre I worked at was run by a group of averagely terrifying nuns, who didn't like me to pick children up or show them much compassion; something I found really hard to handle. I ended up very confused about what was the right way to care for a child in difficult circumstances, and I left this place with a bitter taste in my mouth. The only benefits were falling hopelessly in love with some of my little charges, and the feeling that my Spanish had significantly improved.
Read more here:
Medellin, Colombia
I was only able to spend two days with the Angeles de Medellin, but it was enough time to understand just how special this organisation is. Up in the favelas, high above the city of Medellin, an expat named Marcos has created a place for teens and adults to improve their English, and for children to come and play in a safe environment.
All the people living in the small barrio of Regalo de Dios have been displaced by the long-term violence in Medellin – but throughout my two days it was nothing but smiles and laughter. I played Jenga, sang songs, gave out cookies and babysat kittens – and I had such an incredible time that I might be going back in the near future…
Read more here: 
Terra Maya, Brazil
In the mountains near Rio de Janeiro, my cousin and her partner have created a kind of community retreat, designed to get away from city life and back to nature. I spent two weeks helping them out with building huts, carrying cement, sawing wood, and cooking a huge amount of vegetarian food for the other volunteers and numerous Brazilian builders who swarmed about the place.
The lack of privacy and comfort (and often hot water) took some getting used to – as did the multiple roaches, various stinging insects and the occasional sighting of a snake. But working on the land – actually working – was a unique experience, and one I hope I'll want to repeat again.
Read more here:
La Paz, Bolivia
While taking intensive Spanish classes in Bolivia's pseudo-capital of La Paz, I also spent afternoons working at Centro de Miembros Artificiales, a not-for-profit organisation which builds and distributes artificial limbs for Bolivians who couldn't otherwise afford prosthetics.
Obviously I'm not a qualified physiotherapist/artificial limb builder, so my role at the clinic was less hands on than I initially expected. I spent most of my time learning the history of the clinic and the work they do there.
Read more here:
Sucre, Bolivia
My main incentive for spending so long in Bolivia was for a month volunteering in Sucre, with a non-profit organisation called Biblioworks which is dedicated to promoting literacy and reading to the poorer communities of Bolivia.
I spent a few days at the tiny pueblo of Morado K'asa to help out at their library, but it was a very challenging project and sadly I didn't manage to stay for much longer. But I continued working at the main office in Sucre for a month, managing their online social media presence and helping out with campaigns for money raising.
Read more here:
Medellin, Colombia
For the final three months of my South American travels, I lived and worked in Medellin as a journalist for an online newspaper. It wasn't exactly in the same vein as the rest of my volunteering projects; I spent my days in an office surrounded by English speakers, feverishly researching news stories in Spanish then writing them up in English.
It's the nearest I've been to a 'normal' work environment on my travels, and working at the paper was a huge challenge which taught me a great deal about a side of the writing world which I'd never previously experienced.
Read more here:
Calais, France
In January 2016, I spent a week volunteering in the refugee camps on the coast of France. Most of my time was spent organising donations in a warehouse run by a grassroots charity organisation – but I also spent a few afternoons in the camp itself, meeting refugees and listening to the ordeals they've been forced to endure.
It was an incredibly emotional and eye opening experience that has undoubtedly impacted me in ways I'm still coming to terms with. In fact, out of all the volunteer projects I've listed on this page, I'd say it's the most crucial and urgent situation that anyone thinking of volunteering could get involved with.
Read more here:
Where am I volunteering next? (2017 update)
Since summer 2014, I've been living back in London again while I work on my masters in non-fiction writing (no spoilers, but it involves writing my first book..!).
The course finished in summer 2016, so my next long-term volunteering project should be just around the corner. Central America perhaps, or maybe Indonesia, or somewhere further afield?
I don't yet know where I'll go – but as ever, I'm always open to suggestions!