After being in Chandigarh for over fifteen days, the cycle of air conditioned cars and free lunchtime press conference buffets was put on a slight hiatus. In its place came a week that facilitated my outbreak onto Chandigarh's social scene, as I was gradually introduced to a whole range of its residents.
Doctors, models, colonels, majors, babies, dancers and joggers: please meet the Western-Indian debutante.
It all began with our now semi-regular meetings in Mr Mogul's living room. He lives in Panchkula, a mere 5 minutes drive away from the illustrious Golden Tulip hotel, where I'll eventually be 'living' for the four days leading up to 'The Bling' event on June 2nd.
On numerous occasions, I've found myself sitting on a royal straight backed ornamental chair, sipping a cold coffee, and trying not to zone out of the fast paced Hindi conversation flying around my head. There are numerous moments when I suddenly hear an English sentence, and look up to see all heads turned to me; it normally then takes a good few minutes for the group to collectively backtrack their conversation topic and explain the context of what they're asking me.
On the warmer days, after a plateful of mutton curry and three chapatis from the central wheelie table, the combined hot weather and hotter food has served to make me droop; visibly enough, apparently, to prompt Mr Mogul to send me off for a nap.
I am 24. I resent being treated like a child. But, sadly, a quick half hour on his very comfortable red sheeted bed is pretty impossible to resist. Plus I get to have some shuteye beside his 18 month old baby daughter with the exact same wild black curly hair as her dad. That's right, I'm napping with the pros here.
One of the most impressive factors of 'our' (ie. the PR company's) relationship with Mr Mogul is his generosity; he's planning to donate as much as 10 percent of The Bling's profits to the Mahabodhi Meditation Centre in Leh-Ladakh. With this impressive gesture comes the wonderful payout – that we, as the PR team responsible for informing him about Mahabodhi's commendable work – should most certainly accompany him to Leh, in order for him to present the donation.
Which basically means that I'll be spending three weeks in Leh without having to organise or transport myself there. Fingers crossed.
There's also the completely left-field revelation that my cousin, who goes by the stage name Milli Moonstone, has been booked to play at the event too. She's been coming to India for the last decade – and of course got me in touch with my PR friend in the first place – and will be flying out in a couple of weeks. 
Her visit is another totally unexpected factor to this whole game, but something I'm really looking forward to. Although I do feel less like her cousin and more like her PA at present; I'm relaying all her requirements to Mr Mogul and his requests back to her again, and I'm also now repping the 'International Affairs' consultancy position for this event.
Like yesterday, when I sat on the press conference panel with the same title emblazoned on a piece of plastic on the table in front of me. Such is my crazy Indian life…
Anyway, back to the association with Mahabodhi, and Mr Mogul's generous offer. Because he's keen to establish a relationship with the centre before he reaches Leh, we found ourselves visiting the usefully-placed Chandigarh branch of Mahabodhi, where a girls hostel has been established.
We were welcomed with white silk scarves and a chorus of Buddhist mantras in the main meditation hall, and then spoken to by the lovely Colonel, who has served more than 30 years in Leh during his military time, and has dedicated the last three years to working exclusively with Mahabodhi.
He talked at length about Guru Bhikkhu Sanghasena, the creator of the centre, and fuelled my interest in my eventual visit there, and simultaneously reminded me that I simply cannot sit cross-legged for more than 15 minutes straight.
After I'd staggered to my feet, we stood outside on the balcony for chai and biscuits, and I was introduced to Major Deepak, a gruff speaking gent who is the driving force behind one of the leading newspapers of the region, and whose daughter turned out to have a lot in common with me. So much so that, after a half hour of conversation, we found ourselves at their house for dinner.
It's here that I have to point out my sudden foodie difficulties in Punjab. For three months, I've been staving off meat, consuming an all veg diet, and thanking my stomach profusely whenever it makes it through another day without the terrors of a surface stomach gurgle (my fellow travellers and Delhi-Belly sufferers know what that gurgle means..). But then I arrived in the North, in a wealthy city, and suddenly I was off veg and back on meat – or 'non-veg', as it's known here. Which automatically makes it sound like you're betraying the holiness of vegetables.
At the Major's house, surrounded by military ephemera (think a four-foot cast iron soldier, large models of tanks, and a century old warship's bell), I was offered slices of chicken salami, pieces of what looked like frankfurter but must also have been chicken, and countless balls of meaty something-or-other covered in tomato and onion, all washed down with a never-ending glass of chilled Kingfisher beer.
The Major and his two brothers were all in the Indian military, and the whole extended family lived together in the same large house, which explained both the military souvenirs, and my inability to prevent him from layering seven or eight slices of pale salami onto my plate.
Soldiers scare me a little bit, so I tend to do what they say. Particularly when it involves food.
While I ate (the family preferred to watch me rather than eat anything themselves, which made me feel just a little uncomfortable), the major's daughter gave me an impromptu art show and had me rifle through a plastic wallet of handmade greetings cards, speaking in flawless English about her recent trip to the model UN in Beijing. She's 18. I was stunned.
Particularly when she handed me her business card when we left.
This ambitious streak in Chandigarh citizens continued when I was ushered into 'Buffet Hut' one lunchtime, and introduced to a couple in their late twenties who were celebrating his birthday. I spent most of the meal making eyes at their adorable daughter (are you sensing a pattern here between me and Indian babies?) and only learned towards the end that he was a nightclub owner and promoter, while she had spent years as a model and was about to launch her own modelling agency.
That evening, I got to see these two in their comfort zone, which just happened to be a second-floor shisha bar in a private room, where a horde of at least twenty-two twenty-somethings were chilling out with various hookah pipes amidst lazy clouds of smoke. Think boys, beer, bacardi breezers and a game of  'lets keep the balloon in the air', which was the only moment when I started feeling less awkward about being at a birthday party I didn't speak the language of.
We then played Hindi whispers and I had to repeat words I knew were rude, refuse the offer of the Indian equivalent of Supernoodles to accompany my beer, and partake in a cake-to-mouth stuffing tradition that I'd never seen before.
In my new self-titled role as W-I debutante, there have been a myriad of different other occasions to attend.
I visited the Ivy hospital in Mohali on International Nurses Day, sat on the sofa while feeling a tad inappropriate about my proximity to the very famous (and totally unknown to me) Bollywood singer, and hence looked rather awkward. It was weird.
I went to see a show flat in a block of new apartments an hour away from Chandigarh, and found myself the model for the day – peering awkwardly into empty cupboards, clutching various brochures about the new build and straining my grin, and generally wishing I hadn't eaten three slices of the Domino's pizza they offered me only minutes before photo taking commenced. Here I am, valiantly breathing in.
I attended the Chandigarh Salsa Club launch party, and was co-erced (at first with great trepidation, and eventually with unexpected jubliance) onto the dancefloor, to try and resurrect the salsa steps I learned over six years ago. Turns out there is a certain amount of muscle memory retained in my little feet!
There was a lot of sweating and a lot of stilletto heels prodded into the open spaces left by my flipflops (not the most sensible shoe of choice), but I actually really enjoyed myself – and I made a new friend, a guy who shared my worries about how much Punjabis feed you, and who invited me to go jogging with him the next morning.
I know what you're thinking. Flora? Exercise?? But being very inactive for the last few weeks has left me feeling desperate to do something that requires actual movement. And so jogging has actually happened – 7am around the lake with my new Chandigarhian  friend. Although there's less jogging and more conversation while walking, as after the first five minutes of 'running' I was shouting at him that I couldn't do it anymore. Such is my belligerent lazy self.
Creating a friendship initially around jogging, though, has been more than fruitful; we went to a cricket match, which was definitely more fun than the last one I attended in Delhi (although being at 4pm it involved more concentration on not fainting in the heat than actually watching the game), we went for pani puri yesterday – a popular Indian snack food comprised of hollow batter balls with spicy water inside (I did not enjoy these) – and we've got various plans for the next few weeks while I'm still in Chandigarh, including a friend's clothing label launch and many more jogging/walking sessions. Friendship success!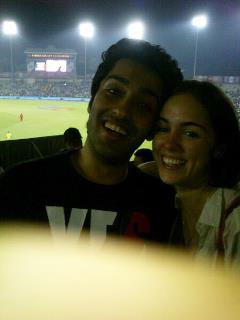 Chandigarh is getting busy again – yesterday we launched 'The Bling' in all its press-focused glory at the best hotel in town, and things are only going to hot up from here on out.
In just over two weeks, I'll be moving into a five star hotel for four days, and preparing for the most exclusive party I will probably have ever attended. In the meantime, there are club openings, press conferences, a ton of meetings with various clients, and probably a shopping trip or two to sort out my dire wardrobe.
And sleeping, if I can find the space to fit it in.