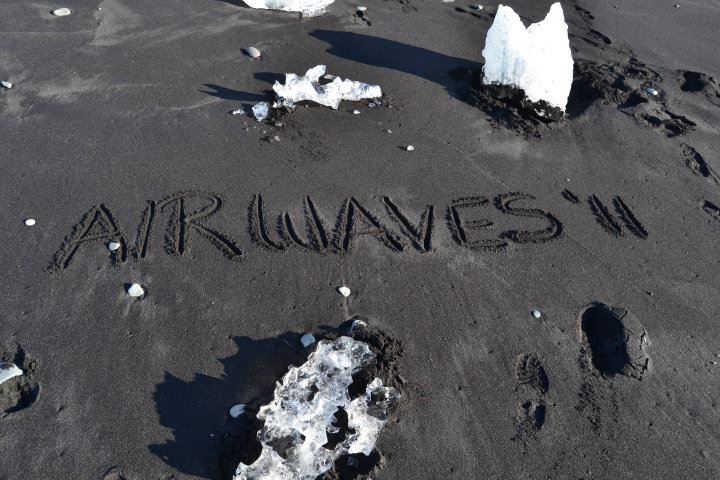 Standing in a sweaty store cupboard, mere inches away from the main stage at Reykjavik's Harpa concert hall, I held up a green tshirt against my bare chest with a certain amount of scepticism.
I had been promised untold amounts of 'female, size medium' by the gruff bouncer out front. Clearly, these were all masquerading as men's larges.
Lost in a tshirt sizing reverie, I failed to hear the turn of the doorknob as it squeaked behind me.
The door opened, suddenly.
I gasped, turned, saw a face, and turned quickly back around towards my tshirt stash.
"Oh, I'm so sorry!" she said, blushing furiously. "I didn't see anything!"
And with that, Nanna Hilmarsdóttir, the female lead singer from Of Monsters And Men, backed out of the store cupboard, leaving me free to regain my dignity, and cover up my bra.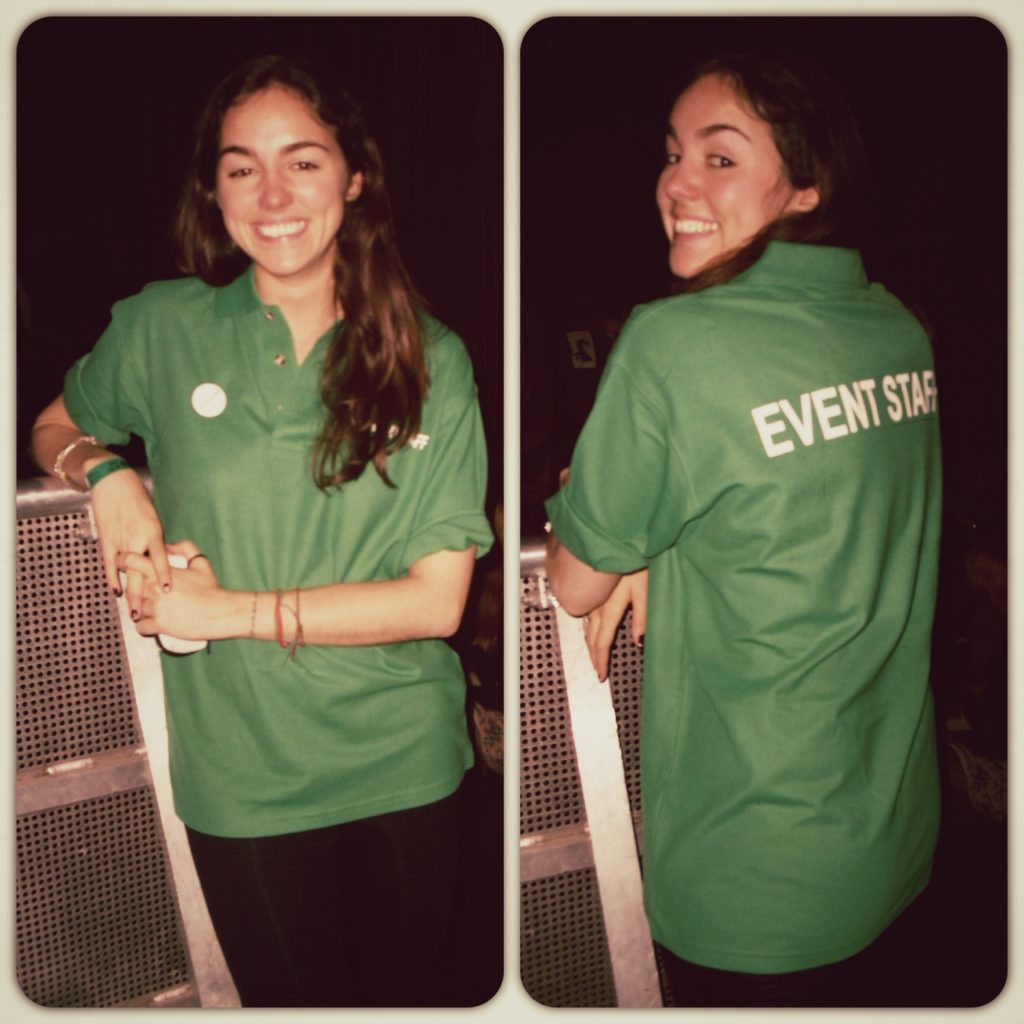 Today is the day that Iceland Airwaves 2012 kicks off in Reykjavik; a place for music lovers to come together in a freezing cold country and avoid getting too soggy and windswept by heading to cosy little cafes and listening to an eclectic mashup of wildly innovative music.
Iceland Airwaves: a rundown
A lot of the festival's attendees are from Iceland and the nearby Scandinavian countries (which would explain why most venues are thronged with tall, beautiful, blonde people who almost certainly all have Viking ancestors), but every year there are more and more visitors from further afield. Last year I heard a lot of American accents, and I can imagine there'll be many more of them this year since Of Monsters And Men hit headlines Stateside this year.
It's a positive surprise though, because Airwaves, unlike many other music festivals, has one really unique stipulation. While maintaining its status as an international festival, any international act invited to perform can only ever do so once. This ensures that the Icelandic musicans, however new or with however small a fan base, always have a yearly platform to perform.
And oddly enough, there is a huge multi-national audience who flock to Reykjavik each year to watch these primarily Icelandic acts take to the city's stages (it's not odd, by the way; it's because these acts are bloody awesome).
Many of these festival goers only know Airwaves from the outside – and one of the things I love so much about Iceland is its inclusive attitude. Everyone is welcome. Which is why the organisers thought it a great idea to offer the privilege of working backstage to a group of eager volunteers, on the premise that they get free tickets to the festival itself.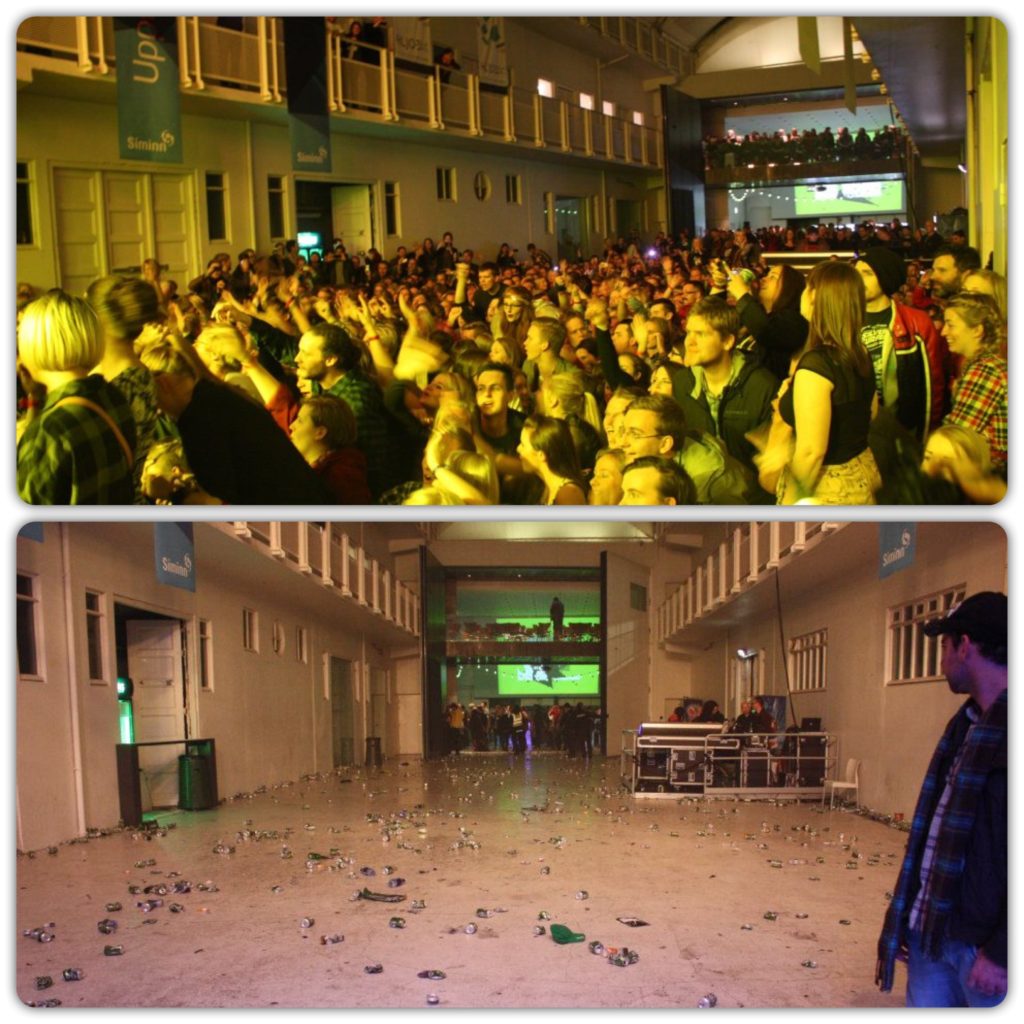 This time last year, I was one such volunteer, enduring six hour shifts of litter picking, security detail and sitting on a chair guarding a backstage fire exit door. In return, I was gifted with a complimentary wristband, and the ability to spend any free time I had gig-hopping. Which I, and my fellow volunteers, did gleefully and in abundance.
But my long shifts also gave me a chance to properly observe the regular goings on at an Airwaves festival, with the slightly smug feeling that I was 'behind the scenes', and thus more able to pass judgement.
So I thought I'd share my accumulated observations from my role as an Airwaves volunteer last year. From Icelandic lessons and impromptu run ins with irate managers to frozen fingers and exploding garbage bags, it's one heck of a wild ride, that's for sure…
 The Airwaves scene
To start with, and if you don't know it already, you have to willingly accept one key fact: Iceland is mental.
This can be taken in every way possible, so there's more than enough room for scope – but it's still very important. From the food to the architecture, the language to the music, the people to the weather; everything about this place is surreal, strange, and downright crazy. And I'm pretty sure it gets even weirder and more colourful for the five days of Airwaves each year.
But it's still in the most absolutely wonderful of ways.
The off venues
While wandering along the main street of Laugavegur, wrapped in your many layers, you hear the subtle strains of guitars/amps/vocals emerging from an open door or cracked window. Pushing through a throng of warm bodies, draped in heavy coats and clad in impenetrable Dr Martens, you discover a lone musician, sat atop a chair with no seat, candles placed artfully on the exposed brickwork of the chimney beside him. You're entranced.
This entrancement could continue for hours or mere minutes; soon a familiar face or another, different musical trigger will spur you on to the next venue: a library, perhaps, or the restaurant of a local hostel, or the reception of a cinema. And you'll while away your day with more of the same. Lovely, dreamy, floaty gig loving – only punctuated by sudden blitzes of rain, hail and wind.
 The shift
Eventually, its time for work. You make your way to your shift of the day; depending on the type of job, you could be working all day, all night or somewhere in between; outside, inside or constantly jumping in and out of a door frame. Exciting or what?!
Through five festival days, I picked up empty beer cans outside venues, checked the press wristbands of photographers beside stages, and forced a metal-loving security guard to teach me how to swear in Icelandic. He eventually segued successfully into demonstrations of how to sing heavy metal-stylee, which was an experience in itself.
I spent the downtime between shifts with volunteer buddies, talking to bouncers at the head of very long gig queues while flashing our staff wristbands, work gloves and faux annoyed expressions while explaining that we had to collect garbage. We'd been working damn hard, we deserved it! Although maybe the suddenly splitting garbage bag filled with slippery beer cans that emptied across a venue floor was a bit of karmic retribution. So too, then, was the painstaking recollection of said cans, and the accompanying beer dregs that covered them…
After hours
When our shifts were over, the fun really started. Something the Airwaves devotees may not often realise is that it's definitely not integral to actually hold a ticket for the festival.
If the off venue performances that occur throughout the day aren't quite enough for you, then simply hanging around at one of the plethora of Reykjavik's bars, pubs and clubs until the official gigs end is definitely worth the wait.
Every night a succession of audience-hungry musicians flock to these venues, playing surprise – and thus more personal  – shows till the dawn hours. They can't get enough of the festival buzz and, unsurprisingly, neither can their audiences. There really isn't such a thing as a closing time in downtown Reykjavik.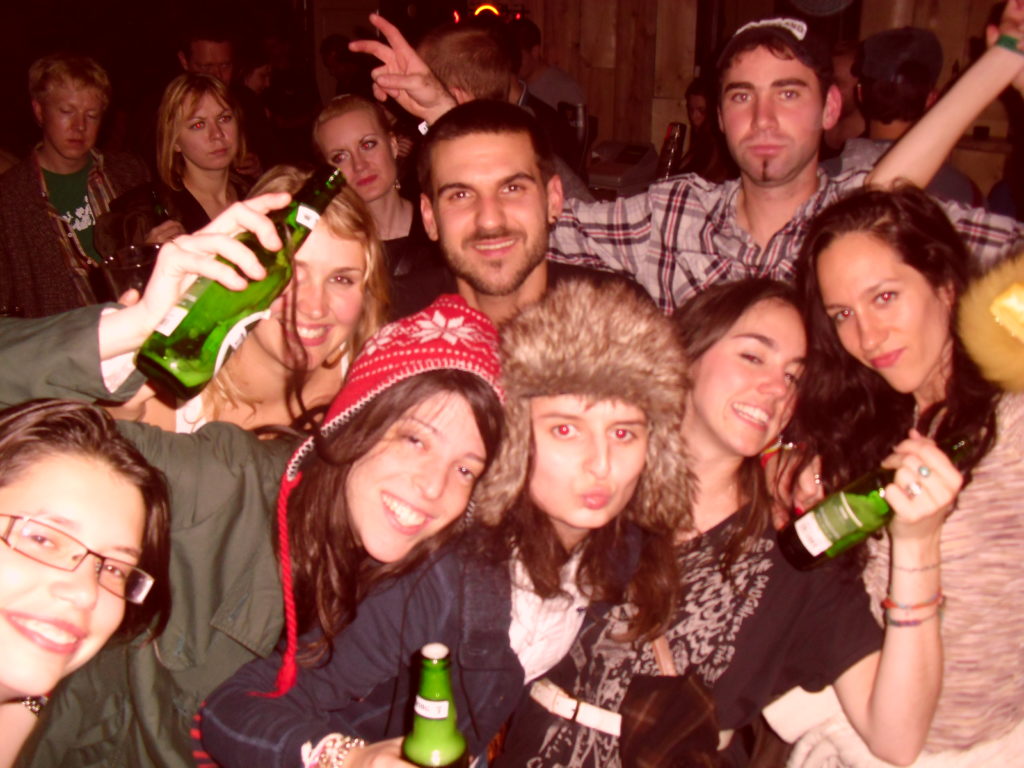 The locals
Before arriving in Iceland, I hadn't met many people with Viking origins. I don't think I had many stereotypes in mind about said folk, but I certainly picked up on some idiosyncrasies.
To start with, Vikings are ridiculously tall, which you'd think would make them somewhat problematic gig buddies. But amazingly enough, they will actively crouch down so they look smaller, and will sometimes move to the side to make sure you can see. They'll also make sure you know when 'the big song' is about to start, for which I am forever grateful.
Many Icelanders dance like they're trying to hit an invisible enemy. Some also sit down to watch heavy metal. This is amazing to witness, and I only wish I had photographic evidence of such wonders.
They also seem to be waterproof. I know this because no matter how many types or layers of clothing I had on, a significant number still seemed to get wet – and let's not even start discussing what happened to my hair in the climate. Icelanders, on the other hand, always look stunning, barely ever seem damp, and are never spotted holding vast amounts of dripping coat while stuffing a sopping scarf into a handbag.
Finally, you're more than likely to spend half your time in the company of the very bands you've just seen performing. We first spotted the lead singer of Mammut buying beer beside us at the bar on the first night;  by the end of the festival we'd run into her so many times that a friend of mine was certain he'd fallen completely in love with her.
And let's just not mention the night we waltzed past Bjork while out clubbing, blissfully unaware that she also happened to be drinking with two of the guys from Sigur Rós.
My favourite musician-encounter, though, was experienced simply from the wonderful vantage point of the press photographers walkway at the base of the stage, where I was checking wristbands with the bouncers.
Unofficial Lennon/Yoko Ono Family Music Day
Airwaves pretty much decided that they'd dedicate a whole night to this famous family, so Sean opened with his chilled wispy music, accompanied by his girlfriend Charlotte Kemp Muhl in The Ghost of a Sabre Tooth Tiger,
They were followed by a strange Japanese band who sang about scary mice in the kitchen, Yoko's warm-up band with an insane drummer, and finally the impressive name of Yoko Ono, who screamed her little old Japanese lungs out. She's seventy-seven, but her dance moves were like something from the sixties; hip bumps and gyrations and a great amount of bum wiggling.
Standing about ten metres from the stage certainly has its advantages when you like looking at Sean's face close up, which is mighty pretty, and enjoy seeing his impeccably speedy finger picking guitar skills.
The one disadvantage? Being that close to the same stage for over two hours of Yoko Ono's screaming throat-rattling 'music' is slightly more uncomfortable. The woman's performing techniques really have to be seen to be believed.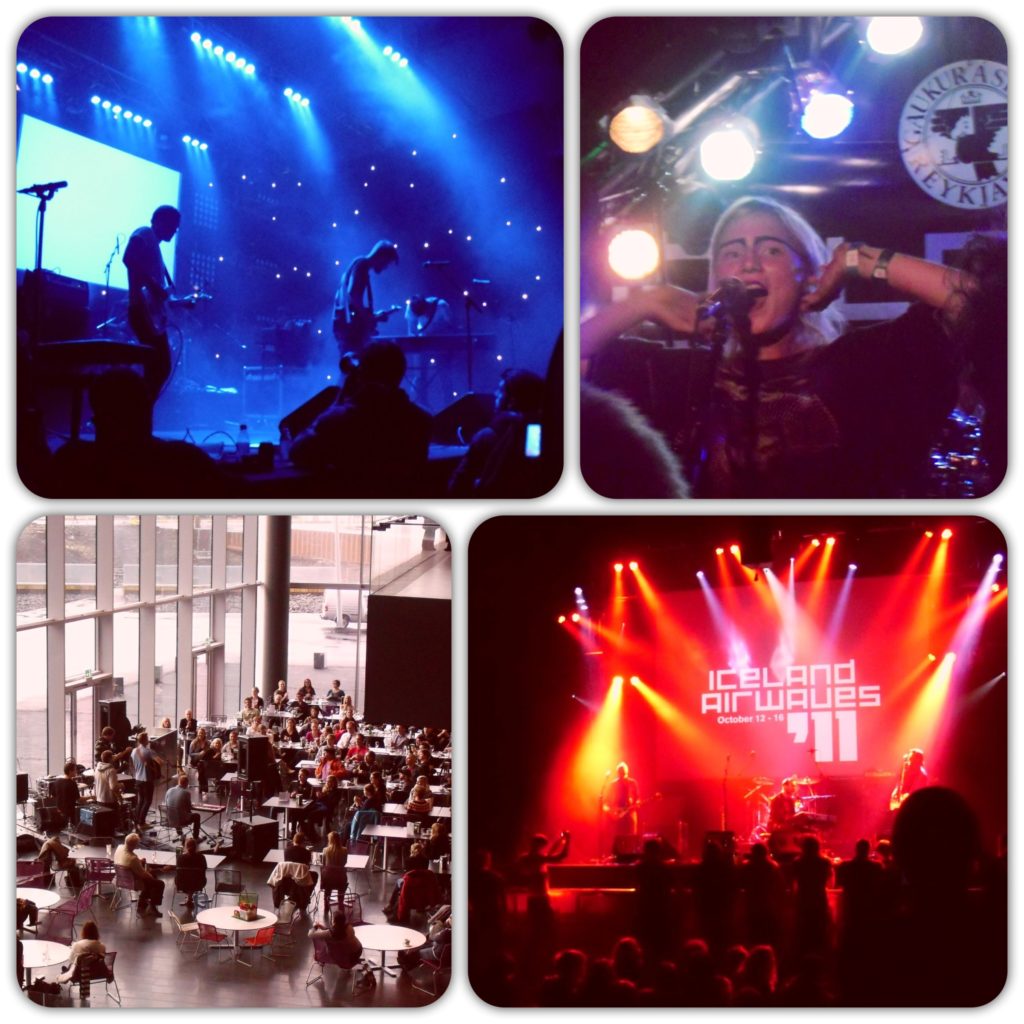 The aftermath
But after all the craziness of the festival, when the wristbands come off and the last bin bag gets taken away, it's ultimately back to normal. On my last afternoon in Reykjavik, I sat with some friends in the Laundromat Cafe, sharing a slice of cake, when one of them suddenly whispered,
"Woah, look!"
We turned our attention to the cash register, where a young girl was busy tapping keys with one hand and handing out menus with the other.
"Isn't that the girl from Mammut?"
We surreptitiously stared a bit harder. If I'd stared for long enough, I'm sure I would have seen the last remnants of face paint smeared into her hairline.
But then I turned back to my cake, and carried on chatting with the girls I'd only met two weeks before. The festival was over. The girl from Mammut got on with her day job.
Until Airwaves kicks off all over again.