"Make friends with your toes! Remember, there is no freedom in conflict! Now, hug the pillar and spread your legs!"
Strange words to hear, certainly. Stranger still to hear them echoing around a green roofed circular hut at 7am , surrounded by bricks, bolsters, belts and a group of straining Westerners, all hell-bent on not breaking their friendly little toes.
A huge black dog stepped daintily from sticky mat to sticky mat, yawning audibly and rubbing his head against the lean legs of our long haired, tie-dye-vested teacher, Sharat, who calmly walked around the room, checking on people's poses.
I was staring hard at a far off point on the wall, attempting to balance the hyper-extended knees that I was only informed I possessed this week, when I felt a sudden sharp tug on the back of my head.
"What are your toes doing?"
The sentence was lost on me. Sharat Aurora, the man, the world-renowned teacher, was pulling me upward by my hair. Hard. Worse, he didn't seem to be letting go.
"Look at your feet – where are your toes?"
I tried to look. It was pretty difficult to manage with a grinning Indian appropriating my head.
"Um.. they're stretching?"
Silence. I tried again.
"They're grounded to the floor? My little toes are stretching. And my big toes are touching the mat…?"
With a final tug of derision, he sauntered off, leaving me gasping, re-balancing, trying to subdue the urge to rub my head, and hoping my toes were, at least, averagely correct.
Welcome, ladies and gentlemen, to the world of hippy mountain yoga.
Leaving the Indians, finding the hippies
Last week, I boarded a bus in Chandigarh at 1am, and I didn't sleep. The Tri-City was disappearing behind me. For three hours I was too wired, mulling over the events of the past six weeks, and then suddenly it was dawn over the tree covered hills at 5am, and I utterly devoured the view.
After six weeks in concrete flat land with roundabouts (and with the exception of an afternoon drive up to Kassouli) my nature-starved eyes found the landscape honestly incredible. I already knew I was going to love it up here in the hills.
Leaving behind the relationships I'd forged over six weeks was a bit of a head twister, though. On the one hand, I'd been craving my own space for a while, but on the other, I was a bit unsure how I was going to cope with the sudden availability of said space.
Was I going to be alright with the sudden influx of Westerners? Would I regret leaving behind my new Indian friends, and bemoan the drinking, smoking, English-speaking hippies?
Luckily, I received a lovely welcome on my arrival. From the minute I jumped off the bus and into a shared taxi with an English woman named Jacqueline, to the immediate discovery of a 300 rupee-priced room, in a guesthouse named 'Internet Place', in the village of Dharamkot, I felt pretty much settled from the outset.
And after a lovely walk around McLeod Ganj with Jacqueline, and an unexpected nap (accompanied by the dulcet tones of Israeli trance music at 3pm), I went wandering, with the specific intention of scoping out the posters that plaster every wall, tree trunk, post and spare patch of space in the area.
 Searching for a clue…
These posters are pretty much the best way to garner info about the courses going on: from yoga, reiki and meditation to tarot reading, crystal healing and mystical feminine belly dancing, there's something for everyone.
But I have a confession to make. I arrived in Himachal Pradesh with the vague plan of, "you know, finding some yoga or some meditation courses, doing a retreat up in the hills…" Yet, despite scanning the boards for yoga classes, I am not, in fact, a yoga bunny. I'm not even a yoga hamster. I can proudly say that, in my life thus far, I've attended a total of one yoga class at my gym, which had me in a sodden heap of sweat, exhausted my every muscle and made me pretty much terrified of attempting the practice again.
And yet India has had me convinced that I'm going to find infinite peace and self-discovery when practicing yoga, regardless of my skill level. There's definitely something in the chai around these parts.
I am, of course, aware that yoga and meditation are not the same thing. And for this trip at least, it seems that yoga is my primary objective, as the meditation course I wanted to do up here (at the Tushita Centre) was completely booked out. And so it was lucky that the walls threw up this little place, with a five-day course starting the next day.
Iyengar yoga, for those who don't know, is the terrifying one that uses every form of prop possible. God knows why I decided to put myself through such a practice with no real basis for experience. But I saw the poster, and I thought I'd give it a shot.
So my second morning in Dharamkot found me slipping down a hill made entirely of rocks as I cursed myself for wearing flipflops, trying desperately to make it to 'the circular green roofed hut' that my guesthouse owner buddy had pointed out to me. I tripped more than a few times – and almost fell into a dry riverbed (standard Flora) – but eventually made it to the green hut's office only a little after 8am.
And waited.
At half past 8, I realised that there was clearly no class beginning at 8.30 – which was reinforced by an English girl who wandered in and asked me brightly if I was waiting to sign up for the 10am class… Cue a trip to a breakfast cafe mere steps from the Iyengar centre, where we munched on banana, curd and honey, and I discovered that Jess grew up sitting on a sticky mat while her mother taught Iyengar in London. Luckily, she wasn't a yoga snob, and we spent the next week discussing love lives over cups of chai in rooftop restaurants, and emptying our wallets in the endless pursuit for jewellery perfection…
But first, the yoga. Terrifying, triumphant, titillating yoga, among a group of 24 Westerners at differing yogic levels, spread across green sticky mats and pinewood floors. My first class or two of Iyengar, though, is not really something I want to remember in much detail.
Iyengar for beginners
It primarily involved learning how to stretch my little toes while simultaneously placing my big toe gently on the mat; stretching every muscle possible in a variety of poses and then remaining in them for long enough that I started to get cramp; and having every drop of blood rush to my head and cramp up my hands in my first ever shoulder stand – the pain of which is best left to subconscious repression.
But somehow I found it enjoyable enough that I signed up for another week of early morning classes, meaning that it clearly made a bit of an impact on me. Or I'm a bit of a sado-masochist.
I liked the way we grounded ourselves fully into each pose; I liked the time taken to learn the basics properly; and I enjoyed the relaxation poses so much that I almost fell asleep each time we lay in them. The teacher in training with a double-coloured eye and a gorgeous body who kept pushing at my feet to make them parallel definitely wasn't part of my decision, either.
Plus spending three hours a day in a yoga hall was a good way to meet people to hang out with – not that yoga is a necessary means of making friends up in Himachal. The beauty of this place is that it's so full of well-meaning hippy-esque Westerners that you can just pull up a chair and ask, smilingly, to join in a conversation.
I've wandered into McLeod Ganj and Bhagsu with a number of different people, threaded my way through a number of winding streets filled with smiling Tibetan faces, and eaten an insane amount of steamed vegetable momos and the ever-healthy (and thus very yoga friendly) museli-fruit-curd-honey combo.
I've walked up to a waterfall with a group of Irish girls, drunk chai with Israelis, eaten thali plates with yoga buddies while discussing the latest class, and even found it difficult sometimes to actually get a moment to myself! The greatest thing is to feel like I'm really connecting with the place – Dharamkot in particular.
I've spent wonderful hours sitting in one of two cafes, scribbling away in my notebook, waving hello to various people and sipping on hot ginger, lemon and honey.
It culminated, this week, in a sudden realisation, as I found myself grasping two spoon handles while watching a hippy musical extravaganza unfold before me, complete with tablas, sitars, didgeridoos and a dancing stranger, who 'just couldn't help' but throw herself into the centre of the floor and swing her arms about.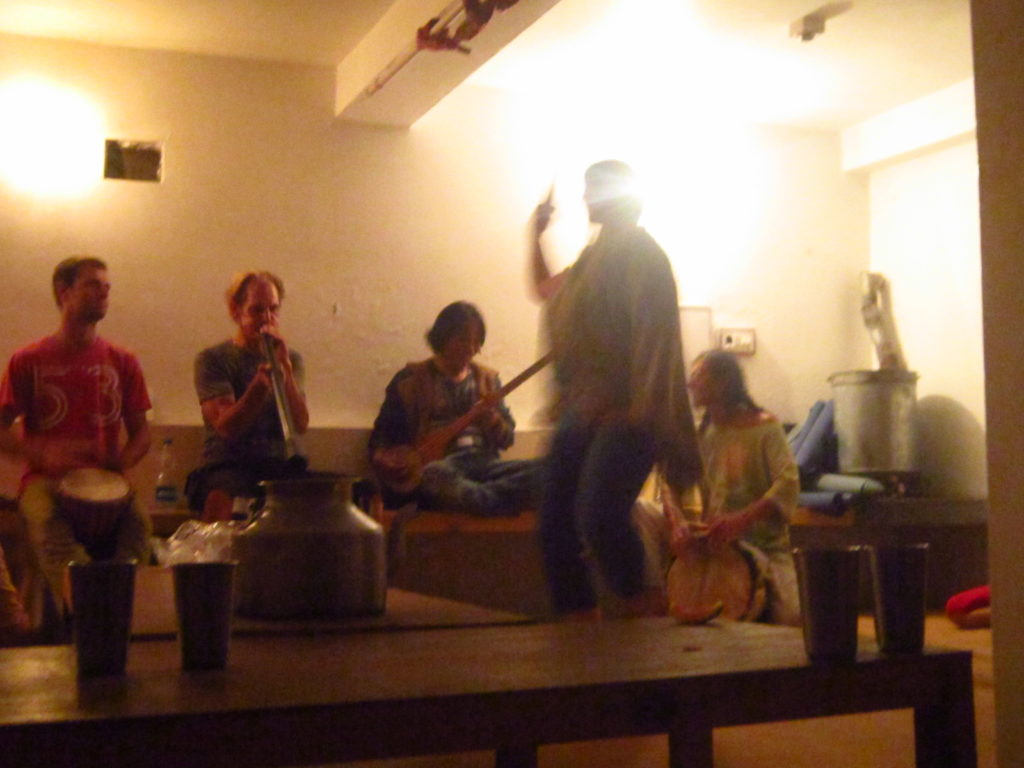 I looked around at the dreadlocks, the dirty feet, the yoga-toned muscles, the excess of jewellery and the happy stoned expressions, and I thought to myself: I'm not a real hippy.
But, incredibly, none of the real ones seem have sussed me out yet!
I'm back in my baggy pyjama trousers, three necklaces deep, sporting a bathroom hair cut which screams 'I just don't care because I'm a hippy', layers of Ohm scarves and patterned water bottle carriers and a bright bag from a Rajasthan street vendor swinging from my back.
I seem to be fitting right into the stereotype, and I'm having a wonderful time indulging in the pretence. I reckon quite a few others are, too. Deep down. It's like playtime for adults.
But I do wonder: is all this hippy behaviour a little bit smug and self-congratulating? McLeod feels like a mecca for all that's dreadlocked, and most first interchanges with a fellow traveller involve the typical 'how long have you been in India?' questions, like it's a necessity to prove your travelling worth.
But this place is so Western, so catered for foreign needs, that it's certainly not ok to call it 'real' India. And the few Indians I've met up here, escaping the Delhi heat, have said they just accept this place as 'hippie-fied' – but I'm not sure if it's better to force these guys into a 45'C train journey, throw some chickens and cows into the mix, and see how they cope in a village that won't tolerate a bare knee – much less a tanned, toned Israeli girl's midriff.
We'll see. I think I have at least another week here – the crystals and reiki and massage are calling (and I'm only partly kidding). Time enough to decide if the 7am yoga classes and the musical nights finishing at 11pm with a rousing rendition of  'Let It Be' are really for me.
That, and chasing the ever-distant dream of a perfect shoulder stand.