"And now, please activate the eleven pyramids sequence…"
The cross-legged man at the front of the little room spoke quietly, eyes closed. I arranged the crystals and rudraksha beads as best I could on the plastic-covered mandala that lay beside my similarly crossed legs. The flies buzzed happily, completely ignoring the sacred space we had created with our measured breaths and the flowing energy coming from our palms.
The most advantageous of the winged things attempted settling on the face of the girl lying prostrate in front of me. She didn't move a muscle, proving her worth as a true crystal-clad spiritual aficionado.
I raised the largest of my crystals high above my head. I focused my breathing, closed my eyes and allowed my crystal-bearing hand to start moving freely over the body of the girl, dipping, twisting, and generally going a little bit crazy.
And just like that, I became a crystal healer.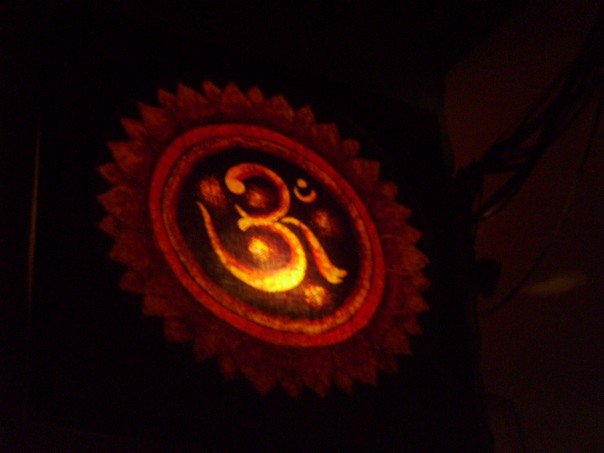 India is known by many as a rather magical place. 'Serendipitous' may be a better word to describe it. When you're looking for a solution, this country manages to present an option that is both completely off the wall but also entirely appropriate.
And often, it provides you with the cure for a problem you didn't even know you had.
One thing always leads to another
One morning, I made a simple choice to leave one group of friends after our yoga class and head off for breakfast with a few girls I didn't know that well instead. After a delicious breakfast in the garden of a cosy cottage, I accepted an offer to head down to Bhagsu with one girl.
During our walk, we ran into her old yoga teacher, and as we chatted briefly, a friend of the yoga teacher appeared across the street. He stopped mid-sentence:
"You simply have to go to this guy's meditation classes; they're something incredible."
We walked down the hill with Dani, the meditation instructor, and as we chatted, I looked over his flier. It detailed a myriad of powerful kundalini activations, access to the Sangivini Shakti, and working with crystals and sacred symbols to create powerful healing mandalas. All things I know absolutely nothing about; and yet, I felt strangely drawn to them.
And so, instead of getting a night bus to Manali, and thus fulfilling the trip itinerary of basically every traveller that heads to Himachal Pradesh, I decided to stay in Dharamkot for another week and go to Dani's healing workshop. Despite understanding precisely none of the flier's contents.
A head opening massage
That same day at breakfast, I had mentioned casually to the girls that I was having a massage in the afternoon. Tall, French Florence looked alarmed.
"I have an appointment too, at 4pm – the same time as you…"
We resolved to both meet at 4pm and confront the double booking situation – only to find that both mother and daughter were performing our dual massages. Cue an hour of oil soaking, singing bowl ringing and hot stone bearing, all of which combined to give me one of the best massages of my life.
And apparently it wasn't just me. Florence, a healer by trade, also came out of her massage singing the praises of the 'Mama', who had apparently sent her into an internal meeting with her spiritual guides, who she had a nice reunion with. I was a bit nonplussed by this revelation – I don't have any voices in my head, and I don't think I'd be responding to them if I did – but I was happy for her nonetheless.
Eventually, as we chatted over chai, she pointed at the space above my head.
"You are so much more open now… there is so much lightness and brightness around you!"
And, strangely, it was kind of true; I did feel lighter and fresher, and there was definitely a buzzing sensation emanating from the top of my scalp. Whether it was to do with a recent opening of my crown chakra or the peppermint oil steadily soaking through my hair is debatable.
But it definitely helped our conversation along, as I found out all about Florence's healing work, and the ways in which healing can manifest. Telling her about the workshop I'd just been informed about prompted a stream of positivity, as she explained that these workshops were a wonderful way to connect with the world of spirituality and mysticism. I figured she had a good point. And when in Rome, after all!
Becoming a yoga pro
But before my healing transformation began it was back to yoga, briefly, where I decided to further my yogic career with a second week at the infamous Iyengar centre, nestled in the hills of Dharamkot and guarded by a Great Dane and a sausage dog.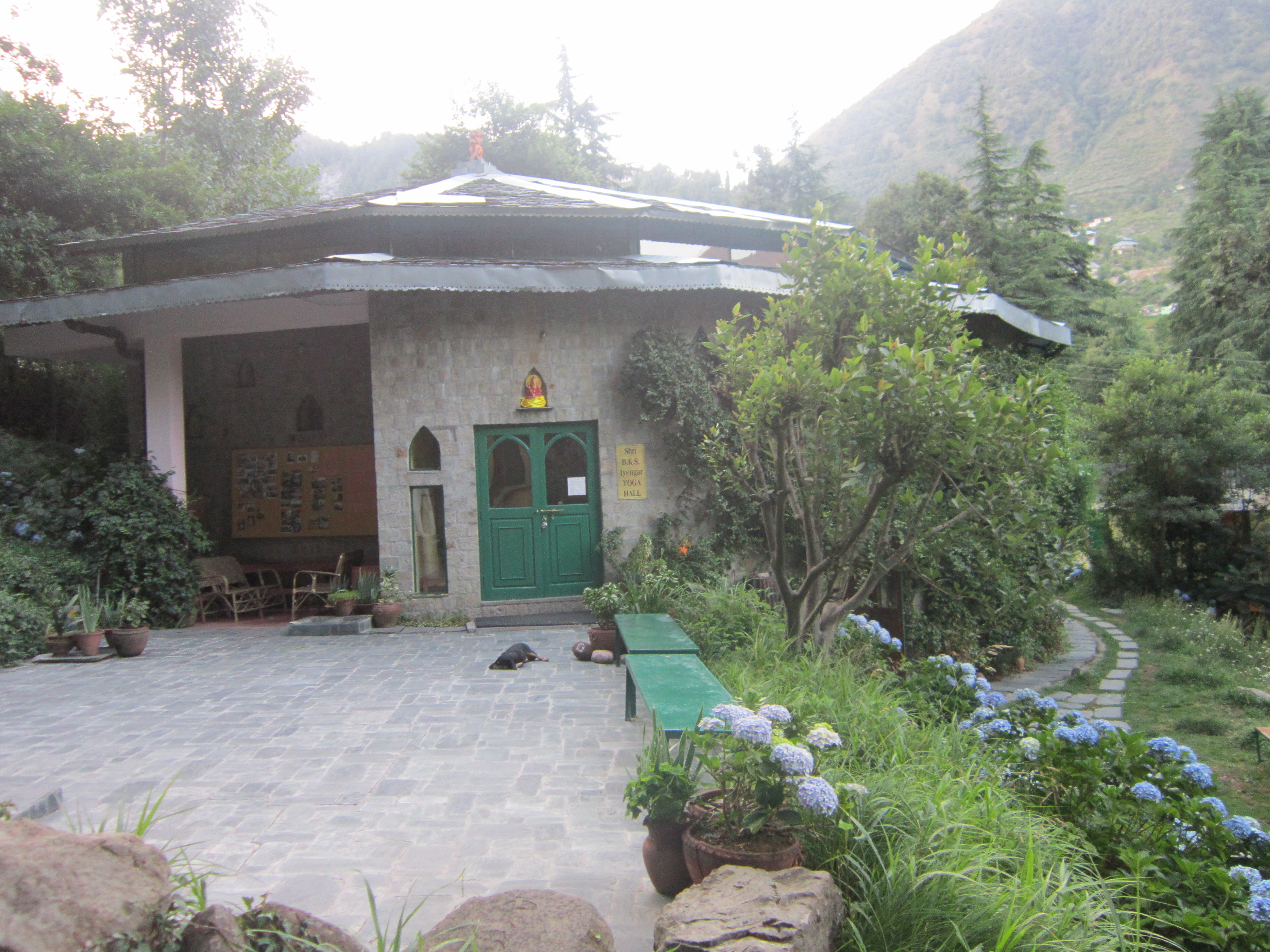 After the joys of "I'm no longer a beginner!" wore off, I realised that the second Iyengar course was a little too much for me. Mainly because I was expected to hang upside down from a couple of ropes, virtually unaided, for about ten minutes, and then (this was the trickier part) attempt to get myself back on safe ground again.
Sadly, I never managed to master this technique, and lived in fear of the 6.30am practice time, which was automatically supposed to include the hanging pose. I spent it pretending to kick my legs against the wall in a feeble attempt at a handstand – which is also phenomenally hard and more than a bit terrifying.
At least we spent a large amount of time getting to grips with our toes. Basic work that even I could try to understand – particularly after all my toe focus from the week before. Sharat often found himself in the middle of an hour-long story while we were stood in a pose, and it took quite a while to realise that we could probably afford to relax for a bit while he compared yoga to car gears.
My personal favourite was about the man who came to Sharat's Iyengar yoga classes in Dharamsala for two years, didn't learn about his toes properly and ended up getting a multitude of different diseases when he went back home to America. Poor man. Woefully uneducated in the ways of Iyengar.
I left the Himalaya Iyengar Centre proud of my efforts and extremely glad that I had learnt to ground my feet properly, but definitely aware that Iyengar is a brand of yoga I'm not ready to chase with open arms just yet. Sadly there were no more yoga vests available so I wasn't able to indulge in my pet passion of cementing an experience with a strangely branded piece of clothing.
But at least I bought myself a yoga belt, so I can turn up to yoga classes in South East London and boast about my time with the world famous Sharat. People in Peckham are just going to love me….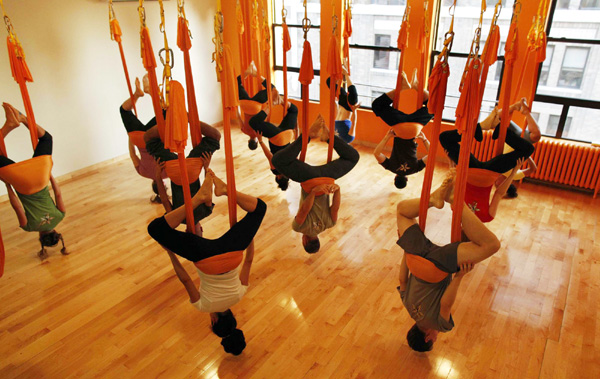 Discovering my inner hippy
The healing workshop has been the main focus of my time since yoga finished. I tried to prepare myself somewhat by purchasing two pocket books in McLeod Ganj: "An Introduction" to crystals and to chakras, respectively (I also completely accept the mockery from all friends and companions at this moment, as I take my first willing steps to becoming a crystal-adorned hippy. Please be kind). But it turned out to be unnecessary, as the workshop was a very chilled affair.
An assortment of hippies in various stages of degradation (think holey T-shirts, macrame hand jewellery, ohm scarves, and one guy who favoured wearing a stripy sarong in lieu of trousers) lounged around the floor of a small cushioned room, and settled themselves easily into the lotus position.
Supported by my recently discovered trusty yoga friend, the bolster, I stretched and yawned in conspiratorial casualness, tried putting my left foot on top of my right knee, felt a twinge, decided that was a tad too adventurous, and leant against the wall with my knees up in a nonchalant kind of way.
What followed was four days of intensive meditation, for at least an hour at a time, while we attempted to activate our kundalini energy (which lies dormant at the base of our spine, dontcha know), to channel energy from our palms to a manifested sun in front of us, to create 3D flower of life symbols around everything from our food to people's chakras to the room to ourselves, and to prepare and use crystals to heal.
Now, for someone who only recently learnt the locations of those seven little lotus flowers of internal energy, I honestly have no idea if I managed any of these gargantuan tasks in the correct fashion, but I do feel much more well versed in the world of crystals, chakras and kundalini meditation. I'll also be invoking the Siddha gurus and masters to help me out with a few more sessions on the mandala when I try practicing with my brand new crystal set when I get home (what can I say? I spend money easily!). Maybe a visit to some of Somerset's finest crystal shops should be in order too…
And with all this work with mandalas and meditation, I've found myself having to readjust my beliefs somewhat. For the last 24 years I have held a healthy disregard for the practices of mysticism, spiritualism and the like. I'd never felt a crystal's energy or attempted to manifest any kind of weird protective symbol in the air – and I'd always felt a slight pang of pity for those who did.
But the believers outweigh the non-believers in McLeod.
I've found myself in conversations about energies, chakras, transcending space and time, karma and karmatic loops; I've had my palms and feet read with startling accuracy; I've experienced too many unnerving moments of deja vu; and, most  I've met with a healer who's honestly changed the way I perceive my life and myself.
The uncanny Indian influence
It's this country, I'm sure of it. India seriously does something to you. And to the energies around you.
When I've found myself confused and alone, a stranger arrives and ends up being the person with exactly the right skills to help me through the problem.
When I've needed time to myself, things have worked out in exactly the right way to provide me with it, through no actions of my own.
When I'm looking for a particular conversation, interchange – and even a particular product! – it's turned up at exactly the right time.
And there's more to it, too. The people in this area are incredible. Their beliefs and their compassion, their willingness to welcome absolutely anyone to their table for chai and a conversation – it's so refreshing, particularly if I think back to how people at home behave in similar situations. I've always felt that travelling is ultimately about people – but I've also always taken it as a given that it needs to be predominantly about those who inhabit the place permanently. The locals, the natives, the 'real'.
But maybe this opinion needs to broaden itself a tad.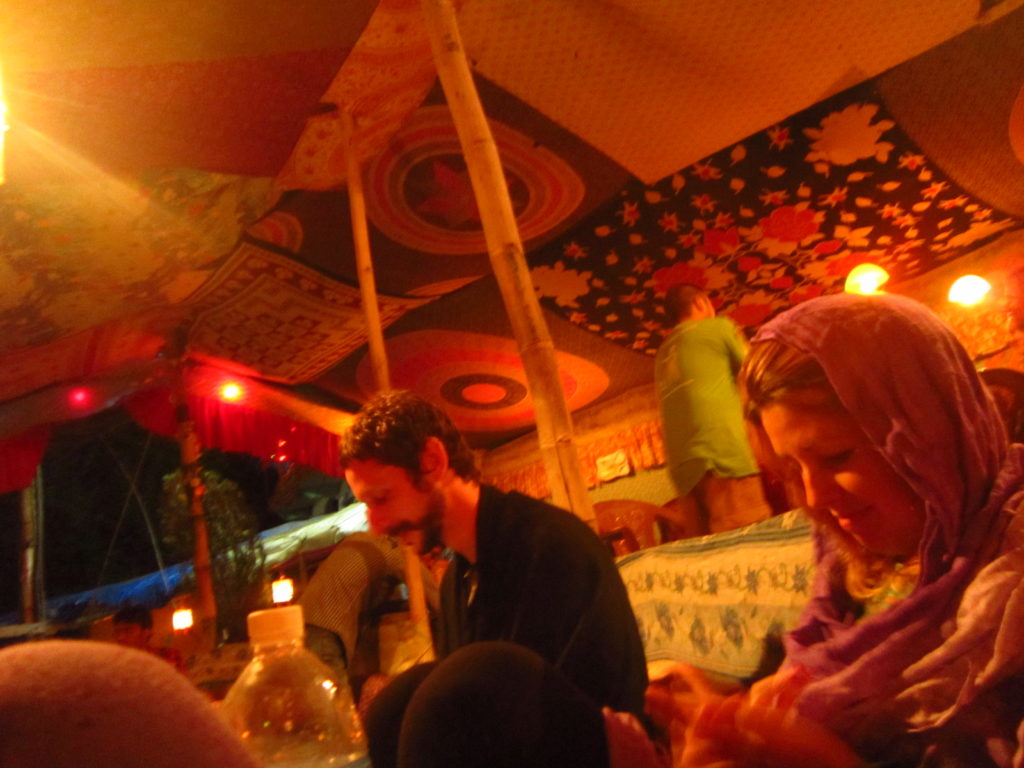 "I'm not here for the Indians," says the native Israeli, who hasn't been 'home' in a decade and calls himself an 'Asia' guy.
"It's all about the travellers, man; they're all on the right wavelength, the same vibe."
And it's true. I had such an eye-opening time during my solely-Indian six weeks; but I've had an equally amazing experience amongst the foreigners who call Dharamsala's surrounding villages their temporary home.
It's not just about authenticity.
A huge part of spending time abroad is learning why other people chose to do the same thing you did – which results in some wonderful and crazy occasions. Such as impromptu nose piercings, eating to excess around a huge Indian thali plate, and spending a lot of time in the company of some wonderful new people, however transient our friendships may be.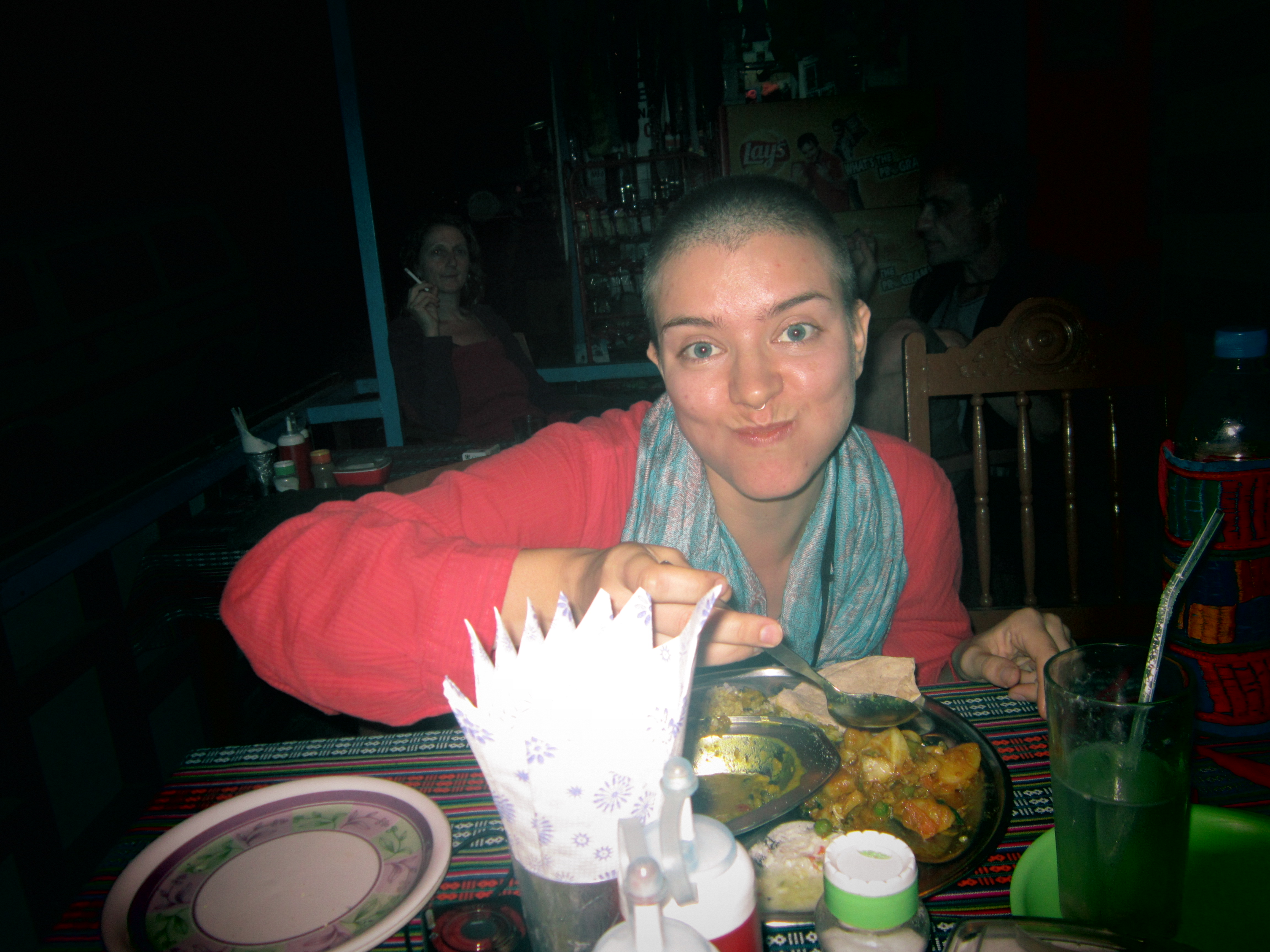 Moving on
So now it's onwards and upwards – catching a flight to Thailand and discovering what South East Asia has to offer me. Except I'm making one last adventurous move, and heading to the mountains for a little celebration.
Which may or may not involve a couple coming together in the holy state of matrimony.
Ok, I can't hide the excitement – I'm going to an Indian wedding!!