Eyes bright. Fingers tensed. Adrenaline surging through a myriad of veins.
"NO! Go away! Get out of here!"
I swung my bag violently in mid air, my breathing thick and fast, squinting through the drizzling rain.
It was 6.30am. The streets of Pai had only just seen the dawn. And I was locked in a face off with a pack of very angry dogs.
But ask me how I got myself there, and I really wouldn't know what to tell you.
Part of it was being stupid enough to choose accomodation way off the main drag, meaning I had to walk a good 15 minutes to the town centre. Part of it was deciding to go on a day tour that picked its guests up at 7am. And the majority of it was because the fiercely territorial dogs of Pai simply don't seem to like me. God knows why. I wasn't really in the position of questioning their decision though.
I was, not to put to fine a point on it, terrified.
All quiet on the Western front…
My arrival into Pai, two days before, was somewhat less intense. I managed my usual trick of befriending someone on my bus – this time a girl named Lorraine, an Irish science teacher living in Abu Dhabi – and together we wandered in search of a place to stay.
When I saw the little bungalows near the river were only 150 baht a night, I quickly snapped one up. Ok, so it was just a mozzie-netted mattress on a bamboo hut floor, but I reasoned I could always move if it got too much.
Lorraine had opted for the more luxurious (read: inside and insect-proof) guesthouse next door, but we were both in need of food, so wandered off into Pai to explore.
One towering plate of pad thai later, and we were chatting to two lads at the same table, who challenged us to a game of pool, which quickly dissolved into drinking copious pineapple shakes and chilling in our new friend's room with a few Changs.
At some point in the tipsy haze came the revelation that one of the guys was the sibling of a very famous British actress, which made everyone get excited and then immediately pretend they weren't.
Trying to casually ask questions about her and conceal our total fascination in the guy's answers was a difficult task to master indeed. I'm not going to name any names though – guesses in the comments perhaps?! (Hint: she's young, gorgeous and literally everyone knows who she is…)
Cold, wet and hungover
I awoke in my little bungalow the next morning in a confused state. The first beers I'd sunk in over a month, combined with the unwelcome appearance of an incessant London-like drizzle, didn't make for the most appetizing of days. But I steadfastly soldiered on, aided by all the sights and sounds of the town to keep me entertained.
Pai used to be a small village until tourists discovered its relaxed atmosphere and close proximity to hot springs, waterfalls and trekkable mountains. Its vibe is a lot like Dharamkot in India, where I ended up living the hippy lifestyle for a few weeks. The majority of travellers who pass through here are looking for some time to chill out – normally after going at it a little too hard on the islands down south – so there isn't much happening.
But, unlike in Chiang Mai, where this fact made you feel a bit guilty, there's absolutely nothing wrong with spending your days in cafes and at street food stalls in Pai. So that's what I did, indulging in some jewellery, delicious food and getting a lot of writing done.
Time for a tour
The next morning, post near-dog-attack and with my ankles thankfully teethmark-free, I clambered into a little hire car with a small Chinese writer, a hefty thai tourist in a pink tee and pinker checked shorts, and a driver named Ice – "like, Ice Ice Baby" – and together we set off on a day tour of the region.
I don't normally opt for doing the tours advertised by photo boards and info files outside travel stands, but at 1000b (20) for a 12 hour day, this one seemed like a pretty good deal. And I knew I wouldn't be seeing much of the surrounding area otherwise, due to my sullen refusal to hire a bike (I've fallen off bikes in too many bizarre situations to climb onto one voluntarily).
This tour involved a number of activities, from walking through a set of pitch black bat-ridden caves to look at stalagtites, to visiting a tribal village's hill of pigs (I don't think this was the point of the visit, but it's the main memory I came away with), to standing on a 'viewpoint' and getting blown around a lot by a very cold wind.
Getting to grips with Thai voyeurism
Our final stop was at a village of the Long Neck Karen hill tribe, the members of whom hail from Burma and are refugees, so cannot work in Thailand. They base almost their entire income on tourism, and the result was seriously upsetting.
Maybe because it's out of season, maybe because the weather was bad – but when we arrived, we were faced with a single bedraggled lane of stalls, half of them boarded up, and only a handful of women wandering the street. I couldn't believe that this was being billed as a tourist attraction – but there were some gangly French boys up ahead, eagerly posing for photos with an elegant woman, her neck encircled by a number of brass rings.
I couldn't face taking any photos of the women themselves, but here's the general gist: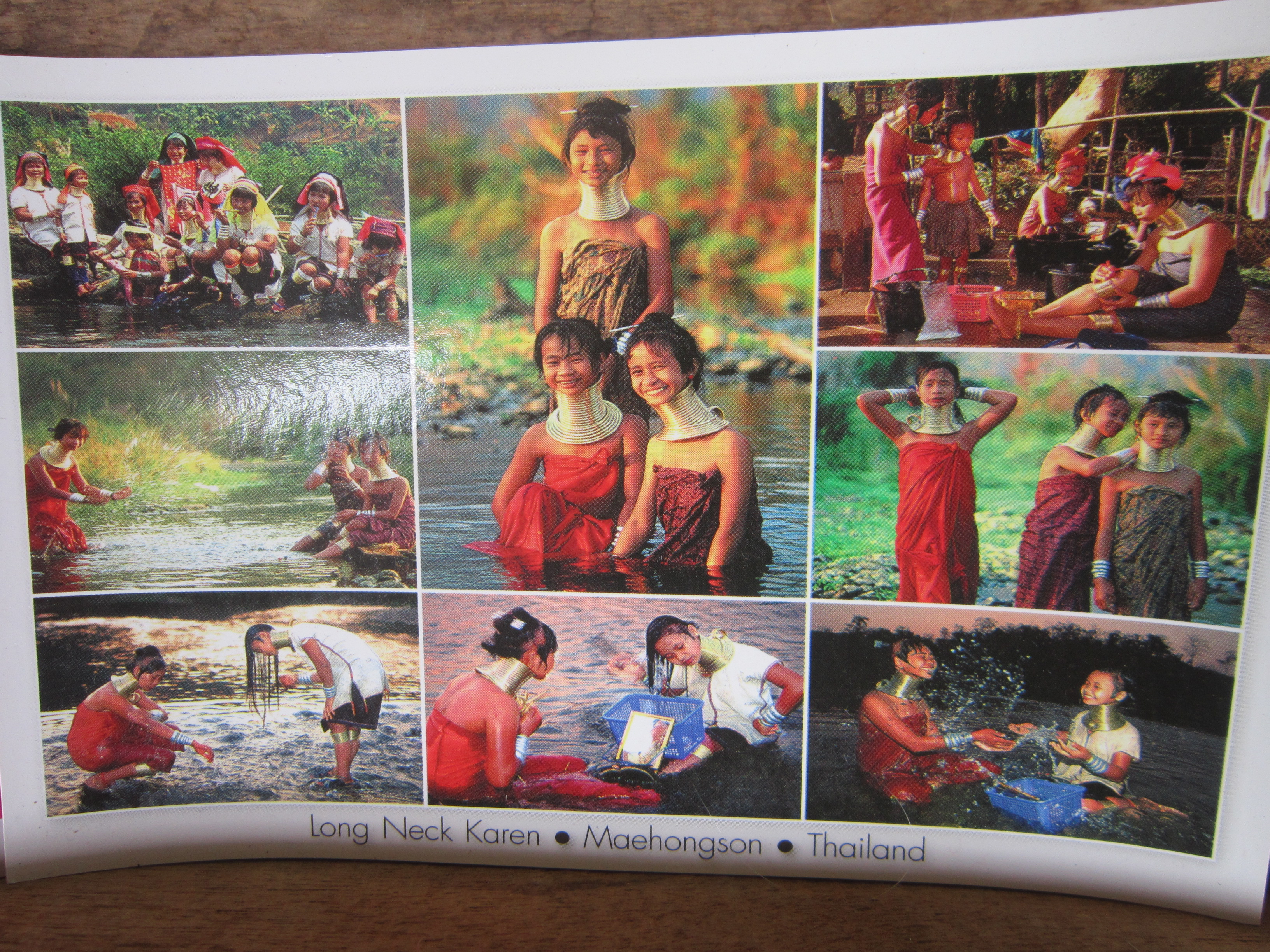 The whole sideshow spectacle atmosphere really got to me. Where's the NGO helping these refugees? Why is their dignity being taken away for the sake of 10 baht and a digital photograph? I'm not sure what the answer is here but I'm resolved to find out more about them, and see what's being done to help.
By the time we made it back to Pai I was exhausted, cold, and my stomach was cramping up something rotten. Turns out too much street food can actually be a bad thing!
So I retired to my little bungalow, still damp from the day-long rain, and snuggled up under a blanket for my even earlier bus ride to Chiang Rai in the morning.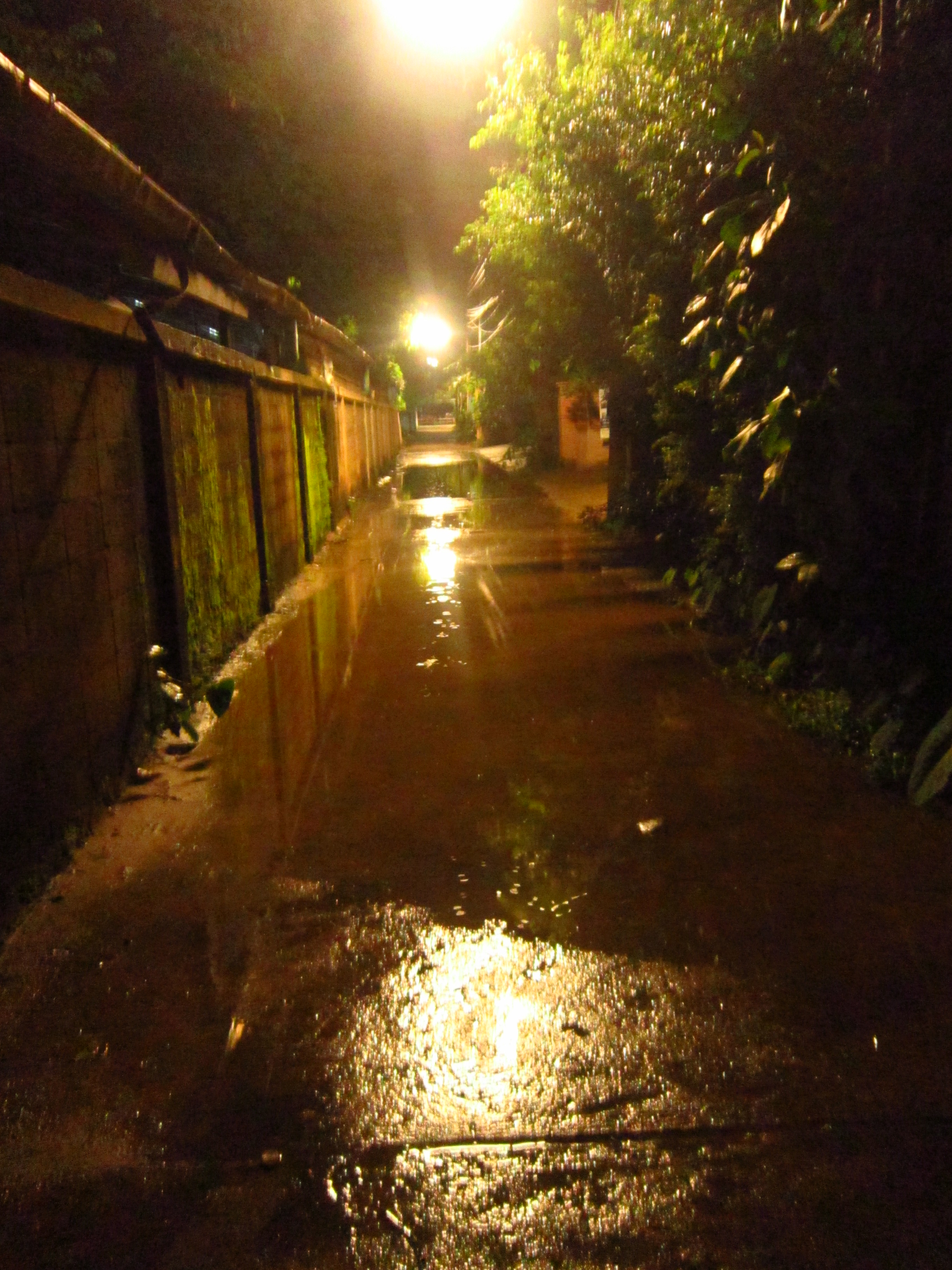 Nonplussed in the North
Amazingly, my bus journey passed without incident, and I continued my now firmly established tradition of adopting a fellow passenger and tailing them to their hotel.
Alison, a fellow Brit, had just successfully transported herself from tubing in Laos all the way to Chiang Rai, and she needed a comfy bed immediately. I was happy to help her find one, and the place – an HI accredited hostel, no less – was so pleasant, what with free coffee and wifi, that I got a room on the spot.
Chiang Rai is, strangely, nothing like its 'Mai' counterpart. But I think many people, us included, seem to assume it will be, hence the smatterings of bewildered tourists wandering the city's streets. After a quick onceover we realised there wasn't much going on, so we gracefully retired to free wifi and heaps of sugary coffee, only to venture out again when the sun had set.
A word of warning, guys: mosquito spray at the ready when you hit Chiang Rai's night markets, as the little buggers are literally everywhere. I've never had such a problem with them in this country as in this little city. Luckily the evening's entertainment more than made up for the bloodsuckers, when we turned a corner to discover a sight that made my heart leap up jubilantly in my chest.
That's right: Thai-Western folk music night.
At least I think that's what it was – and who cares, really?
A mere snippet of the show was enough to keep a smile plastered to my face all night, as I waxed lyrical on what the cowboy could possibly be singing about. I don't think Alison cared much, but she gamely nodded away as we sat eating tempura fried shrimp and vegetables.
The next couple of days passed, like they seem to always do round here, with general wanderings, browsing of stalls, eating food, and chilling the hell out.I know I'm painting a picture of a relatively noncommittal response to the north of Thailand, and I'd like to point out that it's a really lovely place, honestly!
But during the rainy season, and when you've only got a few weeks before you head home again after six months, it's a little too relaxing for me. Maybe when I come back to this country with fresh eyes I'll enjoy it more…
That said, our last cultural visit of Chiang Rai, to the White Temple, was something else entirely. The artist, Chalermchai Kositpipat, self-funded the now 12-year-old build of the temple to spur Buddhism into the 21st century – and he's been painting the interior with modern murals that include depictions of Neo from the Matrix, Spiderman, Coca Cola cans and even a little Spongebob Squarepants!
Photos are strictly forbidden inside the temple, but its so incredible from the outside I don't think it really matters…
And then it was time to head for Bangkok again, where I had a few days before catching my flights – all three of them – back home to England.
After a rollercoaster six months of travel, all over Asia, I was suddenly left with mere days?! What? A very strange feeling indeed, knowing that within a week I would be back in my home city of London, facing the Olympic onslaught that seems to have overtaken everyone over there.
But time moves fast, and so does the clock at this internet cafe. So I'll wait to regale you with my final Bangkok adventures for another day. Maybe when I'm sitting on the sofa in my little London abode? Oh dear lord, the weirdness of that sentence knows no bounds…