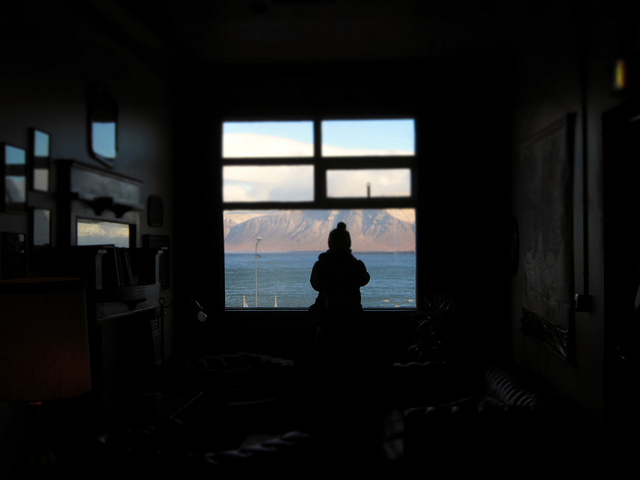 "Oh my goodness!"
The breath had been knocked out of my lungs. Or rather, not knocked so much as shoved. The shover in question was a middle aged American woman who lay heavily across my knees, neck straining against the cold interior plastic of the minibus door.
"I can't see anything!" she cried, her voice adding to the chorus of female chatter that filled our vehicle.
It wasn't exactly a surprise, I thought to myself. The lights of Reykjavik still glowed in the distance and the clouds in the sky above our bus all but extinguished a possibility of seeing the famous lights.
"Judith! Judith, have you seen them on your side?"
Unable to turn my head, I heard a faint voice coming from a seat further back in the bus.
"Well, I'm not exactly sure…"
Prepared for the prospect of spending all night in the blistering Icelandic cold, I was encased in approximately five layers of jumper, three pairs of leggings, two scarves, untold numbers of socks and fleece lined leather Doc Martens that claim their resistance to acid. Relatively unprepared for the close proximity to various eager tourists, my thighs were starting to sweat.
And then our excitable German guide jabbed at the window on her side of the bus, directing our eyes towards a few blurred green spots in the sky. They were faint, but they were the real deal. For now, at least.
My American lap-friend, satisfied that she'd seen 'The Lights', righted herself into a more vertical position and shuffled back to her original seat, next to her sister.
As I struggled to rearrange my layers, I caught a low sigh from Judith.
"I thought they'd look a bit better than that. Where are all the red bits I've seen in the pictures?"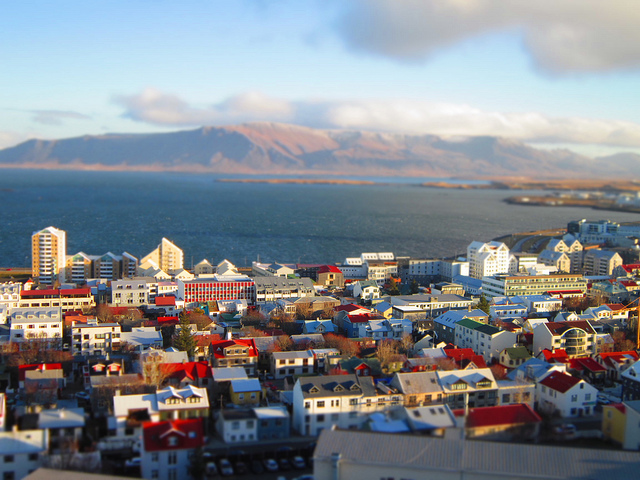 Planning the aurora in advance
When I initially got in touch with Special Tours to organise a trip to see the Northern Lights, I planned to go by boat. Apart from the obvious joy to be had in exclaiming, through chattering teeth, "I'm on a boat!", I was also intrigued by the experience of sailing into the November darkness and watching the aurora from the ocean.
Being completely over-romantic, I also figured that the visibility from the North Atlantic would be infinitely better than from land, and I'd spend two hours staring at the lights in the watery silence.
Of course this was assuming a little too much. Plus hadn't bargained for Iceland's famously inclement weather.
Reykjavik's wind blown lake water, mid-freeze
Wind or rain, take your pick
Last year I gratefully thanked whatever strange thought had urged me to bring waterproof trousers to Iceland; ridiculous as they looked, they were a lifesaver during a week of needle sharp rain that drove its way into everyone's jeans but my own.
This year there wasn't any rain, thank goodness, but in its place came a healthy amount of wind – a full blown three-day 80mph gale that prompted our manager at KEX Hostel to inform us that after living in Iceland for 32 years he'd never seen weather like it. Whether he was saying this to make the situation more dramatic is certainly debatable, but the fact still remained that the weather was bad enough to bring Iceland to something of a standstill.
All day tours around the island were cancelled; people were warned against taking their rental cars for a spin; and a group of lads who hadn't heeded the warning returned to Reykjavik with a hire car completely stripped of its paint – they'd driven through the ash fields and the wind-blown ash had obliterated their car. The resulting insurance payout was somewhere in the region of $8000, both ruining their trip and pushing forever home the notion that, in Iceland, you have to respect nature and the weather above all else!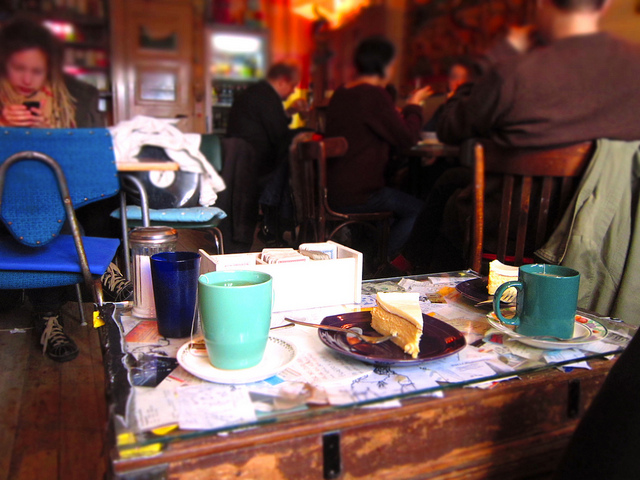 Preparing for the Icelandic night with hot tea and Babalu's famous cheesecake
Northern Lights by

boat

bus
By the time the night of my Northern Lights tour came around, the wind was stronger than ever, and it was clear that we wouldn't be boarding a boat. The 15 capacity minibus we were loaded into instead seemed, at first glance, a bit of a disappointment.
But as we started driving, I started to appreciate the more personal aspect of being in such a situation.
Unlike the big, brightly lit coaches we passed on the road, our all-female crew was plunged into darkness from the word go, offering much more potential to spot the lights through the window. There was also a great sense of camaraderie – as my mum would say, it all got "very jolly", very quickly.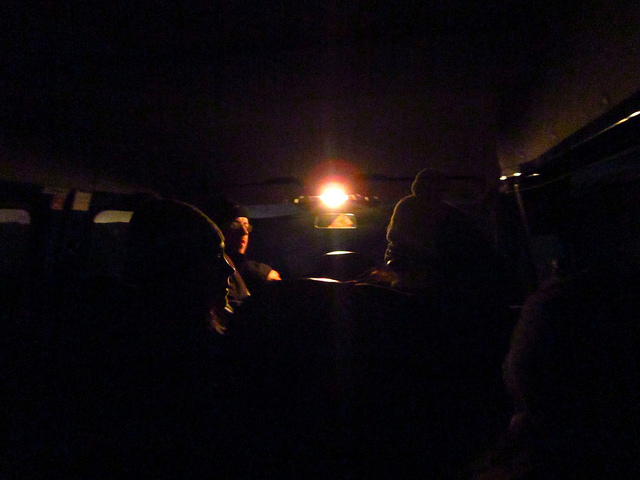 Waiting for the appearance of the lights in our little minibus
Unfortunately, like Judith, the women in our bus were hell bent on seeing those incredible, yet sadly completely misleading Northern Lights: the ones we see in all the magazines, courtesy of countless nights of shooting and hours of long exposure.
These are not the Northern Lights – not as normally seen by the naked eye, anyway.
Northern Lights misconceptions
First, despite the amount of tours that have daily departures from Reykjavik year round, there's absolutely no guarantee that you'll actually see 'the' lights. And second, even if you do see them, there's a chance that those faint green smudges in the sky won't totally live up to your expectations.
Finally, the Northern Lights are known to change. Change direction, change colour, change intensity – and changing rapidly from visible to faint to non existent. In the time it takes for one person to squeal, "There they are!" and another person's camera to swivel excitedly towards the sky, the lights have been and gone.
But happily enough, after two years and two very different sightings, I've made the (probably contestable) decision that seeing the Northern Lights without a camera is probably the best thing you can do.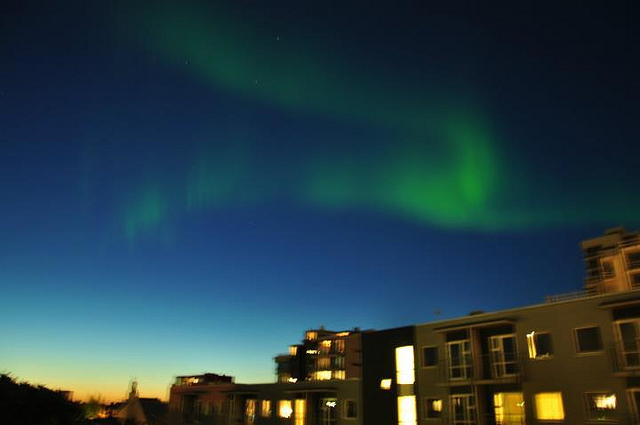 The sky above Reykjavik the night after I left Iceland last year. Jealous doesn't even cover it. 
The first time I saw the Northern Lights
Last October, I was in the backseat of a small car driving through the dark landscape along Iceland's West coast, bundled in amongst three other passengers. Only me and the driver were awake, but we weren't speaking: two exhausting days of driving and sightseeing had taken their toll.
I had been quiet for the last hour, possibly about to start napping, when I looked out of the window to my left and gasped. The green smudge that had thumbed itself across the sky was pulsing. As I watched, the smudged streaks fractured and split, creating thinner lines and stretched beams that moved slowly through the darkness.
I think I made a noise to alert our driver. I think he turned, and smiled, and placed his eyes firmly back on the road again. He was a permanent volunteer, and had been living and working in Iceland long enough to not find the Northern Lights too big of a deal.
I tried to take a picture, but from the first shot I realised just how futile it was. The dark night, moving car and a natural phenomenon too beautiful to be adequately caught by my little point-and-shoot made up my mind for me.
Instead of worrying about my camera, I sat back and stared for the next half hour, and the lights danced and pulsed above me.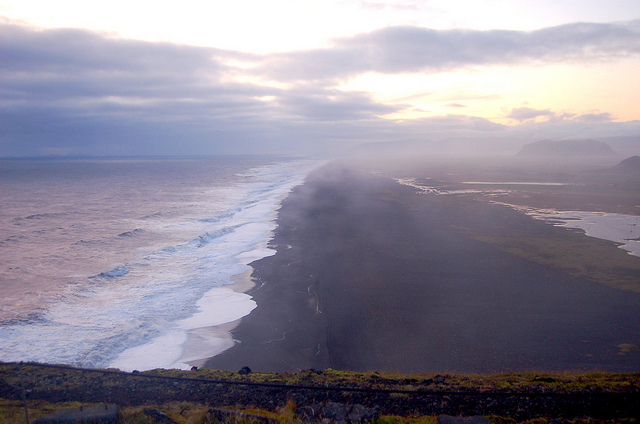 The evening light that preceded my first ever Northern Lights viewing
Northern Lights, take 2
Luckily for Judith and her sister, the lights got a lot stronger on our Special Tours outing, and all the women's expectations were almost completely satisfied. There was screaming, there was jubilation – and then there was an eventual outcry of disappointment when they began to realise that their cameras weren't really picking up the lights. Exposures and ISOs were played with, but not much was coming through their lenses.
As we stood huddled around the minibus, sipping on plastic cups of hot chocolate, I asked the bus driver if he ever got tired of seeing the lights. He thought about it for a moment, then said,
"I grew up in the West, in the fjords. When I was seven years old, I used to open my front door and fall into the snow, lie down in it, and look up at the lights. For hours, until it was too cold."
As if I hadn't understood his point, he smiled and reiterated his answer.
"I never tire of the lights."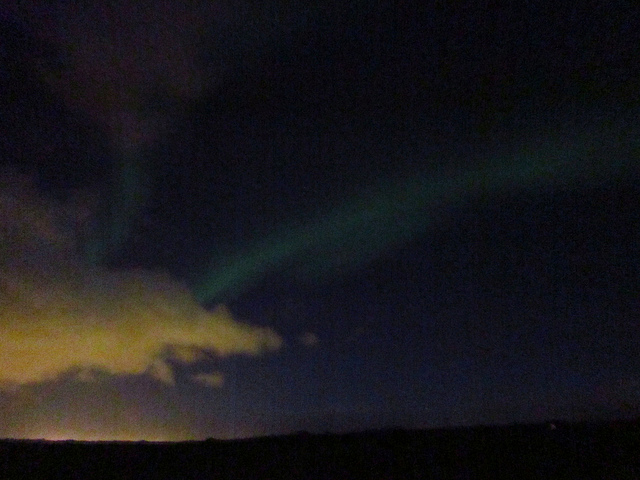 So here is the best photo I took, the second time I saw the Northern Lights.
Long exposure it certainly ain't; this is the product of some hasty camera settings with numb, ungloved fingers. But it's real, and it's what they look like in the heat (or complete cold) of the moment. Which, as far as I'm concerned, makes it a much more worthwhile shot.
But if you do manage to see the Northern Lights, it's worth forgetting about your camera for a bit, and taking the time to just watch them instead.