I've been thinking a lot about the way I look at India. And, by extension, the way that India looks at me.
For the last two months, I've seen fleeting glimpses of a vast amount of India, whether sitting on buses, sleeping on trains, or fearing for my life in leaking boats and terrifying tuktuks. Many of these glimpses have been caught for posterity through a camera lens; many more have been noted down on paper. I've wandered through temples and markets, forts and deserts, rivers and beaches – and every day, I've passed countless children, teenagers, adults and the elderly, many of whom have fixed their unblinking gaze on me until I've disappeared from view.
To counteract this feeling of unexpected exposure, I've made it a priority to speak to every local that I can, feeling the need to connect with the 'real' India at every opportunity.
For the last two months, I have also been swanning around the country with my fellow Western travellers, indulging in the mystical, spiritual, and ultimately tourist-invented impression of India. I've bought whole-heartedly into the Ali Baba trousers, the anklets and toe rings on each foot, the cool, hippy, cut-on-a-whim-in-a-Rajasthani-bathroom hair and, above all, the awestruck expression at every single sight.
I felt like I was really tapping into what makes this place tick. I felt like I was starting to belong.
And then I arrived on the other side of India, and my Emperor's clothes were stripped away (both metaphorically; I wasn't standing anywhere in the nude. Still looked pretty ragamuffin-like, though). My hair wasn't cool, it was a mess; my anklets and toe rings are actually a signifier of marriage to most people and are thus quite confusing; and, worst of all, I was told that, instead of cool trousers, I have actually been wearing pajamas. And to think I wondered why people kept staring at me!
I'd been so busy drinking in India's 'authenticity', in all its saried, templed, glory, that I'd been conciously avoiding looking at its similarities to my normal lifestyle back at home.
In the cities, at least, a great deal of people in India are always on their phones; they're obsessed with the latest Facebook updates; they drink Coke; they eat at McDonalds; they use hair straighteners and care a great deal about their appearance; and, perhaps most importantly, they do actually wear jeans here.

Of course there's still a huge dedication to faith in India. I've already learnt so much about Hinduism, Sikhism, and Buddhism – and I have the utmost respect for the constant attention people pay to their respective religions. This faith and spirituality is also clearly what draws many of the country's tourists to visit, including myself, and so it drives a predominant amount of the tourist dollar into the Indian economy.
But it's refreshing to discover, almost by accident, that India's spirituality is not the only thing on offer to a foreigner. Not by a long shot.
And so I find myself in a very strange and completely unexpected situation: instead of beginning my travels as a polite, well dressed Brit and slowly descending into hippy-dom, I've somehow gone about it completely the other way.
I expected to return home from India as a dreadlocked, spiritual yoga obsessive, all jangly bracelets and irritatingly calm words. Ok, so the bracelets are definitely still in attendance – but I think I'm postponing that element of my personality, at least for a month or so.
The Indian media world is simply too modern and respectable to be tainted by my wild backpacker ways. And I want to make a good impression.
In lieu of this decision, though, a problem arose. As my dad rightly pointed out in a recent email, I packed for six months of slumming it, with no intention of spending time with India's elite. Perhaps shortsightedly, there were no evening gowns or sequin cocktail dresses stuffed into my rucksack. Or, as a starting point at least, I had nothing I would deem as a suitable outfit for a normal day in respectable London company – just baggy teeshirts and (dear lord) the now famous 'pyjamas'.
Which is how I found myself in the centre of Chandigarh's main shopping plaza few days ago, willingly handing over my credit card in exchange for a pair of dark blue skinny jeans.
Bye-bye hippy, hello respectability.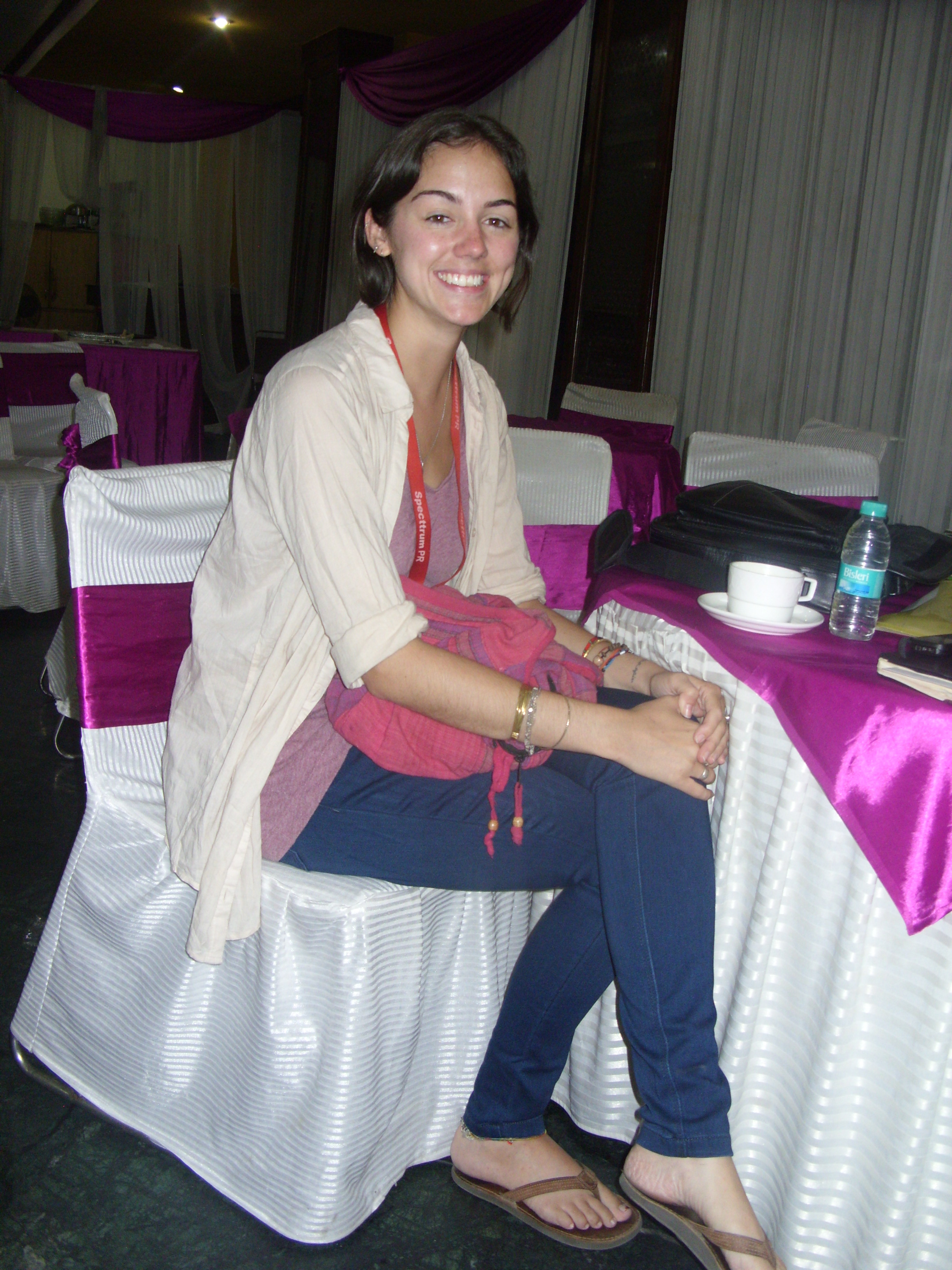 At least they were cheap.