"Do you mind not taking photos right now, please?"
The long haired Scotsman at the front of the room looked over at me pointedly, as I sat back guiltily in my seat and tried not to feel like a naughty school kid. He clearly felt all my attention should have been focused on him – and right he was. When whisky is the topic of conversation, there can be no distractions. Particularly in Scotland.
"Now, if you'll just look at the card in front of you…"
We dutifully reached for our individual cardboard wheels, laid out along the table. They looked like something better suited to a game of Trivial Pursuit, but Long Hair explained that each quarter of colour actually represented a different region of Scotland; the four main whisky producing regions of the Highlands, Lowlands, Speyside and the Islands.
While he described the subtle differences in the aromas of each whisky, how the soil and peat of each region affects taste, and how to discern the whisky most appropriate to your palate, we scratched 'n' sniffed our way through the four coloured segments. Our noses were regaled with the scents of floral, banana-like Speyside, the lemony Lowlands, and the deep smoky fire of the Islands. I breathed each one in deeply.
A little too deeply, really. The smell of fabricated whisky was going to my head.
A wee dram of whisky
Eventually I chose to sample a dram from the Highlands, with smooth notes of vanilla – and here my problem arose. One sip, and the few drops of amber liquid sizzled and fizzed their way around the insides of my mouth. I tried to move the whisky under my tongue, then under it, then back into the middle again. I tried to assess the subtle flavours that were hiding in my mouthful. I searched valiantly for those vanilla-y notes. But all I could taste was heat.
"Just let it roll down the back of your throat," suggested Long Hair, nodding appreciatively at his room full of amateur whisky connoisseurs.
But when I eventually dared to swallow, the accompanying burning sensation made my eyes water.
And as I swirled my whisky glass, courtesy of the Edinburgh Whisky Distillery, in a room so dedicated to the spirit that it even had whisky inspired stained glass windows, I realised how much of a fraud I was being.
Confession time: my name is Flora the Explorer, and I don't actually like the taste of whisky.
There's education in alcohol
Although I started off my university career by claiming that my go-to drink was Jack Daniels and Coke (old man tendencies, anyone?), I've never actually been a whisky drinker. But Scotch whisky is no small time alcohol. The industry is in such high demand that Scotland can't actually distil its alcohol quickly enough, and sales of Scotch represent almost 4% of Scotland's economy.
So when you go to Scotland, a country that's seriously proud of its national alcohol, with a group of travel bloggers – a collective who are a boozy bunch at the best of times – it's pretty much a given that whisky will be involved. One of the perks of the job is being tempted into various events with the promise of free alcohol.
We're a bit like a group of drunken excitable puppies. Covered in tartan where appropriate.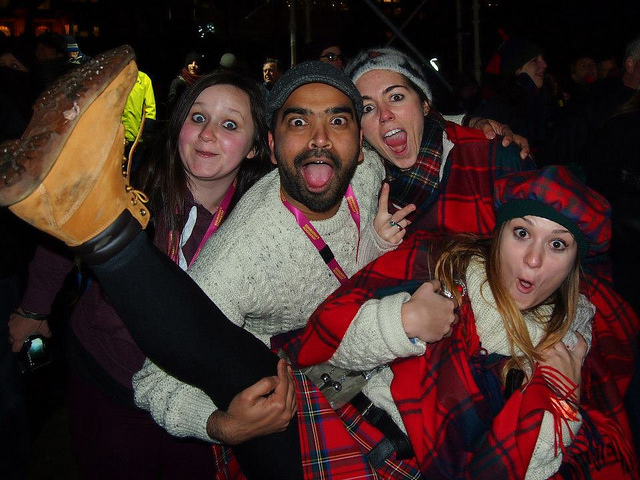 The aim of the Blogmanay compaign was to experience the best of Scotland. So, at the various events and excursions that comprised our trip, we were constantly plied with 'delicious' and 'exquisite' whiskies, all of which I felt fraudulent about when simply touching the glasses that contained them, let alone actually taking an appreciative sip.
And then we arrived at the Tomatin Distillery, up in the Highlands. And all my opinions were changed.
My fellow bloggers were busy taking photos in the heart of the distillery, a large freezing room with quiet machines sitting in silence. Our guide explained, somewhat apologetically, that the distillery doesn't start up production in the chill of early January. I stood camera free beside an informational poster, with no thought of recording my time there; certain that I wouldn't be blogging about it because whisky didn't interest me at all.
Our guide began to tell us that Tomatin is one of only two distilleries in Scotland that still have a cooperage on site. Mr Duthie, the elderly Head Cooper, spends his days checking casks to ensure they are appropriate for storing Tomatin whisky. These casks are sourced from all around the world; from the American white oak wood barrels, previously used to hold bourbon, to the sherry butts from Spain.
And such is his dedication to Tomatin that, 6 weeks into his retirement, after 36 years on the job, Mr Duthie decided to come back and resume his position.
A whisky revelation
All of a sudden, I wanted to pay attention. I wanted to write notes. Our poor guide was left patiently holding the rather heavy door to the room open for me, the other members of our group long gone, as I hurriedly took photos.
I'd never realised the amount of global camaraderie that goes into creating whisky. The cooperation involved in creating such a much loved product – and the never ending obsession with quality, too.
I caught up with the others in the warehouse, where the casks are stored for at least three years, letting the spirits within them mature. The air was dark and musty, full of intoxicating vapours.
"We call it the angel's share," our guide said. "Some of the liquid evaporates over the years that it's stored, leaving a small percentage of each cask empty. We get no begrudges from staff though – its proof of the quality we're after."
My friend Mike looked at me scribbling notes down, and nodded sagely.
"Find the thing you're interested in. The story will come afterwards."
When I look back now, it seems obvious that whisky was tying everything together during our time in Scotland.
There was whisky saturating the food we ate, presented in miniature bottles in hotel welcome packs, suggested as the chosen tipple of an evening and used as a tourist attraction, complete with ghostly projected tour guide, at the Edinburgh Distillery.
We sampled whisky fudge at Tomatin, made a brave attempt at eating haggis in a creamy whisky sauce under the antique mirrors of an Edinburgh pub, and watched the artful creation of whisky based desserts whipped up by a pastry chef in the blue tinted kitchen of the Gleneagles hotel.
Sometimes it felt like whisky was practically oozing out of the walls!
A spot of whisky saturated storytelling
But it was also in the people, and an essential part of the stories they told us. While wandering the barren moors of Culloden, I learned that Bonnie Prince Charlie, fresh from abandoning his men on the battlefield, had handed over the secret recipe for Drambuie to the Mackinnon clan, in thanks for their help in his safe passage across to the Isle of Skye.
In St Andrews, a quick shout out on Twitter led to an invite for impromptu wine tasting at St Andrew's Wine Company, where the excited proprietor waxed lyrical about his alcohol stock, his new business, his pregnant wife and her newly published first novel. He ended up plying us with tastings of his prized personal bottle of Hennessy Paradis cognac – not whisky, I know, but at almost £1000 a bottle it was still incredibly generous!
And then there was our wonderfully garish yellow Haggis Adventures bus, which carried us safely through the Highlands thanks to Chris, our legend of a driver. After an afternoon spent sampling two bottles of differing whiskies in plastic cups, night falling swiftly around the bus, we eventually gifted one of the bottles to Chris as a thank you for all his transporting skills – and for periodically pulling the bus over on completely inappropriate roads so we could take photos like this.
I get the distinct impression that whisky, and the accompanying obsession with the spirit, is what keeps Scotland running. And while I still don't know how to taste whisky properly (ie without it burning the back of my throat), I do think I understand some of the whisky hype.
Much like football, which has this magical power to bring patriotism to a country and its population, so a national drink is able to instill pride in the hearts of its people. I've seen it in Portugal's obsession with port; I've seen it in India's inability to function without chai; I've been a proud participator in England's need for at least three cups of tea, each and every day.
National drinks matter. And they are fiercely proud of whisky in Scotland. But while I can appreciate its delectability for some palates, whisky's not the thing I'm taking away from Scotland.
If I'm honest, I rather prefer the stories.
This campaign (part of the wonderfully named Blogmanay) is brought to you by Edinburgh's Hogmanay and is supported by VisitScotland, ETAG, Edinburgh Festivals, Haggis Adventures and Skyscanner. The campaign bloggers were sourced and managed by iambassador.
All ramblings (whisky soaked or otherwise), however, are solely my own. And sadly the tartan was on loan.