"And here is the statue of St Anthony, patron saint of the lost. Every June we have a huge festival for him – people of all ages, everywhere in the streets, drinking and dancing."
The three other members of our tour group nod, appreciatively. I am the only one not taking photos of the statue. I'm busy watching the beggar sitting on the steps of the tiny church behind us, as she thumbs through the dirty coins in a paper cup that sits stilted on the paving stones.
"And if you lose your friends, well – you just make new friends!" says the girl with braces and green eyes, smiling encouragingly.
She works at the Yes hostel, fresh from a degree in Tourism from Lisbon University. Giving free hostel tours around the city are a great way to keep up her experience while she looks for a more permanent job.
"It's been really hard though. I've spent three years absorbing every bit of information possible about Portugal", she tells me. But her dedication shows. I've been on a lot of European walking tours, but I haven't often had a guide so informed or so passionate about the places she's pointing out.
With her steering us around the city, we catch sight of tiny graffiti pieces, old men in plastic chairs under ornate street lamps, bright swathes of pink flowers under blue mosaic tiles. She stops so we can listen to the ageing buskers, shows us the best views of the coast from above a set of ancient ruins, and tells me where to buy the best custard pastry in the city.
But when she finally leaves us at the sprawling Saturday flea market, I'm still thinking about the beggar and the saint.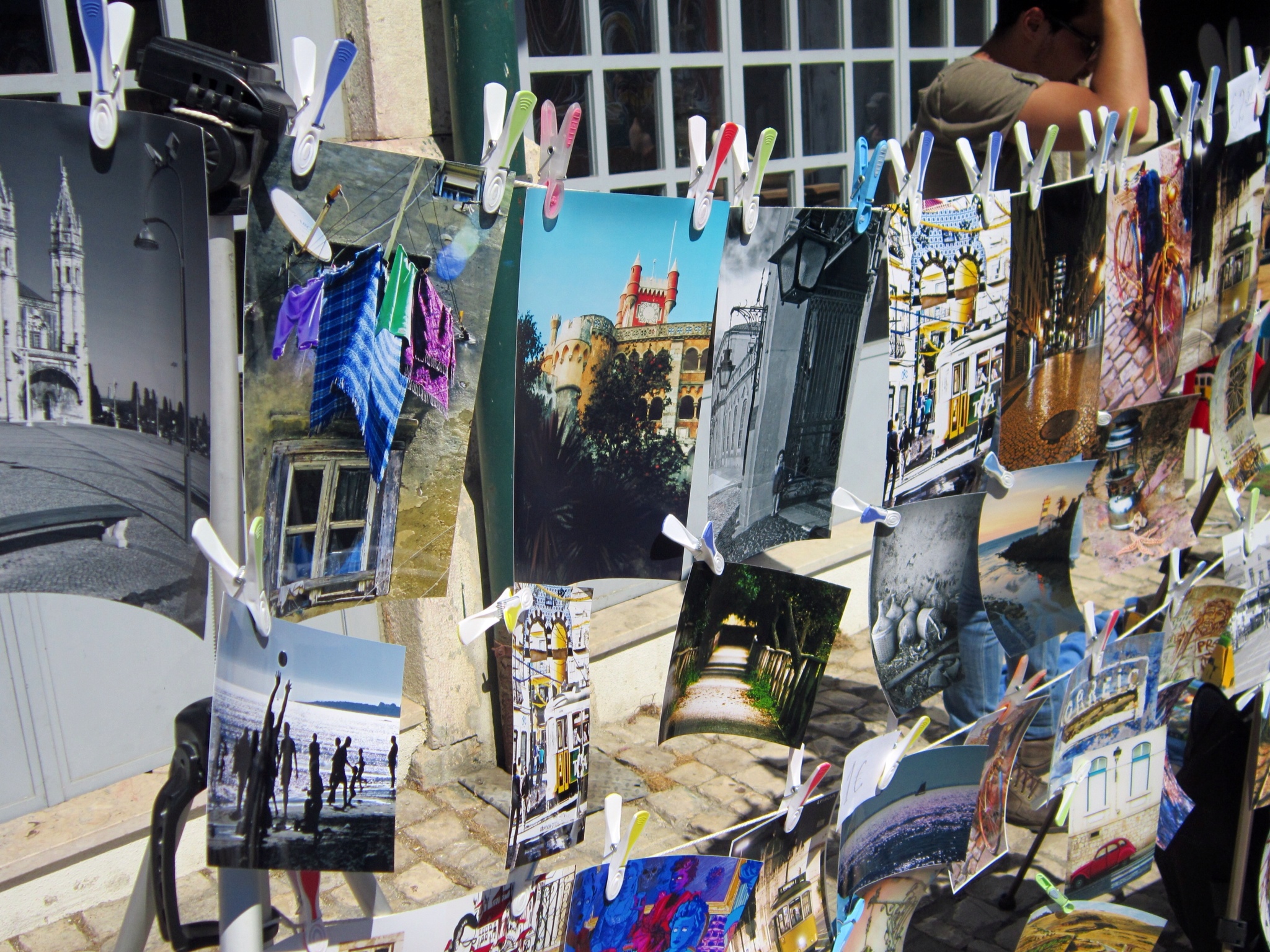 Catching my breath
I came to Lisbon alone, the same way I often travel. Normally, I don't have any problems with flying solo, but after a week spent in the alcoholic haze of TBU's excessively inclusive social scene, it felt a bit odd to be by myself.
I knew I needed recovery time before the next conference started though, so I was adamant that a few days alone in Lisbon would be the best solution. Somewhere I could get some work done, and settle for a bit before the next wave of socialising.
But I learnt two things about Lisbon. First, that everyone is just as industrious as I wanted to be.
And second, that this Portuguese city is inherently sociable, whether you want to be involved or not.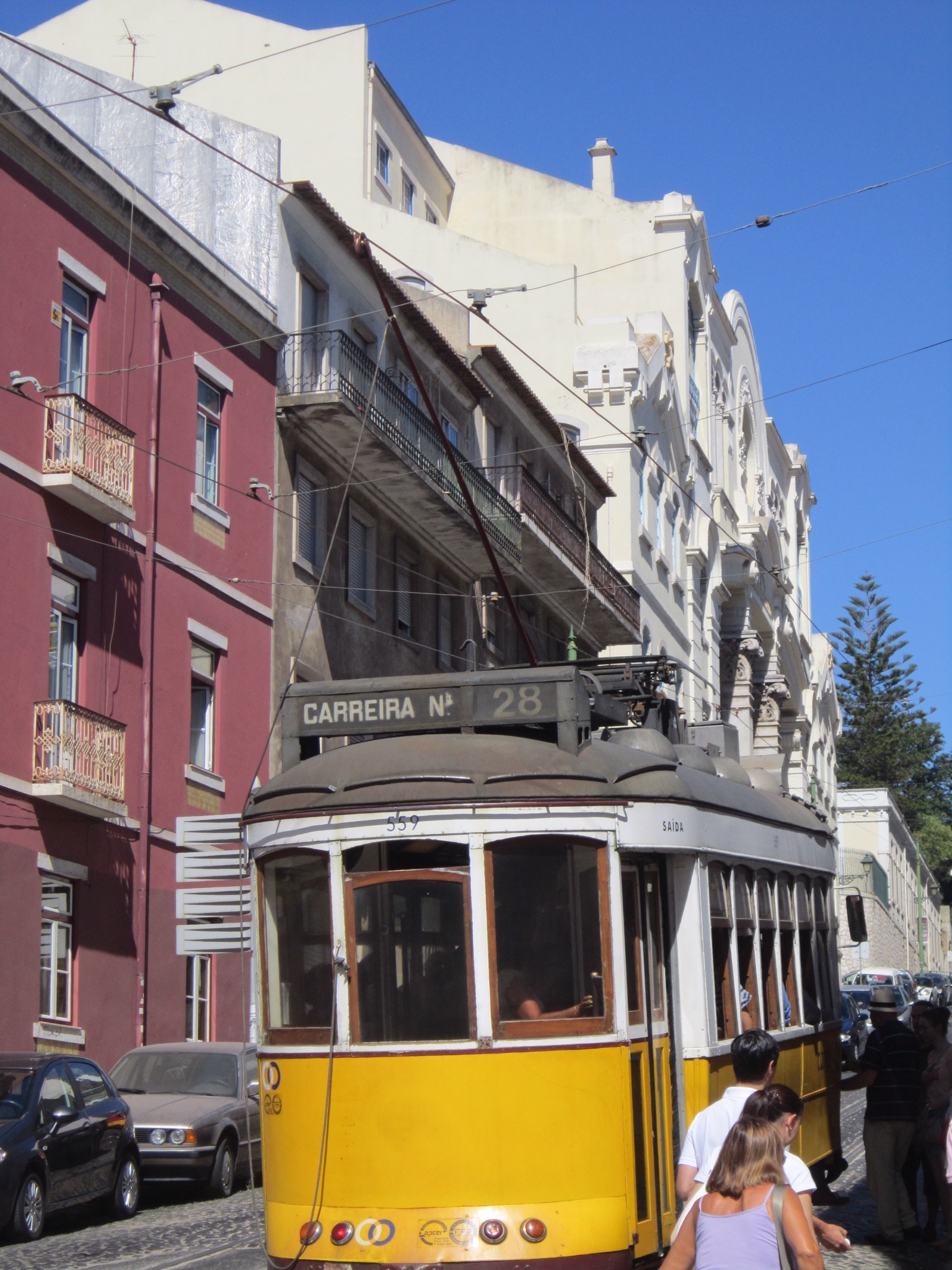 First impressions…
Lisbon is grander than Porto – more austere, busier, more energetic. It's made up of a network of slippery cobbles worn smooth by the countless sandalled feet of tourists.
People wear almost nothing, even in mid September; every figure is a honeyed shade of bare skin, every face a shine of sweat and sunglasses. It's hard to tell the tourists from the locals – or, rather, a large amount of the foreign visitors almost look as if they belong.
When the waning heat of early evening hits, people use the warmth as an excuse for any number of countless little indulgences: an early drink, a cheeky cigarette, a custard pastry, extra cream on their coffee.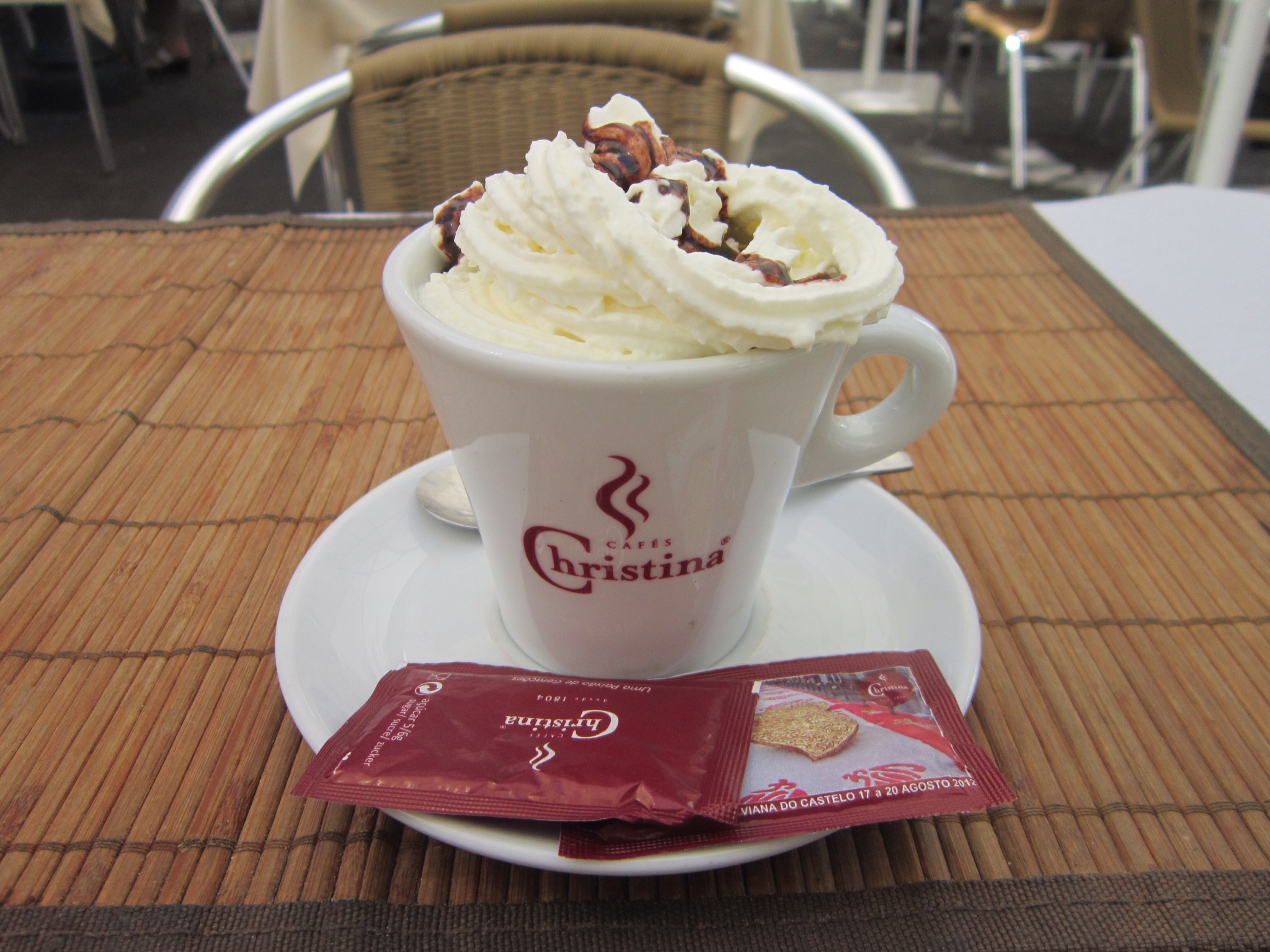 At the busy street cafe I sit in, there are pigeons underfoot, fluttering up at head height. Boys carry surfboards while girls carry beach bags; couples kiss on street corners. A saxophonist and a tambourine man start up with a smooth jazz interpretation of 'Somewhere Over the Rainbow'.
More kissing couples, more hand holds, more unintended open moments. Purple hair dye, tiny shorts, overweight leopard skin. Wedged cork espadrilles, pink wrist watches, empty arms in suit jackets and a cool, crisp, lime green sari.
The buskers segue neatly into 'Strangers In The Night'. People whistle. I forget I don't normally like public displays of affection and I grin at the people in love.
I compare shoes, dresses, tans, hairstyles; girlfriends, husbands, adorable children; facial expressions and accessories.
This is a city where the university students spend their first week of the new academic year busking in black Hogwarts-esque robes on the cobbled streets. There is a great deal of whooping and general jubilation; they strum guitars, shake tambourines, squeeze accordions, pose for photos from passers by, and even serenade those unable to make it down to the street for a better view.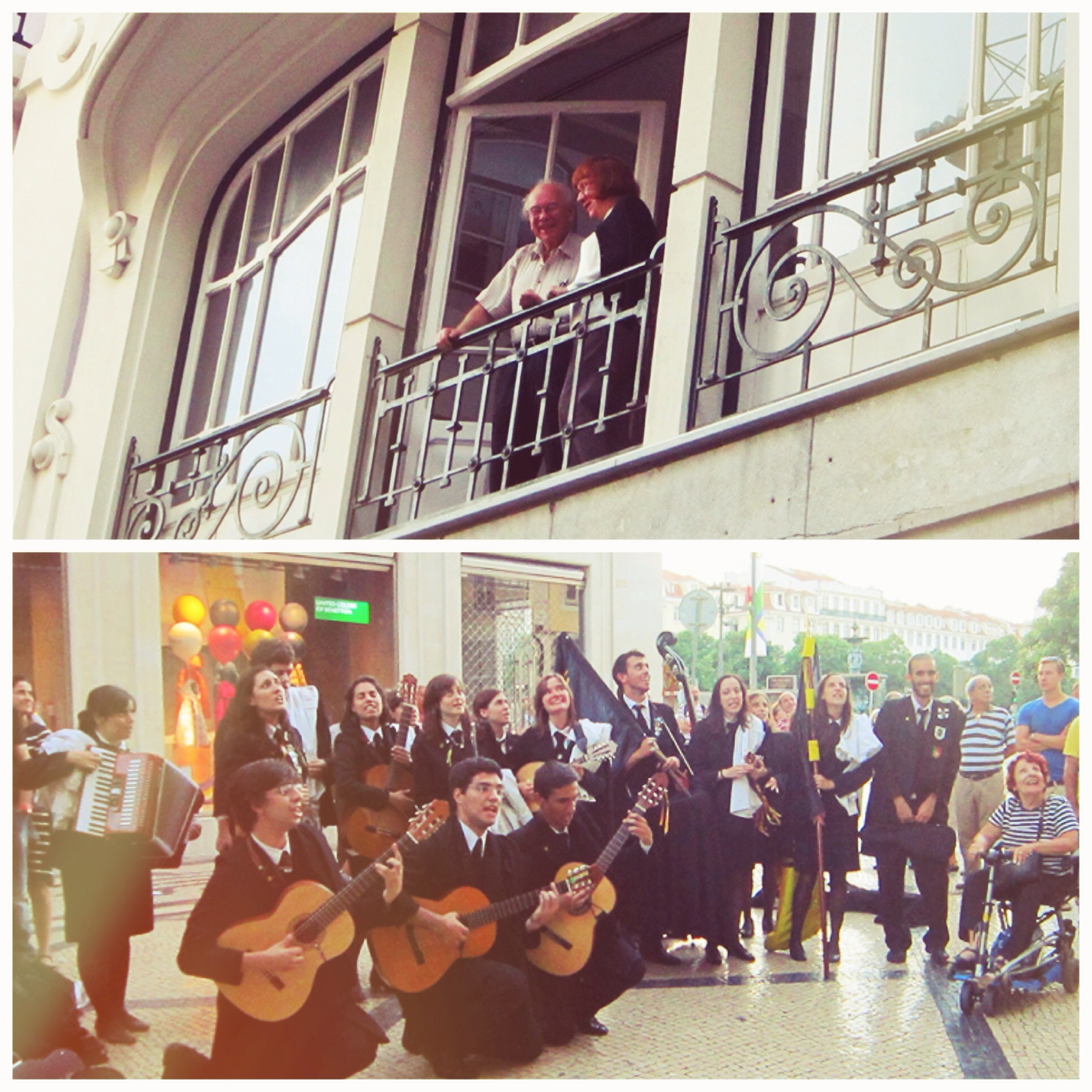 At the next table over, a man extends his hand in greeting. He is Russian, working in Lisbon for three months on a computing job. He's interested to know what I make of the city.
I think back to the tour I'd taken that morning, when I'd discovered the bridge across the bay in the hazy distance. immediately at immediately evoked memories of the foggy red structure I used to look at every day for a year in San Francisco, which in fact designed and built by the very same architect who created the Golden Gate itself.
You could have knocked me over with a barge pole (although I'm glad nobody did).
Suddenly I'd realised all the similarities between Lisbon and my beloved San Francisco, and it made me very happy that I clearly appreciate the same qualities in a city, wherever in the world they might be.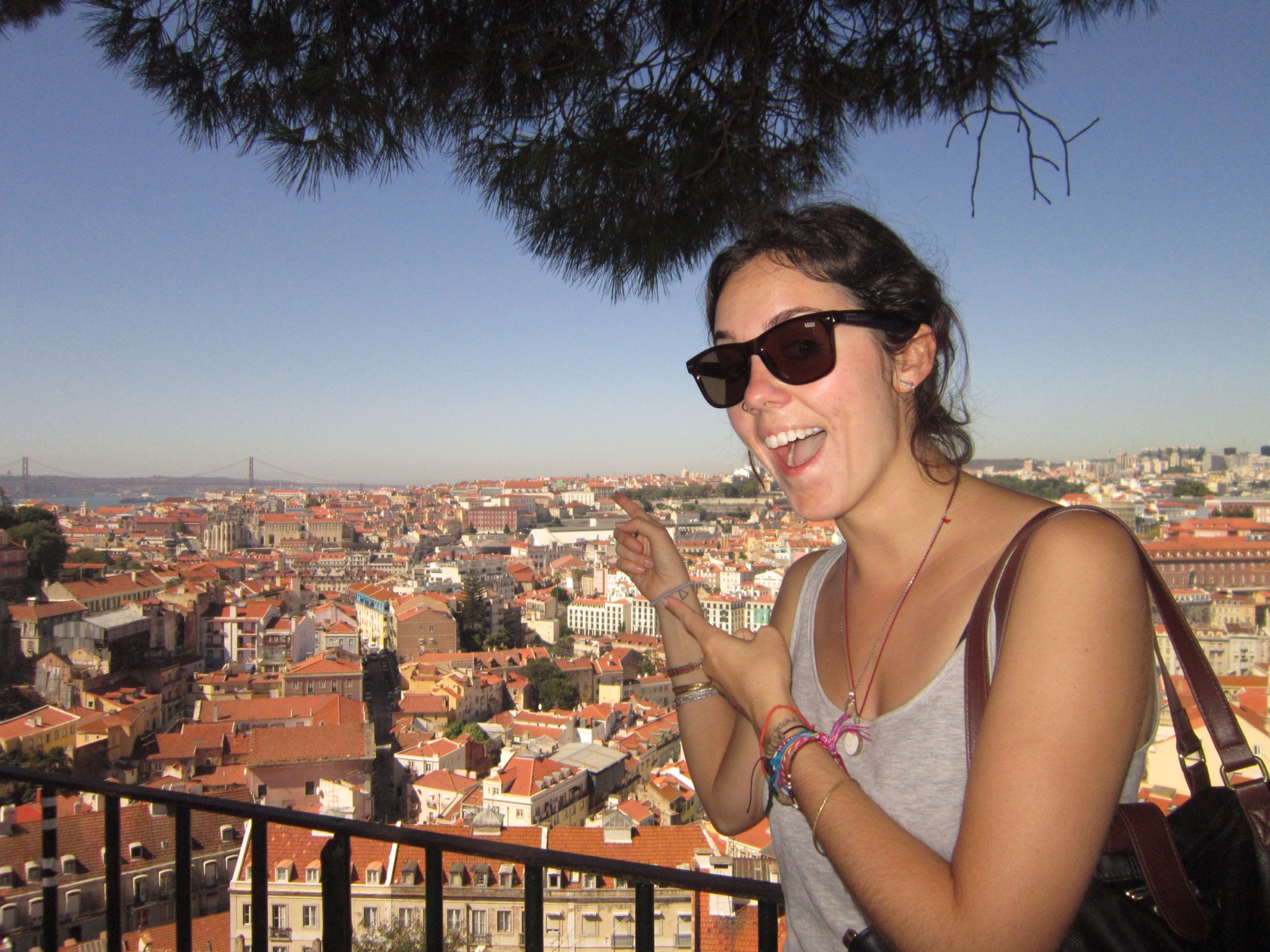 Stan and I – "actually, it's Stanislav" – talk politics, poverty, literature and poetry, while the people of Lisbon stroll past on either side of our tables. We question what it is about this place that makes us feel more positive than usual – whether it's the people, the streets, the scenery or simply the weather? We don't come to an agreed conclusion, but as I leave him in the cafe, heading back to my hostel to meet a fellow TBU friend, I keep dwelling on the topic.
Solo or sociable?
You can learn a lot about a place from a single street, watching its inhabitants from a single vantage point.
Lisbon reminded me that it's ok to be alone, and that I'm actually often comfortable with being solo. But the city also gave me a push in the sociable direction, and pointed out just why being with other people makes such a difference when you're travelling.
Not least because then there's someone to share your pizza with.